In the early days of the internet, no one could have imagined the speed at which web pages grew and how many uses they had. To spare you a long-winded history lesson, people quickly realized that the internet could be used for business and marketing purposes, and for that, they needed to build their own webpages. While building your page would be a complicated and tedious process in the past, it no longer needs to be. That's where website builders come into play.
In recent years website builders such as Squarespace, Weebly, and Wix skyrocketed in popularity as everyone wanted to make a promotable website cheaply and easily. Small cooking YouTubers just wanted to share their recipes with giant tech companies that want to open a new online marketplace.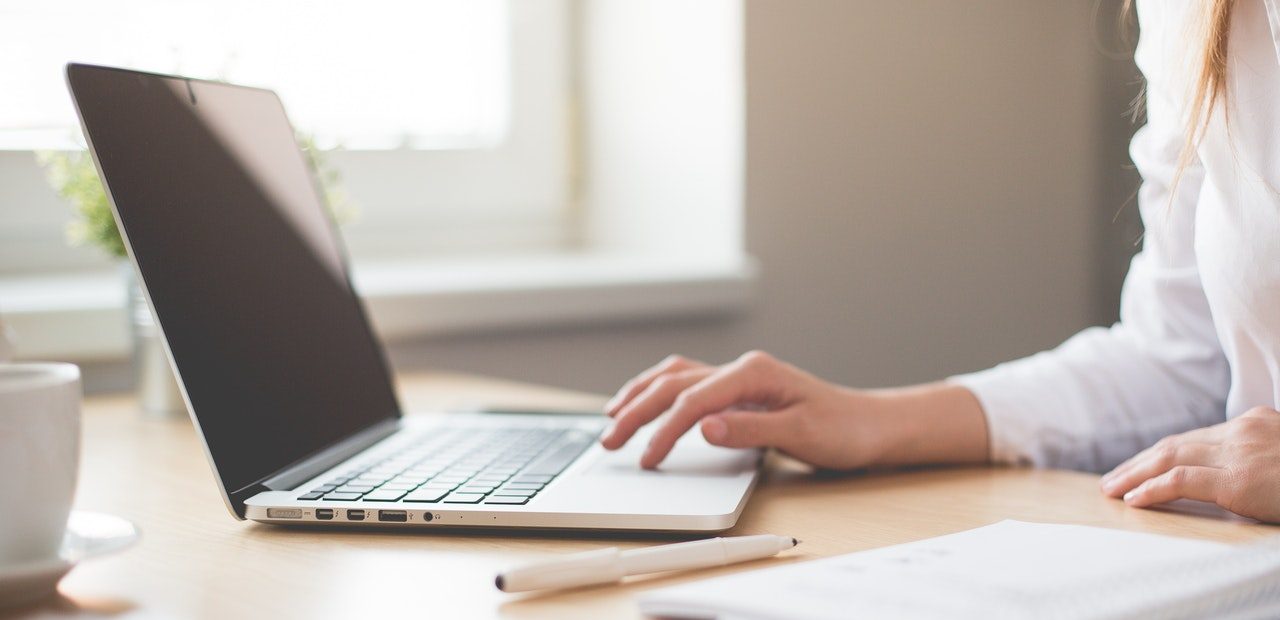 The base reason why those builders became so popular is their easy to use design and reasonable price rates, but even among them, some website builders are better than others. Back when website builders were but a novelty, you could see how much sites such as Squarespace and Wix dominated, but today there are plenty of alternatives with better pricing plans and aren't as clunky as old page builders.
And if you're looking for an alternative webpage builder that is not only cheap but also outpaces the competition in both quality and ease of use, look no further than WebWave.
WebWave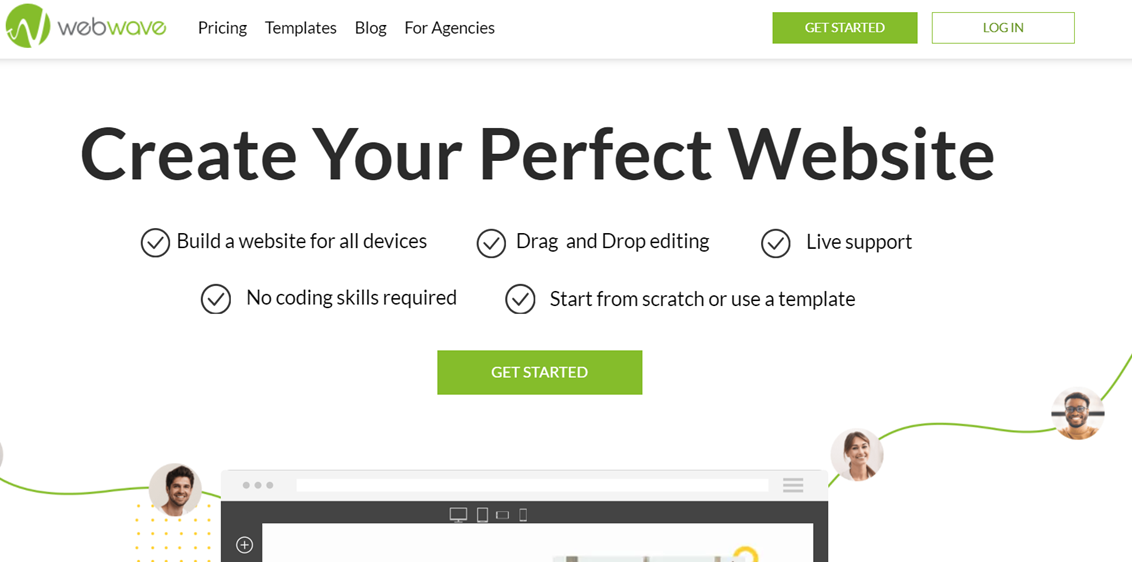 WebWave is one of the best website design software currently on the market. It was created in 2011 and had millions of created websites. WebWaves' white-label policy allows for creating professional websites that can be modified with various custom settings and are suitable for all sorts of commercial uses, from e-commerce to personal blogging.
Features
One of the reasons why it's such a great alternative to classic page builders is that it doesn't require any coding at all. Instead, it offers an adobe styled editing system that is easy to use and can instantly show you your end product.
But, why is WebWaves editing style better than its competition? Simply put, due to its speed. Being able to edit your own web page in half the time compared to other website builders is an incredible thing. All of that saved time can be then spent doing other important business or brewing yourself a good cup of tea. And you skip the long and arduous setup, too, since you don't need a load of addons to simplify your job either since it's all the basic ones are already in there.
WebWave is also mobile-friendly which means you will have a page that truly belongs in the 21st. Century. And if you aren't feeling particularly inspired, don't worry. WebWave's got you covered. With a plethora of beautiful templates, your website will be as lovely as those that were custom made. These can range from hotel or restaurant style-oriented to online stores and application websites.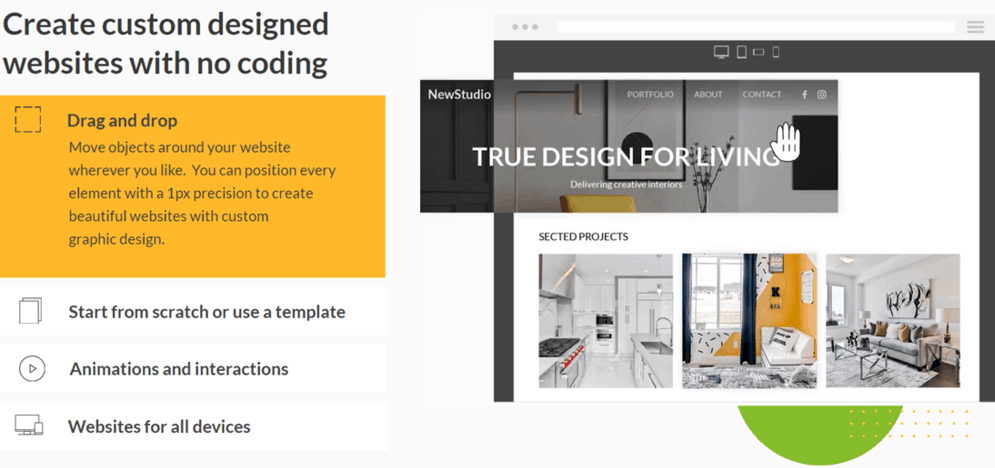 And unlike some website builders, Web wave doesn't have watermarks, even on the free version. But if you want to make a custom template, it'll be just as easy as using a premade one and probably easier than in some classic builders. And if you are new to designing web pages, WebWave also offers tutorial resources to help you get up to speed with all the tips and tricks of web design. Its commenting system also allows you to get active feedback from your clients as well as team members.
With WebWave, you'll be able to register your domain name, too, without those pesky web address extensions (like .wordpress.com), which can ruin your SEO. And with such an easy editing system, there also comes an excellent hosting service that has an impeccable performance record and is supported by constant technical support.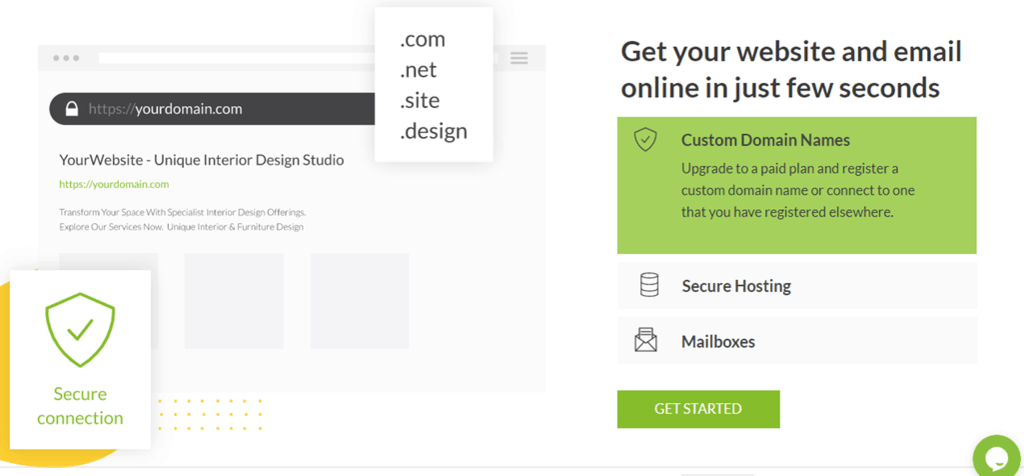 Let's not forget one of the most important parts of a website builder. Its user interface WebWave offers a very easy to use interface, reminiscent of Photoshop, that has an intuitive design and isn't jam-packed with pulldown menus and setting tabs. And to come back a bit to its mobile-friendliness, this interface has a feature that allows you to quickly switch between desktop, smartphone, and tablet views so you can quickly make sure that everything you do is compatible with different device types.
Unlike some simple drag and drop builders, WebWave also offers extremely detailed design options as you can tinker and mess with every little thing on your website. Speaking of details, if you want to make your website pop, with it, you can add various animations on any and all page elements. And with its extensive text and image management, your website will look exactly as you've imagined it to be.
Not only can you edit images in WebWave, but it also offers a free integrated stock photo service with over 200 thousand images ready to be used at a moment's notice. As well as having the Parallax effect, WebWave has recently added a Ken Burns effect to make your backgrounds and images be just that much cooler.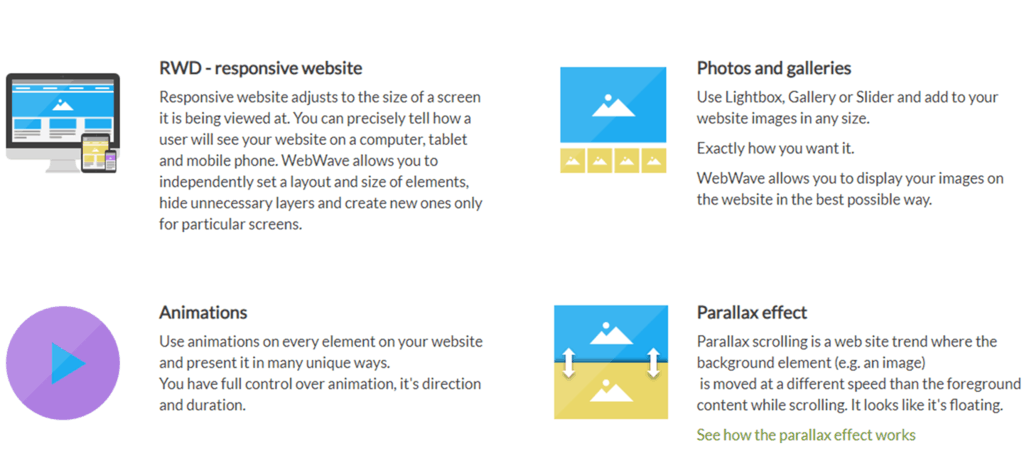 While the core features you get with WebWave are great, there are also some useful free addons to help you integrate various external software such as Disqus, Facebook, Google Analytics, Google Maps, Shopify, Shipcart, Tawk.to, and many more. Installing such add-ons is really simple and can help you take your webpage to the next level.
When you're done with designing your website, all you'll have to do to publish it is press a single button and let WebWave handle all the processing and configuration, allowing you to update the page whenever you need to. And with its software updates, it will handle the safety of your pages at all times.
As your company grows, you'll also need to manage more websites, and with the WebWaves project dashboard, that won't be a bother at all. And if your agency doesn't have the time to bill your clients individually, WebWave can handle that too, as it has been proven to be great for SEO, needs zero maintenance, and offers the best security.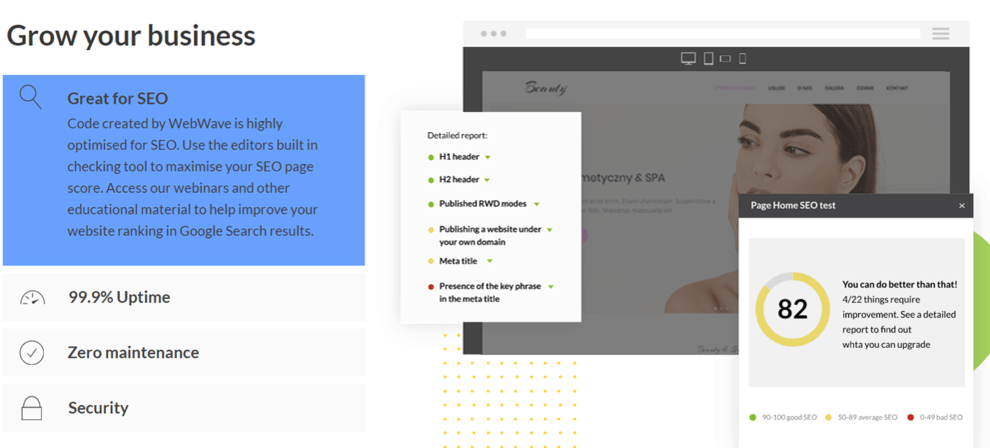 All of these features just go to show how much the WebWave team is dedicated to serving their customers a great building tool without all the muss and fuss of coding and working with overly expensive and frankly rudimentary alternatives.
WebWave is also GDPR compliant, so you and your customers won't need to worry about privacy issues either.
And if you're feeling overwhelmed and need some tips, WebWave also offers a large assortment of blog posts that can help you in just about anything relating to its website building features. Not only that, but some graphics design universities are even using it as a learning tool, so you won't need to worry about a steep learning curve.
Pricing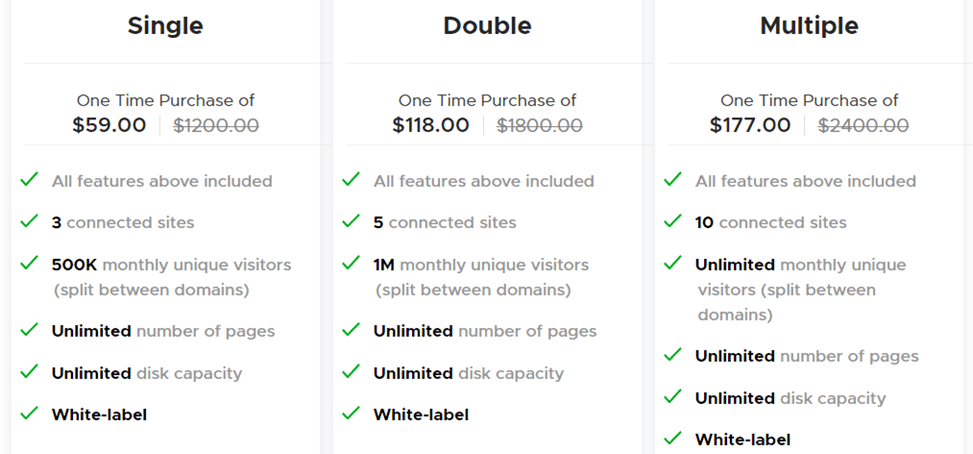 When it comes to pricing plans, WebWave has some great options. If you aren't really into monthly plans, don't worry; AppSumo has offered a special deal of one-time purchases with which you get all the features, including a white-label. The prices start at 59$ and grow with the number of connected sites you want to purchase. And if you don't like it, there is a 60-day money return guarantee.
Final Thoughts
Let's recap, WebWave is the perfect alternative to classic website builders like Wix, Squarespace, and WordPress for a large number of reasons. It's easy to use, and its design is highly intuitive, which can help you get acquainted with the builder quickly and allows you to get your website up and running as soon as possible.
Not only that, but with the help of WebWave's ability to switch between mobile and desktop views, you'll be certain that your webpage looks great on smartphones and tablets as well as desktop computers. (I mean, don't we all hate when we open a page on the phone and it's the desktop version that needs to be zoomed in.)
And unlike its competitors, WebWave is far more affordable, which is notable considering the standard of quality it offers. Especially when you can get special deals with which you can bypass monthly payments such as the one on AppSumo, effectively getting a lifetime deal for just a one time purchase.