The best way to get customers is with a referral program. It's a terrific way to make money online. This is probably one of the easier and cheaper ways to get customers who will actually buy and use your products or services, alongside building an app which isn't the easiest of approaches, but with a proper mobile agency, it can be easily tackled. Moreover, by utilizing the referral marketing model, you only pay per customer that signs up or makes a purchase (that is, completes the desired action).
However, before you start relying on referrals, you need to set up a referral program and there are quite a few referral marketing examples out there to give you inspiration for setting it up. There are numerous referral software out there as well, and each offers something for its users. In this article, we will review the top 3 referral software programs you should know about that save you hours of research. Let's get started.
1. Prefinery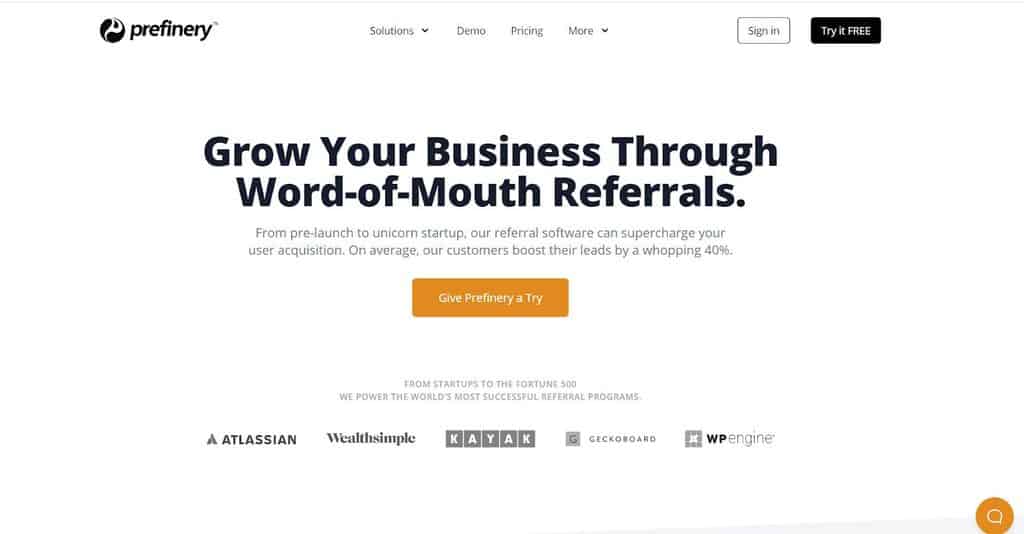 Prefinery is a customer acquisition platform that uses customizable referral campaigns to incentivize viral sharing. What does this mean? In short, you can create viral referral programs that offer rewards for sharing. That way, you can boost your product and brand awareness.
When creating these referral campaigns, you can add the text in any language, as well as add any kind of field you want. Such as fields for personal information, multiple-choice questions, GDPR, and CCPA consent agreements. There are no pre-built templates, and you create everything yourself.
You can send welcome emails, opt-ins, rewards, referral reminders, and many more behavior-triggered emails. For example, when someone performs an action, such as making a purchase, you can offer them rewards. This increases their excitement levels, and they are more likely to repeat this action again. You can reward people for referrals, too.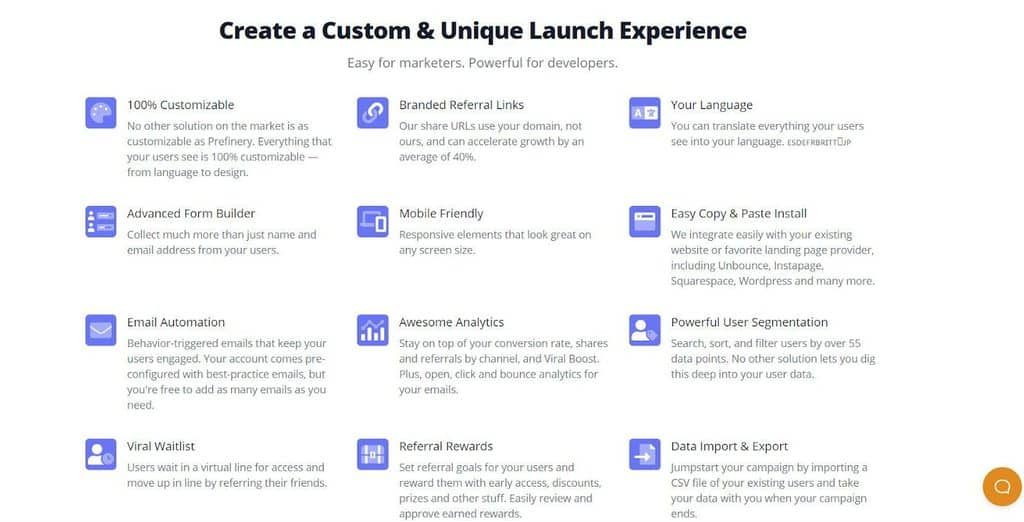 There are single and double-sided rewards, as well as milestone rewards you can give away to your customers. You can also create pre-launch campaigns and deliver unique invitation codes to your users to give them a sneak peek into what you have planned.
Prefinery even has a  search function that enabled you to see who's interested in your product. You can search, sort, and filter your data over 55 data points, including browser, operating system, location, and language. If there is something specific you have in mind but cannot find, creating custom properties to measure metrics the way you want to also becomes a possibility.
Prefinery will also show you a lot of useful data you can use, such as track performance with impressions, submissions, conversion rates, and total shares.
To get this tool, you will need to pay $59, and you get all of the features we mentioned, an unlimited number of campaigns, and up to 10,000 managed users. For $118, you get up to 20,000 managed users and an unlimited number of campaigns.
2. Talkable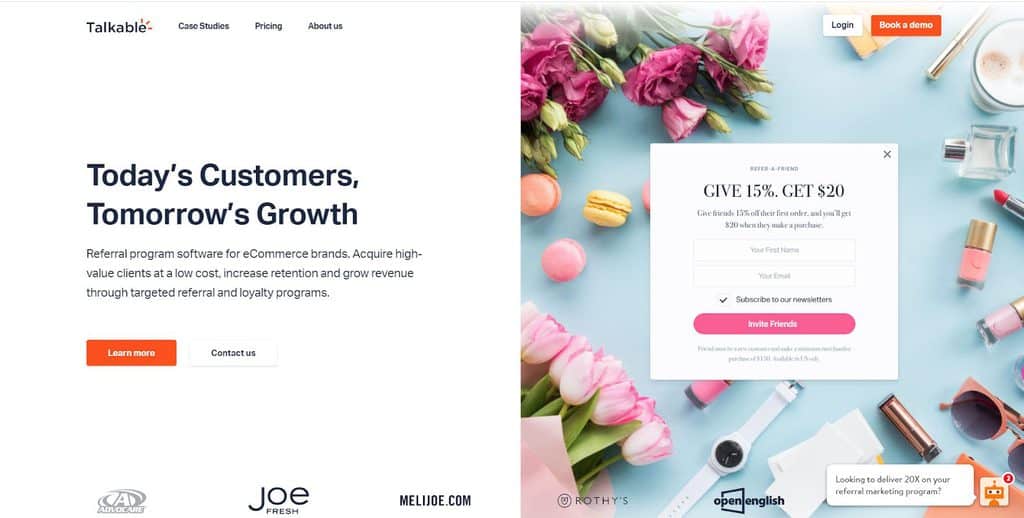 Talkable is a referral platform specifically designed for e-commerce, and it is truly versatile. It has the option to process multiple campaigns, segmentations, A/B testing, and everything it offers can be customized to fit your goals. The referral program itself can be built any way you see fit. You can optimize it through A/B tests, biweekly calls, and boost campaigns.
Starting with your dashboard, you can manage, track, and adjust all of your campaigns. It might seem a bit overwhelming at first, but once you get the hang of it, you'll see just how powerful this tool is.
What is amazing is that the tool automatically recognizes fraudulent referrals, so you don't need to worry about them. The algorithm has been developed to block over 5 million fraudulent referral attempts. It also has a self-service editor that can quickly make changes to the campaigns you run.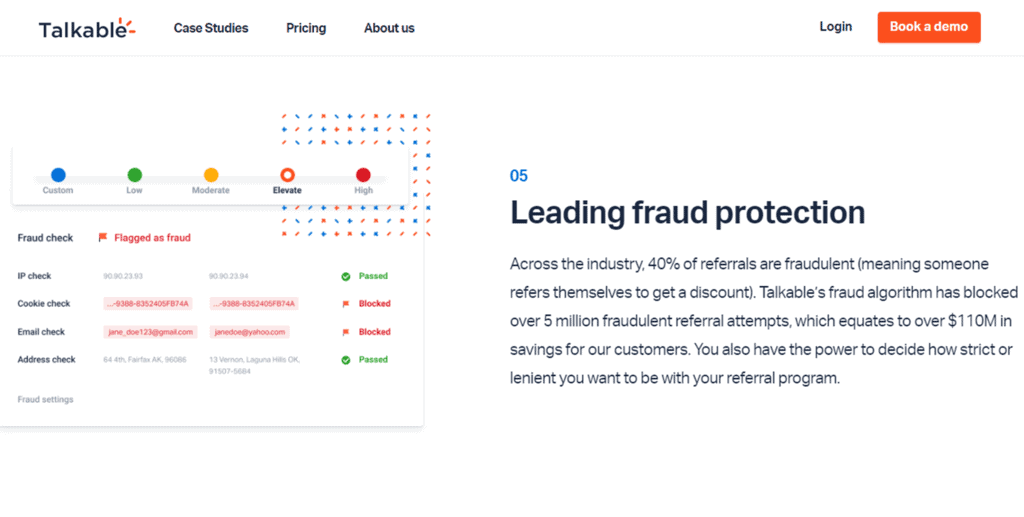 The reports are very detailed, and customer segmentation can be customized as well. You can target different audiences based on certain attributes that relate to your business like geo-location, and behavioral insights. If you choose this tool you'll also have access to a team of growth experts that can help you boost traffic and adjust your campaigns to meet your goals.
Lastly, it can be integrated with many other platforms, such as Magento, Shopify, IBM, MailChimp, WooCommerce, and many more. If you would like to give it a try, you can access their demo and pricing site here.
3. Post Affiliate Pro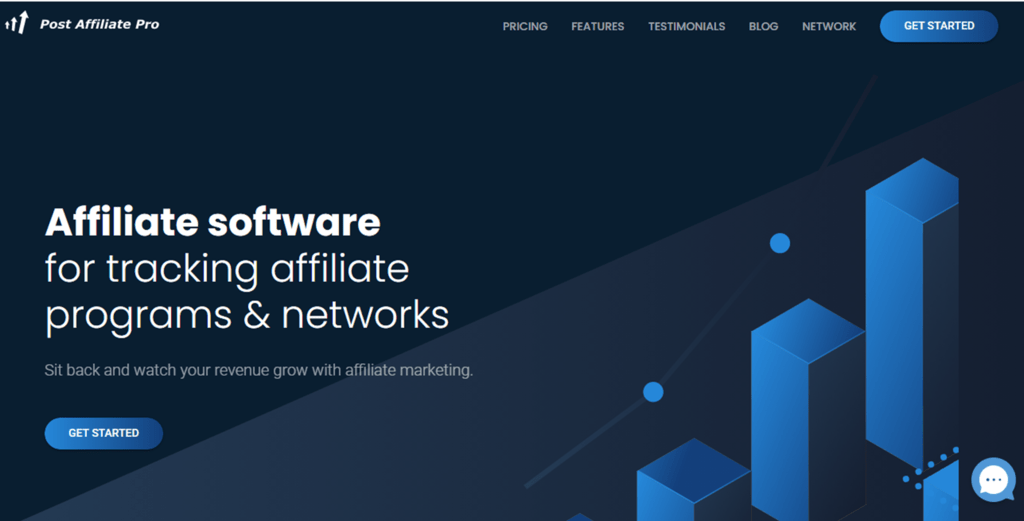 Post Affiliate Pro is a software designed to let you create your own referral programs. Besides creating your own customized campaign, there's also the option to create promotional materials. You can create banner rotations, discount banners, flash banners, HTML, and image banners.
The user interface also has numerous features and can be customized. These features include mass payments, multilingual support, multiple merchants, and numerous themes. You can manage your affiliates, create commission payouts, and see reports and metrics.
There are multiple unique tracking methods, which include affiliate link styles, custom affiliate tracking code, direct links tracking, multiple currencies, private campaigns, and more.
You can also set up different commission types, such as commission per action, commission groups, lifetime commissions, multi-tier commissions, performance rewards, and recurring commissions. Post Affiliate Pro can integrate with over 200 CMS systems, including PayPal, Shopify, and Braintree.
It also comes with advanced fraud preventions, a fully customizable commission structure, and merchant panels that can be used on Android and iOS apps. Lastly, there are different types of reports, such as an audit log, campaigns, banner, and affiliate report, map overlay report, online users, and top affiliates report.
Due to its versatility, this software is a bit pricier (check the plans here). However, you get a range of features and a great support team if you wish to use this software.
Conclusion
We hope this short review helped you see which referral program is best for you. While each offers something unique, make sure you do enough research. Every brand has its own specific needs, and every tool has its specific features. So, do make sure to decide on the best software for your referral program.