Google Maps is by far the most used map service online. You can embed it into your own website via a Google Maps API Key, which makes it possible for third-party products and services to integrate it. There are many plugins out there that can do the same and make your page more interactive by implementing a map. You can either put in a simple map, making your business easier to find, or one that has options such as searching, filtering, multiple locations, and more.
You can use maps if you have a real estate website, for example, to show customers where the houses or apartments are located. In addition, it's useful to have it on your site to let users know where your business or office is and how best to find it.
Of course, you should think about the appearance of your map as well. Just like everything else, it should fit in with your style and brand. You want the map to be both functional and visually appealing. Thankfully, plugins give you a lot of freedom when it comes to customization.
To make your choice a little bit easier, here are the top 5 Google Maps plugins that provide more functionality to your website while giving it a little more charm.
1. Google Maps Widget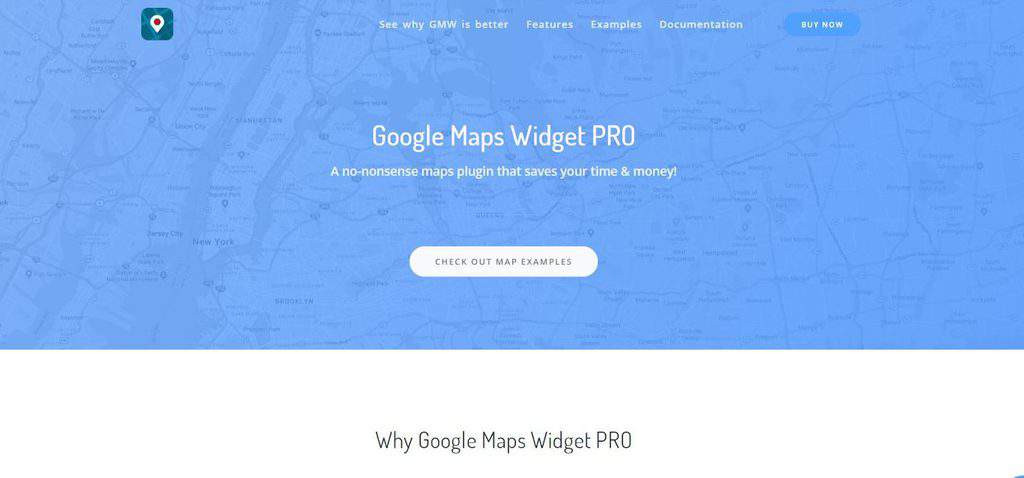 With Google Maps Widget, you can easily add a map anywhere on your site in as little time as two minutes. It's the quickest way to have a map with a thumbnail and a lightbox. You can customize the map any way you want by using custom styles.
You can also store your maps in a library and reuse them later, as well as edit them if needed. The great thing is, you are not limited to the number of maps you can create. Create as many as you want and put an unlimited number of pins. The options on the maps themselves include street view, directions, and more.
The maps' placement is endless; place them in posts, pages, sidebars, menus, and more. The plugin is optimized for mobile so that the users can enjoy a responsive map, no matter the device they're using. You don't have to worry about speed because maps won't slow down your page whatsoever.
There are three plans to choose from, and each of them comes with great support if you have any questions or doubts.
2. Wp Google Maps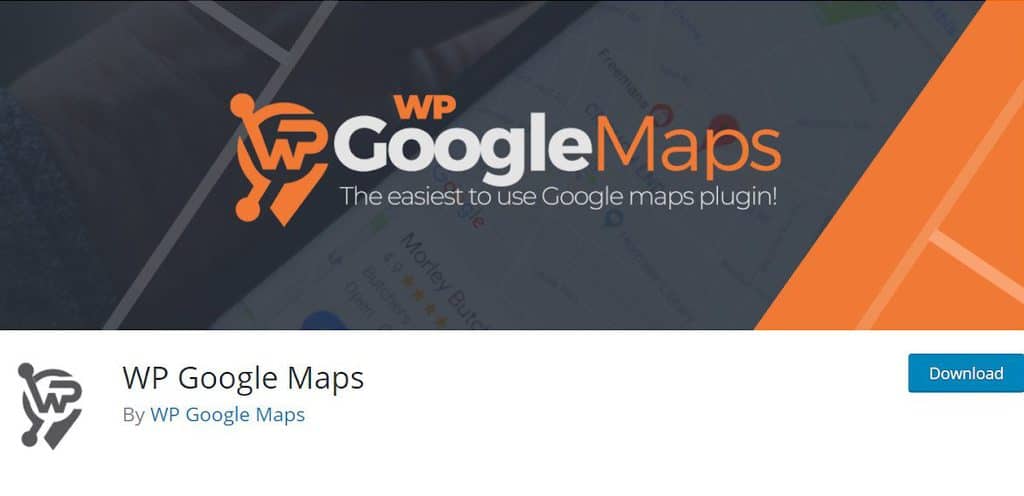 WP Google Maps offers both free and premium versions, and while the free version does offer some great features, it only allows for the creation of a single map. When it comes to the premium, you could make as many as your heart desired.
The plugin has a simple interface where you create maps and add location markers. There are two ways of doing this, either create a custom map or choose from one of the 9 templates available. You can also add markers using the drag and drop builder, as well as our own shapes.
The maps you create are always fully responsive. An interesting feature of the premium version is adding categories to map markers and allowing visitors to filter by category. The plugin gives you an option to use the classic Google Maps info window or the new modern one, as well as an option to add custom information to it.
3. Maps Marker Pro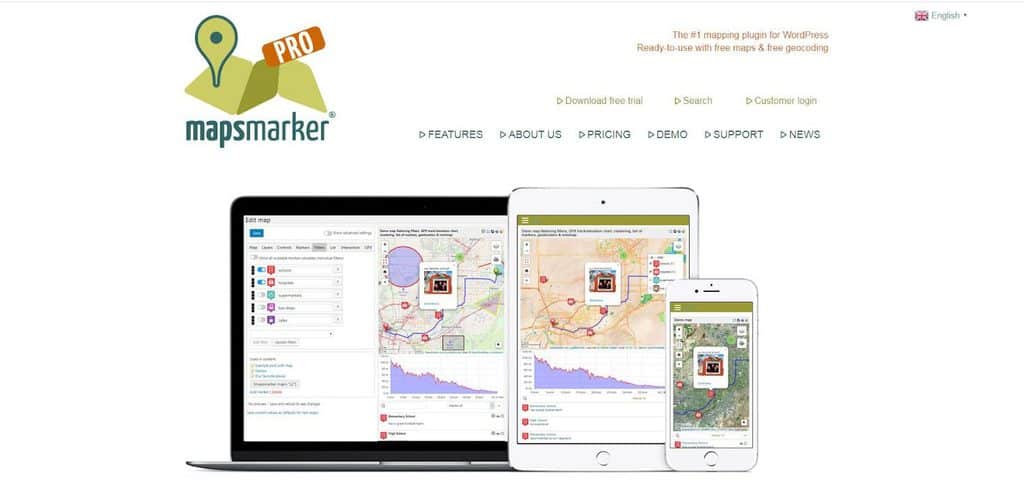 With Maps Marker Pro, you can share your favorite spots, routes, or tracks, as well as customize each marker as you go. You don't need to have additional API keys because the plugin offers keyless geocoding.
You can create as many maps as you want, create animated marker clusters for each map, and allow your visitor to filter through the map. You can also sort your markers by date, name, and distance. An interesting feature is geolocation, which shows, follows, and shares your current location and movement in real-time. The plugin is SEO optimized and can be translated into different languages.
If you want, you can create custom maps for different floor plans or fantasy worlds and build event maps with markers that appear at a certain time. The plugin has more than 600 settings that can be reset to default at any time.
4. Hero Maps Premium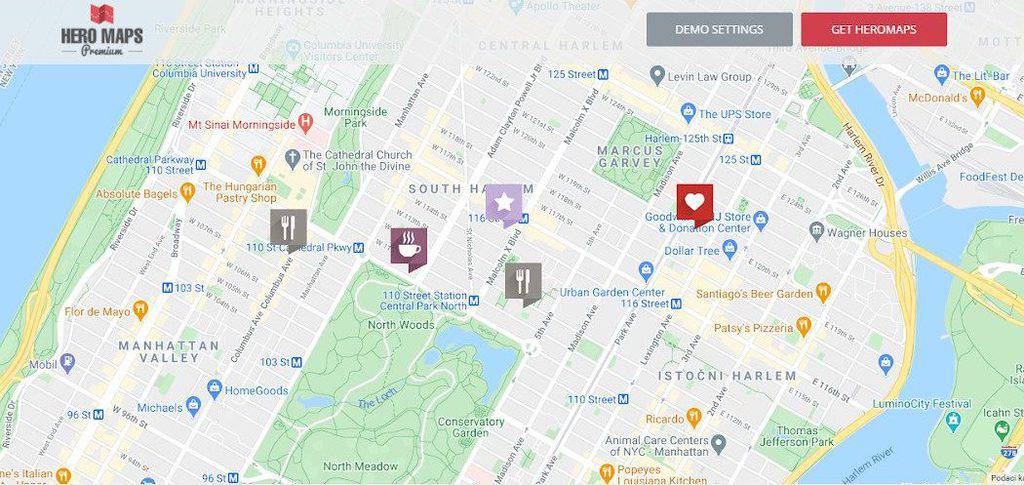 The Hero Maps plugin allows you to add maps to your WordPress quickly and with ease. You can configure the maps to fit your style and needs, as well as aggregate all your markers in one map.
There's even an option to customize the markers with the drag and drop builder and decide on your maps' width, whether you want it to be fixed or full size. Three marker packs in many colors come included with the plugin. The markers can also be filtered by different categories and groups, such as hotels or restaurants.
There are also different map skins to choose from. All maps are fully responsive and usable on all devices. The map will be dynamically resized to fit any kind of screen.
5. Google Maps Locator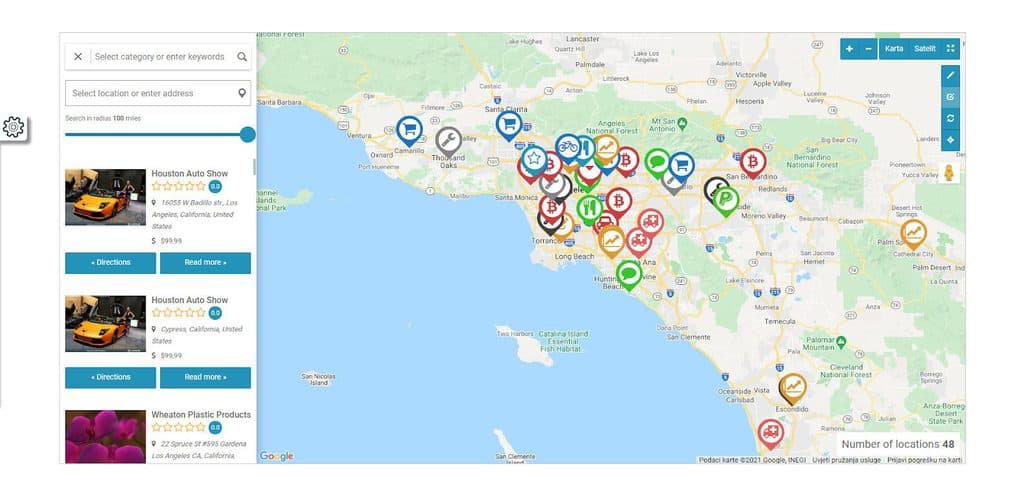 Google Maps Locator is a plugin that offers customizable solutions and allows the users to submit listing and markers on the front end. You can customize icons and colors of map markers as well as content fields and their fonts.
There's even an option to draw on the map as well as search in a specific radius and display the geolocation. The plugin comes with different styles of maps, so you can easily pick the one that suits you best. Plus, every map you create with it is going to be fully responsive.
It's effortless to customize and configure and fully compatible with Visual Composer.
Final thoughts
Adding a map to your website is a good idea for upping your website's functionality while keeping it visually pleasing. Google Maps is the most popular option when it comes to maps and can be easily integrated into your site.
With the help of various plugins, you can have a map on your page in just a few minutes. Check out the plugins mentioned here and add a styled, aesthetically pleasing map to your site.