Have you ever built a blog or a website, but you feel like nobody is finding it on Google. Well, I'm here to tell you that your website was not SEO optimized, and because of that, Google never showed it in the first few pages of the search result. Now, you might be wondering what SEO stands for and how to do it?
SEO or search engine optimization is a technique used to optimize your web content to be easily indexed and pushed to the top results on Google or other search engines. It's been around for over a decade, but it changes regularly every single day. What do I mean by that?
SEO rules are never static and constant on Google, and Google updates them every day (not crazily huge changes, but still, you need to be updated). Therefore, in order to have your website SEO optimized, you need to follow those rules and always update your website according to the new rules Google introduces.
Importantly, you never check your website against SEO rules manually because there are quite effective and widely used SEO tools that automate the process a lot and save you a ton of time. However, if you don't want to download any tools on your computer, there is still a very good alternative. You can use plenty of useful Google Chrome extensions for SEO and analyze your website for SEO improvements directly in your Chrome browser.
This article will list out and review some of the top Google Chrome extensions for SEO.
SEOquake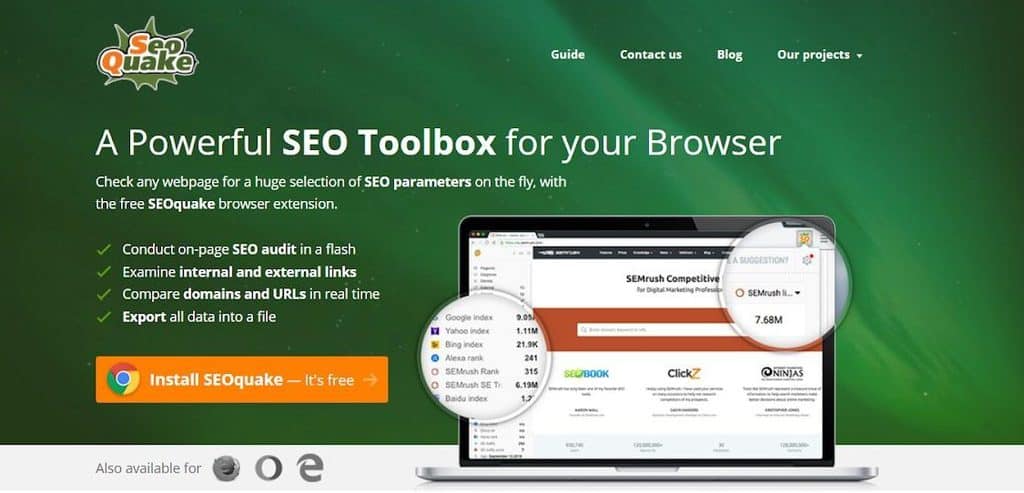 Built by a very popular and well-known giant in SEO, SEMrush, SEOquake is a free Chrome extension that supports:
Detailed SERP analysis and option to export them in CSV format
Keyword difficulty
Search query parameters
Thorough SEO audit check and mobile compatibility
Facebook and Google social stats
Report on internal and external links
Keyword density and stop-word list
Compare different URLs or domain names
Ubersuggest – SEO and Keyword Discovery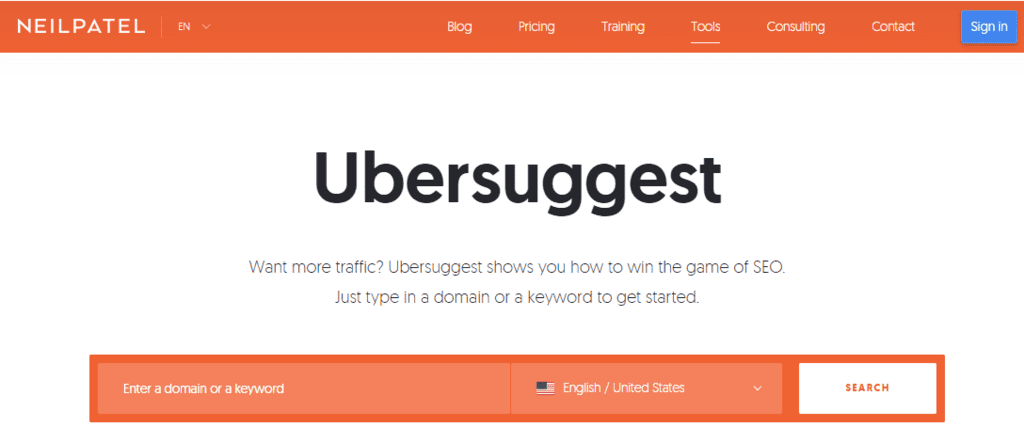 Ubersuggest is another free SEO tool perfect for keyword discovery, keyword search volume, CPC, and competition data. In comparison to other Chrome SEO extensions, Ubersuggest provides keyword analytics when you search on Google and on YouTube, Amazon, and other popular websites.
It also comes with handy graphs so that when you search for a term, it gives you the total monthly search volume on mobile devices and desktop searches separately. In order to build a better link strategy, there is an option for backlinks.
Generally, you get a list of all these features:
Content ideas
Top ranking pages
Site audits
Backlink, CPC, and search volume
Domain score
Stats for different age groups
MozBar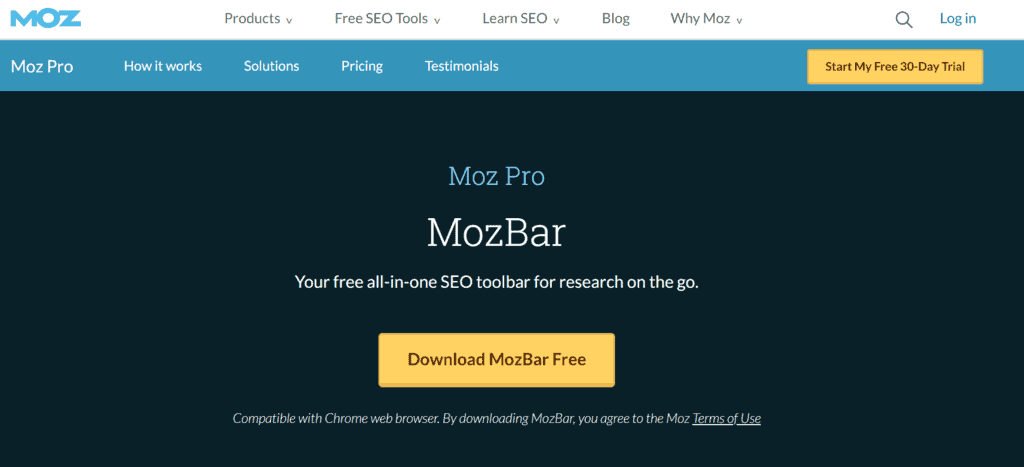 MozBar is a freemium Chrome SEO extension that offers the core features for free, while the premium features are locked, and you need to upgrade in order to access them.
The Free version offers:
Custom searches by engine, country, region, or city
Page authority and domain authority of any site
Differentiation of followed, no-followed, external, or internal links
Export SERP results to CSV format
Extend the core features with the premium subscription:
Keyword difficulty
Page optimization
More detailed SERP analysis
META SEO Inspector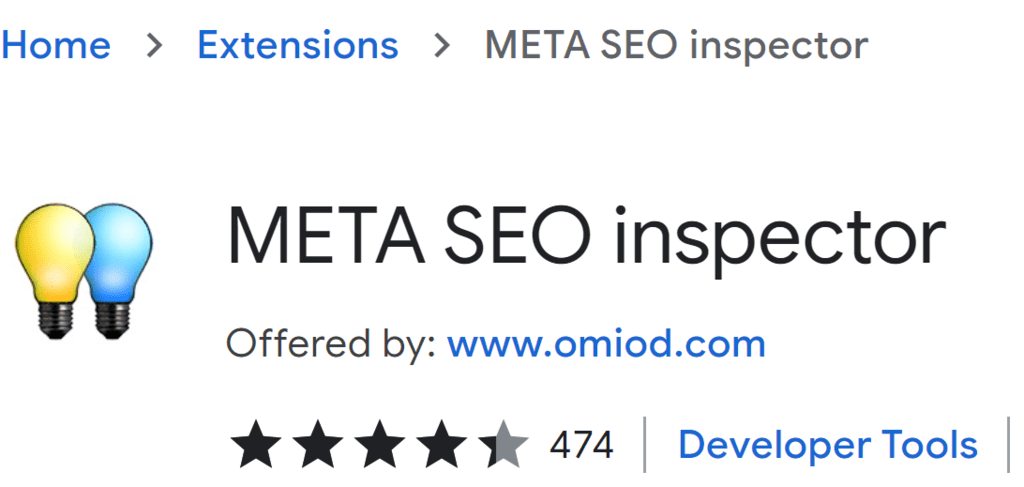 If you need an SEO tool for Chrome that analyzes the pages, looks for meta-issues, and helps you fix them, you should check out META SEO Inspector.
Gather all the meta-information about a particular website, including:
Meta keywords, description, title tag, the canonical tag
Headings
Get warned if you miss including a certain HTML tag
Compare your website with the competitors
And export the full report
SEO Minion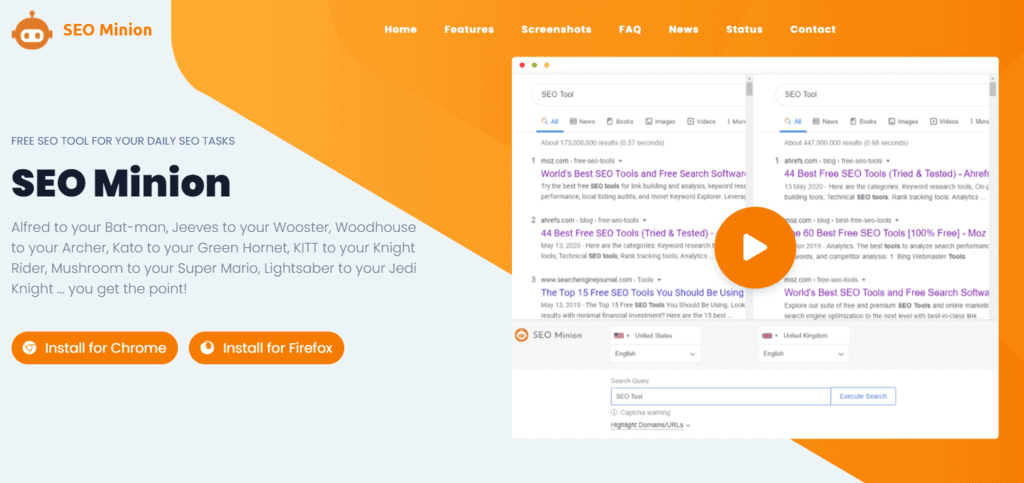 SEO Minion extends the group of free SEO Chrome extensions by giving you access to tons of powerful SEO analysis features.
With SEO Minion, you can:
Perform a thorough on-page SEO for any website or domain name
All the internal and external links are highlighted so you can easily spot them
Check for broken links
Preview your website on a real Google search result
You can enable the non-personalized google search option so that you get completely different results for two different locations and languages.
Keywords Everywhere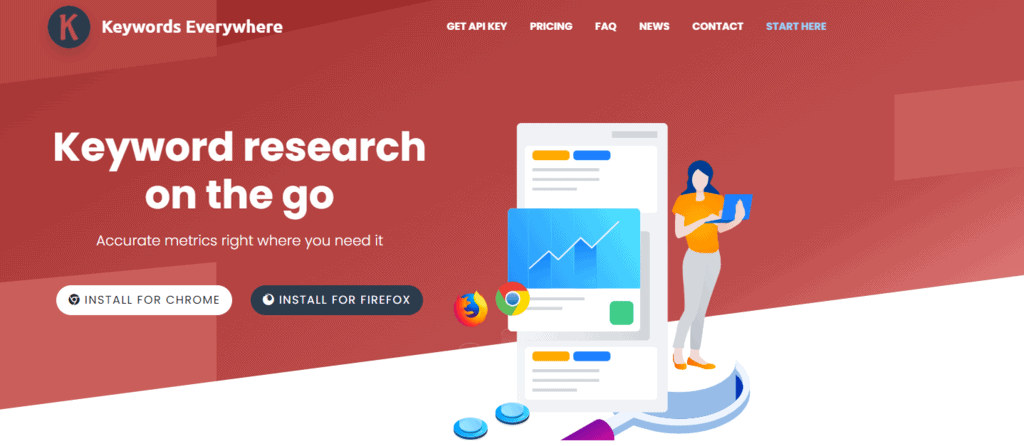 Keywords Everywhere is an all-in-one keyword research tool available for free as a Google Chrome extension. There are two versions of the tool: Free and Paid.
The free version gives you access to the following features:
Related keywords, trending & long-tail keywords, and top 5000 keywords for all websites on Google
SERP Metrics, video insights for YouTube videos
Hashtag generator for Instagram
Pinterest topic finder
However, the Premium (paid) version offers:
You can search for as many results as you want by purchasing credits and using them for search volume, CPC, competition, and trend data
You can see the historical search volume changes for a keyword (since 2004), expressed through a comprehensive chart
Conclusion
There you go, you learned about the top 6 Chrome extensions for SEO. So, what are you waiting for? It's time to test them out for yourselves and let me know which one you liked the most.