If you are a WordPress developer, you already know that plugins can be lifesavers. They can make your daily tasks easier by providing shortcuts and website management tools. However, if you are new to the world of development, here is a short explanation of how plugins actually work.
What is a WordPress plugin?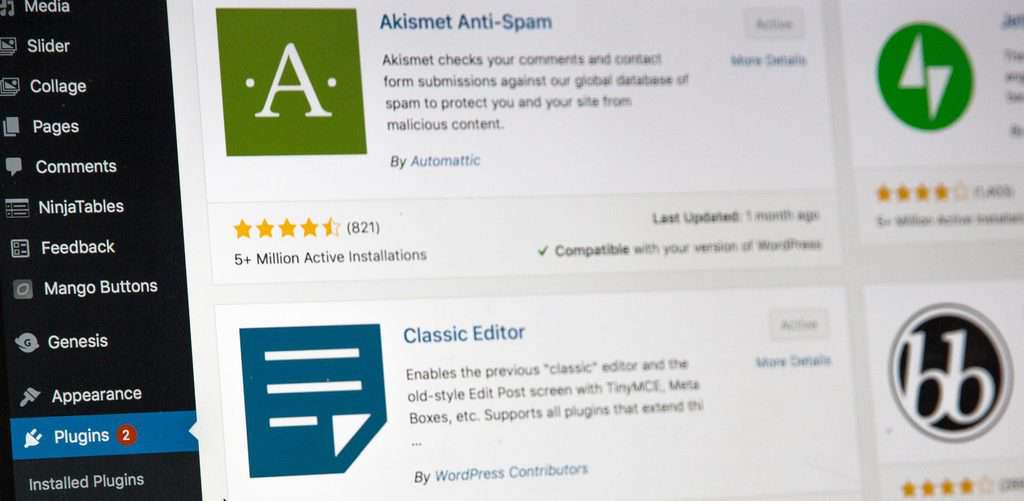 To put it in simple terms, a plugin is an addition to a WordPress website. It integrates with WordPress to solve problems that can be encountered while creating and managing a website. Plugins allow developers to add new features to their websites.
Although they offer advanced solutions for optimizing a website's functionality, plugins are straightforward to use. Most of their functions are automatized, and they don't require any coding experience. Using plugins, you can improve your website's SEO, boost performance, add social media buttons, create photo galleries, and much more.
How to choose a WordPress plugin?
You have the option to choose between thousands of available WordPress plugins, depending on your preferences. However, you need to pay attention to a few details. It would be smart to check the ratings and comments, last update, is it compatible with the version of WordPress you are using, and does it have tech support.
Is there a limit on the number of plugins I can install?
There is a myth among WordPress users that too many plugins slow your website down. However, the problem is not in the number of plugins but in their quality. Only the badly coded plugins can mess up your website's speed and decrease its performance.
Best WordPress plugins for your blog in 2021
Since there is a wide variety of WordPress plugins to choose from (check out the WordPress plugin directory), we put together a thorough list of the best plugins to try out this year.
1. WPRealEstate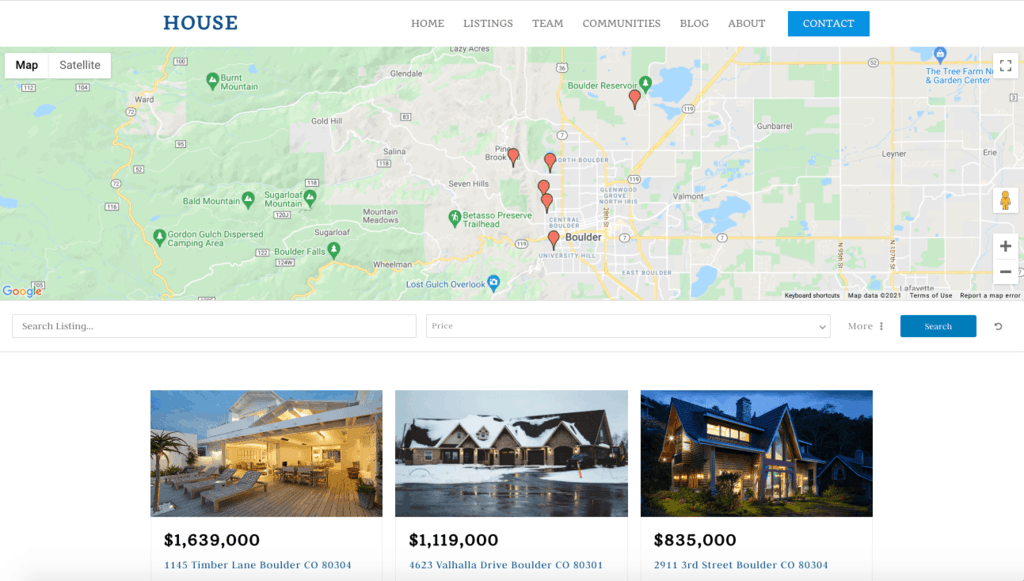 The WPRealEstate plugin is a powerful but lightweight WordPress real estate plugin for creating, managing, and displaying property listings.
This is a modern plugin that is entirely block-based. It includes blocks for adding, displaying, searching, filtering, and mapping property listings. It also has blocks for adding and displaying agents. Agent profiles can be integrated with listings. And all blocks come with great styling options.
You can create manual property listings or integrate with the MLS service in the United States to share official, up-to-date listings.
The plugin can be used with any WordPress theme but integrates particularly well with WPRealEstate's own theme for real estate professionals. The theme's real estate-oriented designs, combined with the plugin's powerful listing management, together offer a great overall solution for real estate websites.
2. Coming Soon & Maintenance Mode + UnderConstructionPage
These plugins are the perfect solution for the times when you are fixing a bug on your website, or before you even publish it, to let your visitors know something big is coming.
Coming Soon & Maintenance Mode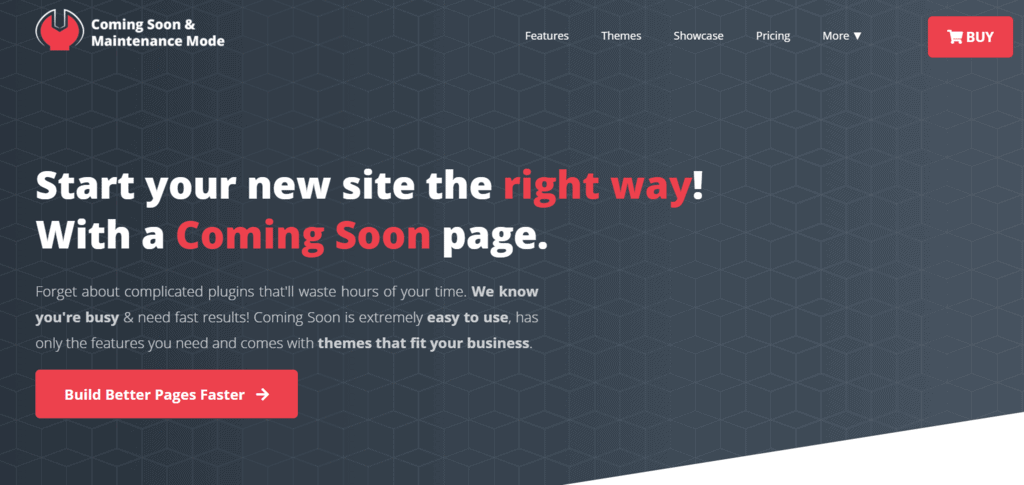 Coming Soon & Maintenance Mode is a user-friendly plugin that you can use for setting up a coming soon or maintenance page in WordPress. Even if you are an inexperienced coder, this plugin will be extremely easy to use. With it, you can create a good-looking and efficient landing page to warn your visitors that something great is coming while your website is getting ready.
If you opt for the PRO version of the plugin, more than 50 extra features will be available to you. They include more than 2 million high-resolution images to choose from, more than 170 customizable themes that can fit any business style, SEO traffic tracking from the first day, and remotely controlling all of your sites, just to name some.
You even have the option to rebrand this plugin fully. You can easily change the name, descriptions, and visuals. By removing all of its brandings, you can make it your own, including a custom logo, colors, and CSS.
UnderConstructionPage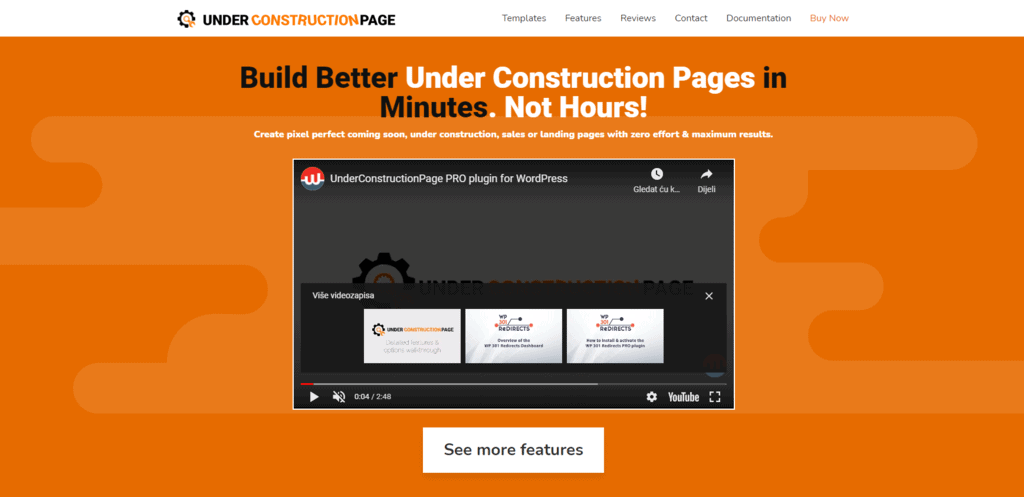 The UnderConstructionPage plugin is a great choice for when your website is not ready for the public eye. With it, you can quickly and easily create a coming-soon, maintenance, under-construction, or even a sales page. The plugin is very adjustable and can work with any WordPress theme or plugin. It's also flexible. You can choose if you want the plugin to control your entire site or just the page or pages you want.
While creating the page, you can use the advanced features to adjust every detail, depending on your preferences. Its features include a user-friendly drag-and-drop builder, a library of more than 2 million high-quality images, and more than 260 templates to choose from. You can also track your traffic from the first day and even share the results on your chosen social media profiles. You can even make the normal website visible for the search engines while leaving the coming-soon page available for the visitors.
3. WP Reset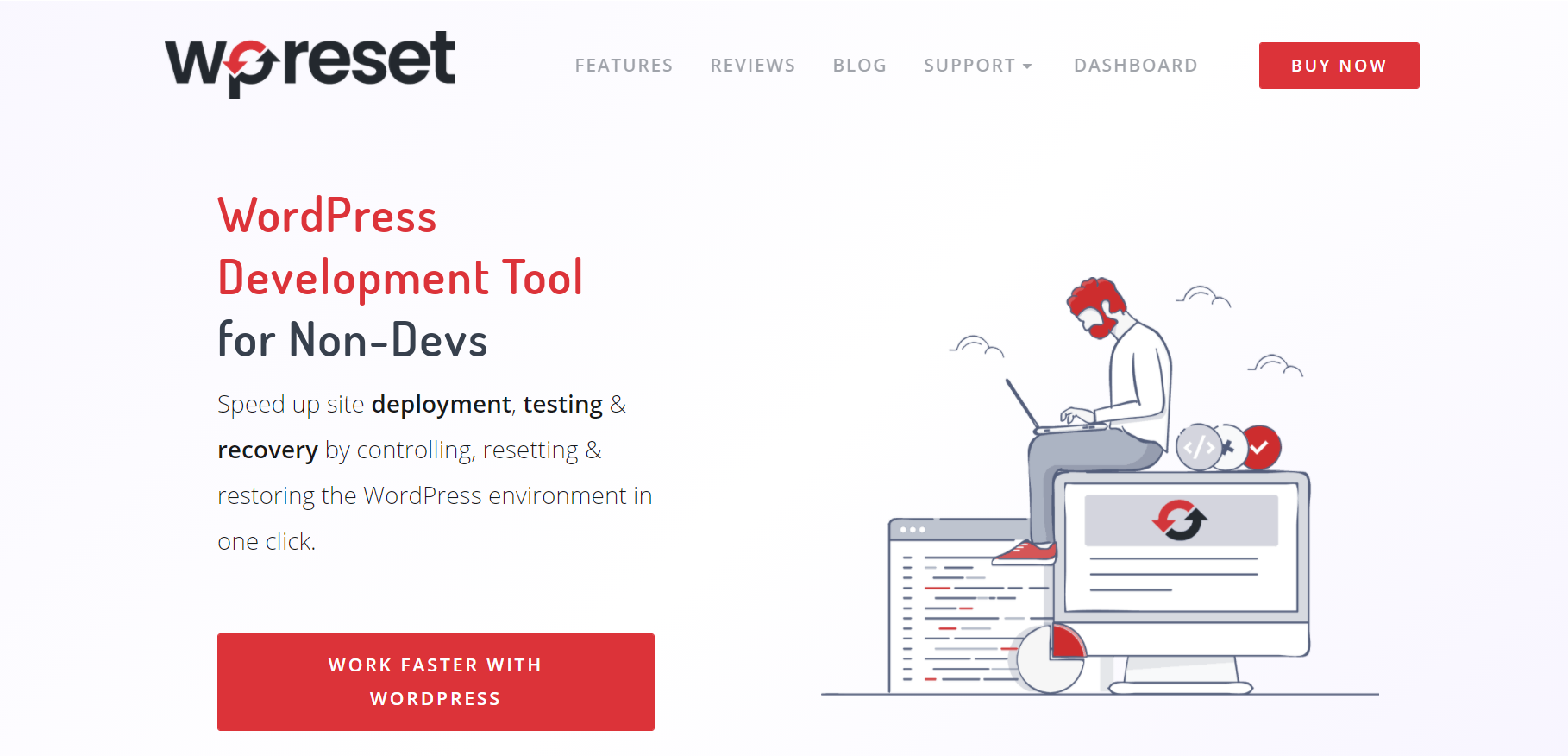 WP Reset is a must for anyone that uses WordPress to build websites. With it, you can easily test new themes and plugins and then return to normal in a matter of seconds. It's a tool that will save your time and improve your efficiency as a WordPress admin. You can manage all of your purchases, sites, snapshots, collections, and licenses on one dashboard.
There is even the option to move the licenses from one of your sites to another. This way, you can have all of the important information stored in one place and save time, especially if you are working with more than one site.
Due to many fail-preventing mechanisms, it's not possible to accidentally delete something or reset the site. Every possibly destructive action needs to be confirmed or double-confirmed. The plugin instantly takes snapshots before making any changes to your website, so you always have a restoring point. It even offers the option to store your collections and snapshots on a reset cloud, which is designed only for WP Reset users.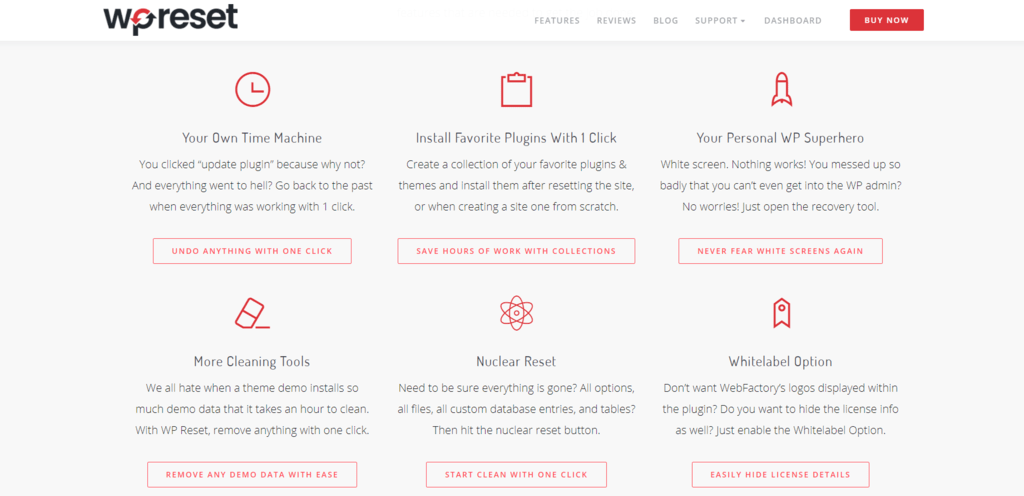 It offers the tools you need for faster and more efficient maintenance, developing, or debugging multiple sites. With it, you can create collections of your favorite plugins and themes. The recovery tool can take you back in time to when things were not messed up and let you start from scratch.
And, with the cleaning tools, you can quickly get rid of the boring data that comes with installing theme demos. The nuclear reset button allows you to delete all the information on your site – all files, options, and database entries. With the white-label option, you can hide the plugins' logo and license information and completely adjust it to fit your brand.
4. WP 301 Redirects
This plugin is made for creating and managing URL redirects. WP 301 Redirects is perfect for situations when you want to change or adjust the URL of an old page or a post. Because your users will still visit the old URL, you have to redirect them to the new one. This is important for not losing your user base while you are managing the URLs. It is also important to warn Google that you are editing your URLs, so it can know how to find them.
This way, you won't lose users, and you will keep them satisfied by providing them with what they were looking for. With this plugin, you can show your users that you value their time and redirect them to a relevant page. Even more, automatic redirects will not work on bots. Instead, the plugin simply ignores them.
The plugin also monitors and analyses all the traffic coming to the 404 pages. Plus, it allows you to relax because it does all the work for you. It automatically creates a redirect rule the moment it detects a change. It is very flexible and works with every WordPress theme and plugin. The plugin also supports Google Analytics and other tools that analyze your website's user traffic.
5. WP Sticky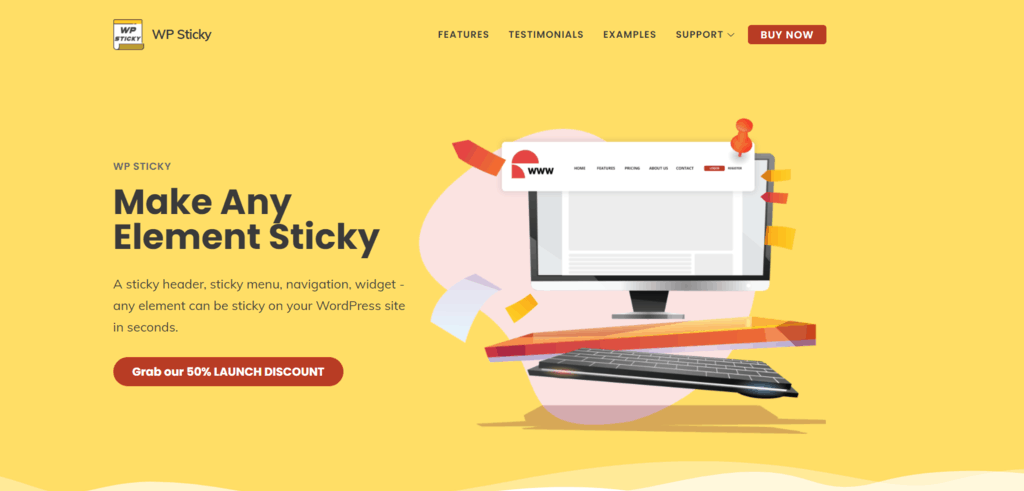 This user-friendly plugin is useful when you quickly need to make an element sticky. WP Sticky doesn't require any coding experience because all the elements can be picked out visually. You can make any element on the page sticky, for example, a menu or a header. You can even adjust each element's position, z-index, opacity, scroll range, and space between the top of the page and the element.
Since sticky elements can be troubling on smaller devices, there is an option to disable them on certain devices with different screen sizes.
You can also add effects to sticky elements, for example, fading in or sliding up. It is compatible with all WordPress themes, plugins, and page builders. The plugin even offers advanced options that can help you when dealing with various problems, such as old-fashioned WordPress themes or bugs. You can check out the examples of pages created with WP Sticky on their webpage.
6. Simple Author Box
With this creative plugin, you can build a reactive author box that can be placed after your blog posts. The author box can contain the author's name, description of the author, a gravatar, and much more. You can start creating the author box from scratch or use one of many professionally designed templates that Simple Author Box offers. If you want to customize it, don't worry, you can control every detail of the author box, including the color schemes, font families and sizes, margins, padding, layout, etc.
Using this plugin, you can quickly and effortlessly elect and accredit guest authors and their contributions. You can even appoint different blog posts to different authors and acknowledge all the participants and their work fairly. You can also contribute to the blog more efficiently by showing the most popular authors on your blog. This way, you can encourage the authors and give them the credit they deserve.
You can select author boxes that will instantly appear on particular post types. You can also adjust every link in the author box. The plugin offers support for any social media network. It has the option to choose from more than 45 social media icons that can be added to author boxes and further familiarize the audience with blog contributors.
7. Google Maps Widget PRO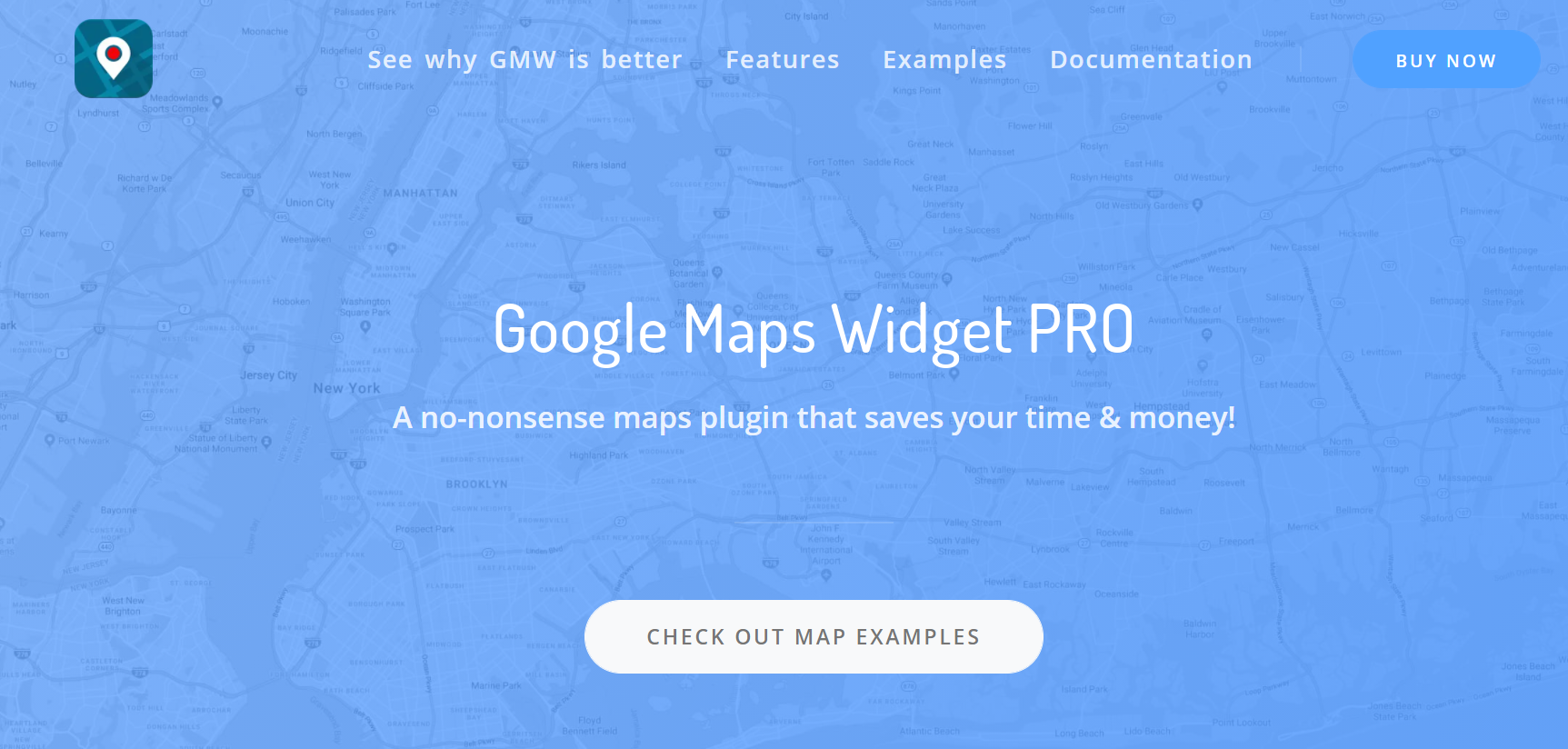 With this easy-to-use plugin, you can add a map anywhere on your website. Google Maps Widget PRO allows you to customize every map to fit your website style and choose between street view, directions, and more. You can add maps to your page in the form of a widget or a shortcode. There is no limit on the number of maps you can add – you can create as many as you want in minutes. The plugin works on every device, so you will not miss out on the users that are in motion.
The plugin substitutes the pay-per-view option with a thumbnail of a map image. This way, it ensures you can use Google Maps for free. Plus, this plugin will not compromise your website speed in any way.
It can also be useful for businesses trying to attract more customers and provide accurate information about their company. Since Google demands an API key installed, the plugin will show you how to set it up in no time. It requires no coding skills to use. All you need to do to add a map to your site is simply copy the shortcode and paste it where you want the map to be. This plugin is a real time-saver.
Need to import/export data for your WordPress website? This WordPress plugin allows you to create imports/exports with a drag & drop interface in seconds regardless of whether the target fields are part of the WordPress core, a theme, any plugin, or custom fields. Work with CSV, Excel, JSON, and XML files regardless of file layout.
Quick and convenient is always preferable but what really separates WP All Import is its ability to handle far more challenging tasks. You can apply powerful filters to work only with the subsets of data that you need. Combine and edit fields as necessary. Manage images regardless of whether they are hosted locally, on your server, or anywhere in the cloud. You can even use custom PHP functions to manipulate incoming or outgoing data using the full power of a programming language.
WP All Import also automatically saves all import/export configurations, which allows you to re-run them any time you wish. You can even modify them prior to re-running them. If you're re-running an import with updated data, you can configure WP All Import to only add new items while updating existing items. Best of all, you can automatically schedule these imports, which essentially allows you to synchronize your website with external data sources.
All in all, a very powerful plugin!
9. BackupGuard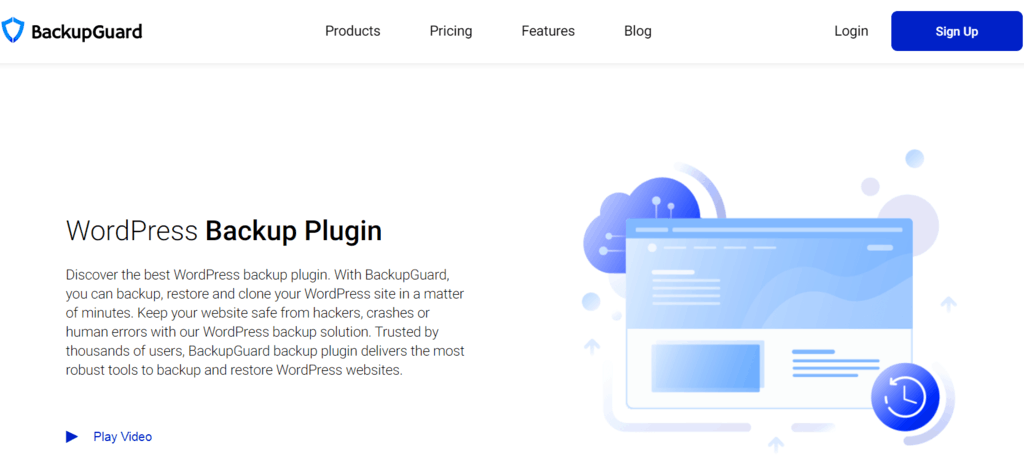 With this plugin, you can back up, restore, and migrate your website, files, or databases to achieve maximum safety. It is a fact that without constant backup, your website is exposed to all kinds of threats. Using BackupGuard, you can automatize your backups and safely store your website on a cloud.
The plugin provides you with the most recent copy of your website at any given moment. You can even access all of those backups on one list, so you can restore the site to the exact point you want. You can choose between creating a partial or a full backup and even run a custom one. This plugin allows you to completely automatize the creation of backups and even schedule them to fit your time management schedule.
This tool contains a security plugin that will secure your website with a strong firewall. It will protect your websites from all sorts of attacks, including bots, spam, and hacks. The plugin regularly examines your website for viruses, malware, and any code injections, so you know your content is safe. You can even take a plugin training webinar and practice using it professionally.
10. 10Web AI Builder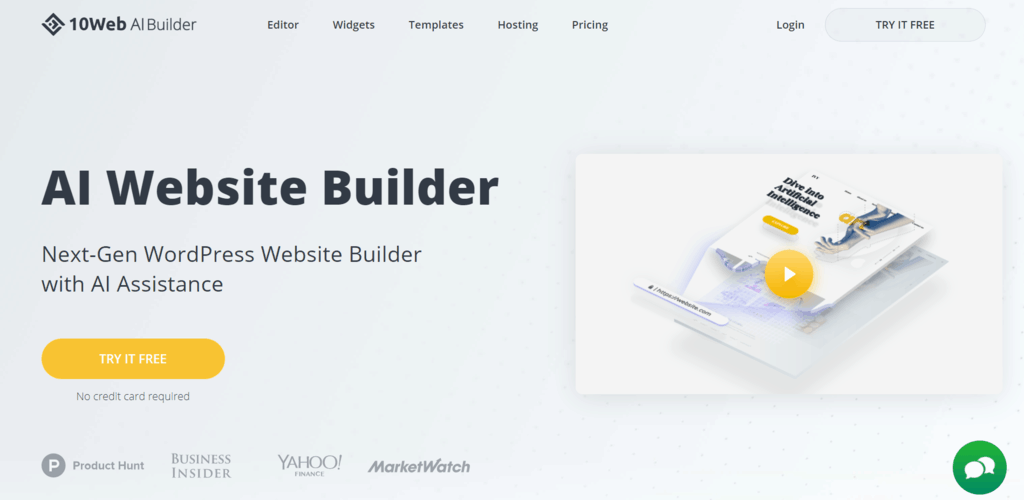 10Web AI Builder allows you to build or recreate any website on WordPress. With the help of an impressive AI and an easy-to-use drag and drop builder, you can create a website in no time. You don't have to have any experience in web design either. This plugin is ideal for you if you need a beginner-friendly tool to create functional websites.
With this plugin, you can move your current webpage from any other platform to WordPress and still keep it customizable. You can easily adjust the design, style, content, and layout of every page. All of the technical work required for building a website is fully automatized and designed to fit developers with no coding experience.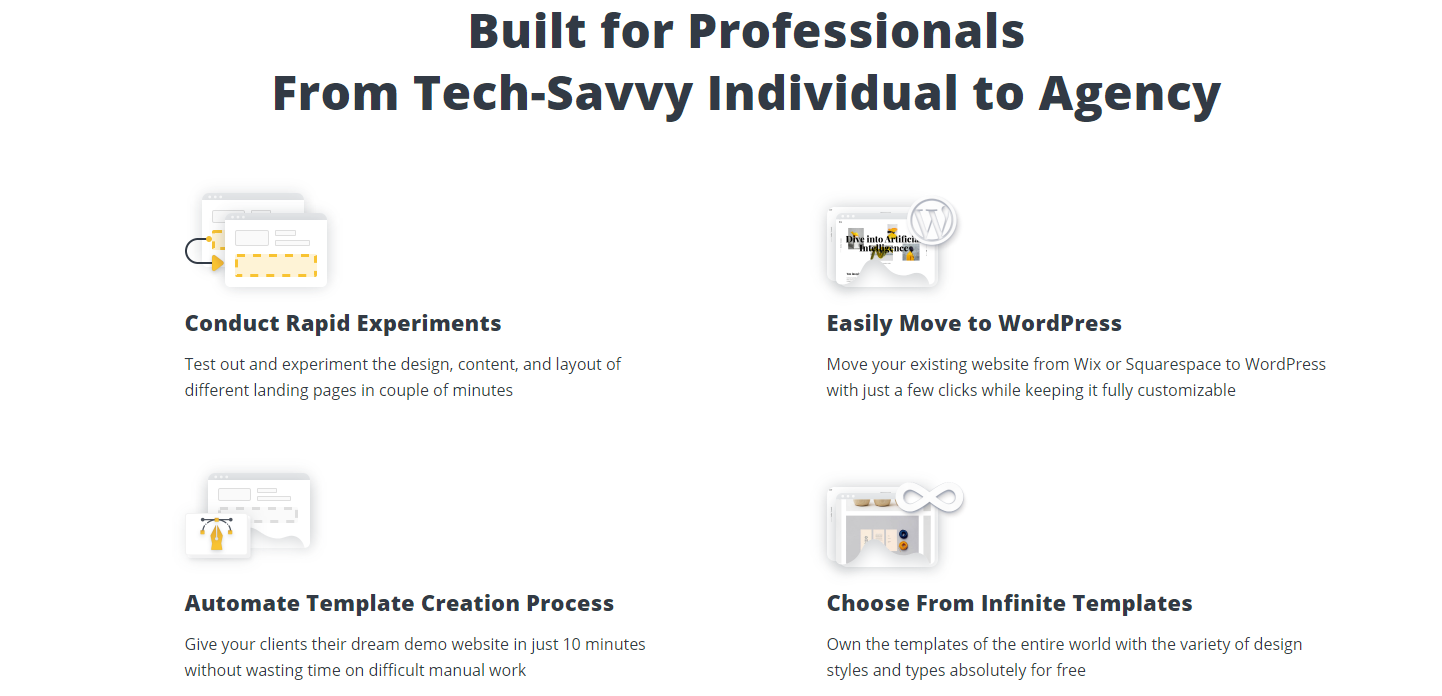 If you are browsing and run into a webpage whose design you consider useful, you can easily recreate it and customize it to be your own. With the help of the AI assistant, you can quickly add needed widgets for your desired website. The plugin provides more than 30 professional widgets that will allow you to customize every detail of your webpage. Basically, you'll be able to create an ideal website in no time.
You can even create as many websites or website templates as you want and use them when you want. The plugin provides you with all the tools you need to build a website from scratch – you can create, customize and manage every detail. Furthermore, if you are creating a website for someone else, you can quickly create a demo version to show them how the website is going to function without too much effort.
11. Optinly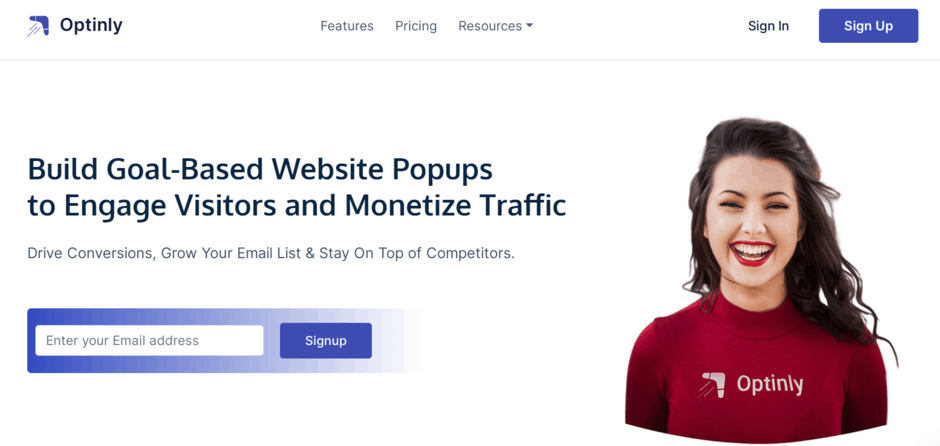 With this user-friendly plugin, you can create custom pop-ups for better user engagement on your website. You can design pop-ups to fit certain goals and target a particular audience. Optinly is ideal for you if you want to increase user attention and engagement on your website.
With this plugin, you can design pop-ups that will stand out on your webpage. You can use a professionally predesigned template or start from zero. In addition to creating pop-ups, you can create pop-up campaigns that will fulfill your marketing goals. The pop-ups can be designed to activate by certain triggers, and that improves engagement. Those triggers are based on certain factors, such as the user's time spent on a page, exit intent, or type of device used.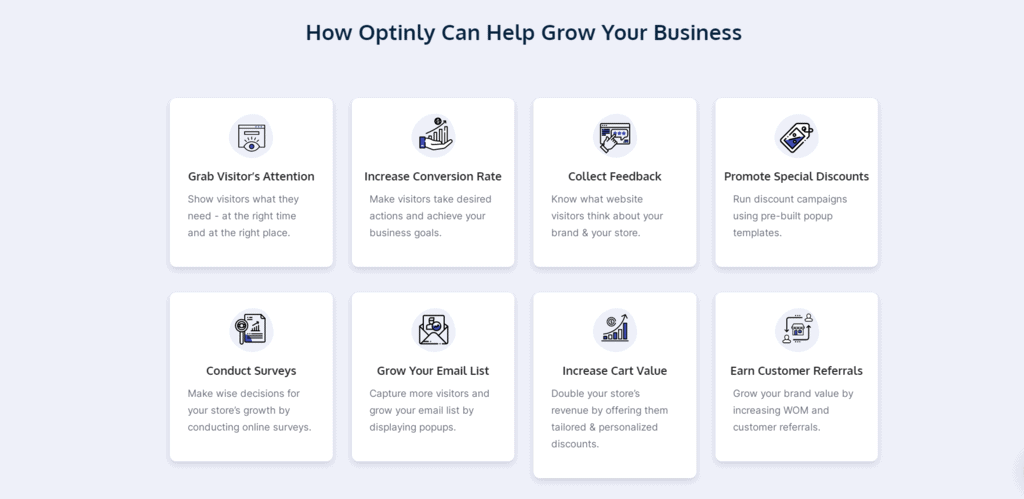 The plugin provides features that can collect user feedback and advertise special offers. The templates are completely customizable, leaving you in control of every detail on the pop-up. You can choose from a variety of features, including uploading your logo, changing the complete layout, adding images, animations or links, and many more.
This plugin even offers the option to associate various websites and launch pop-up campaigns over all of your sites simultaneously. You can even control all of those campaigns from one dashboard. You can attract even more visitors by setting up custom rewards or even adding customized spin wheel pop-ups.
There's also an option to connect various marketing tools with this plugin for optimized performance. The plugin analyzes the performance of pop-ups in numbers of clicks, conversions, and page views for a better-focused market and user approach.
12. Blogely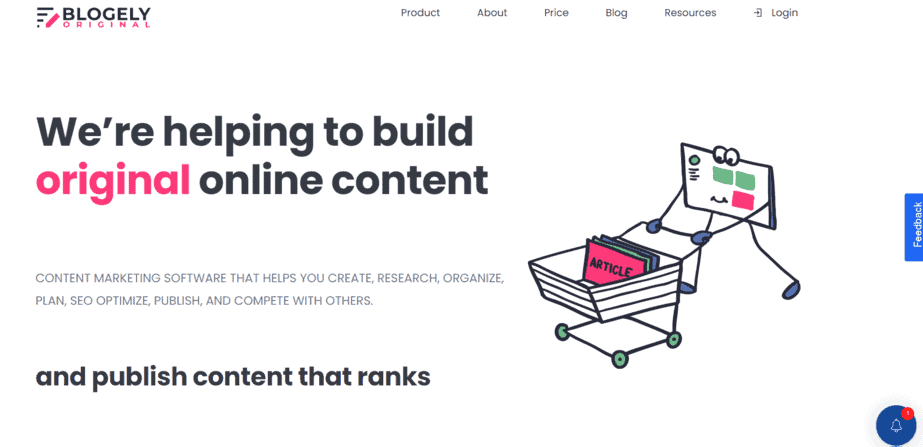 Using Blogely, you can create and publish original content to optimize your website's ranking on search engines. This is a content management tool that allows you to manage, optimize, and distribute quality content on various platforms. You can quickly and efficiently create SEO content that will bring in more traffic to your website.
This all-in-one tool is a clever marketing app. Using this plugin, you can write, edit, publish and republish content on your website. For a fully optimized workflow, you can access a list of all of your ongoing content articles. It even provides you with a detailed analysis of their publishing dates, SEO scores, statuses, and much more.
You can also analyze the competition and create a heatmap that will show the keywords you choose. This way, you can always stay on top of the game. With the help of an AI assistant, you can write content much faster and clearer. It also offers the features to expand your vocabulary and create a unique writing style.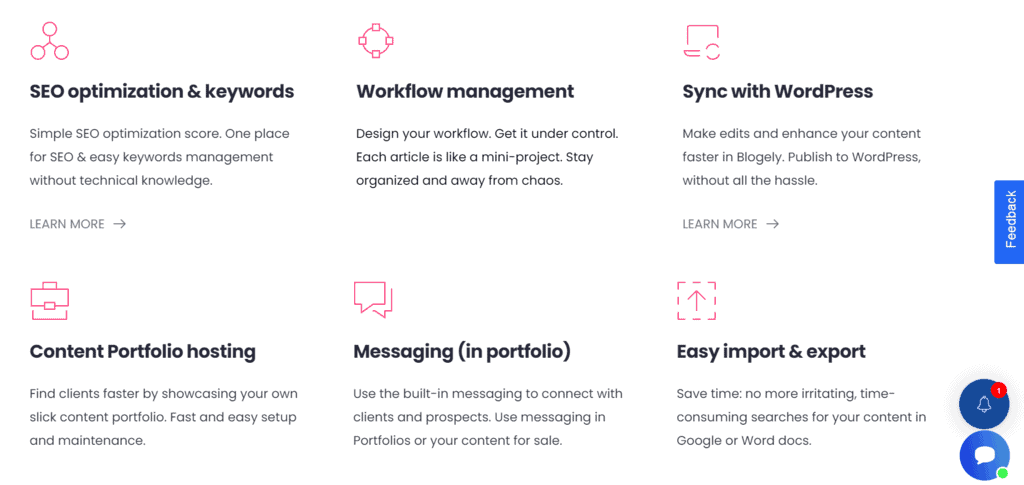 All of the content created with this plugin is automatically checked for plagiarism. You can scan the content you created for originality and save the results in the form of a PDF report. No more wasting time on endless researches and checkups.
Blogely also provides you with a detailed report on the SEO performance of your content. It even offers you solutions for detected problems and advises you on how to improve SEO. If you collect your published work in a Content Portfolio, you can reach a wide range of potential clients or employers. With this plugin, you can organize your time to create and publish optimized content effortlessly.
13. WP External Links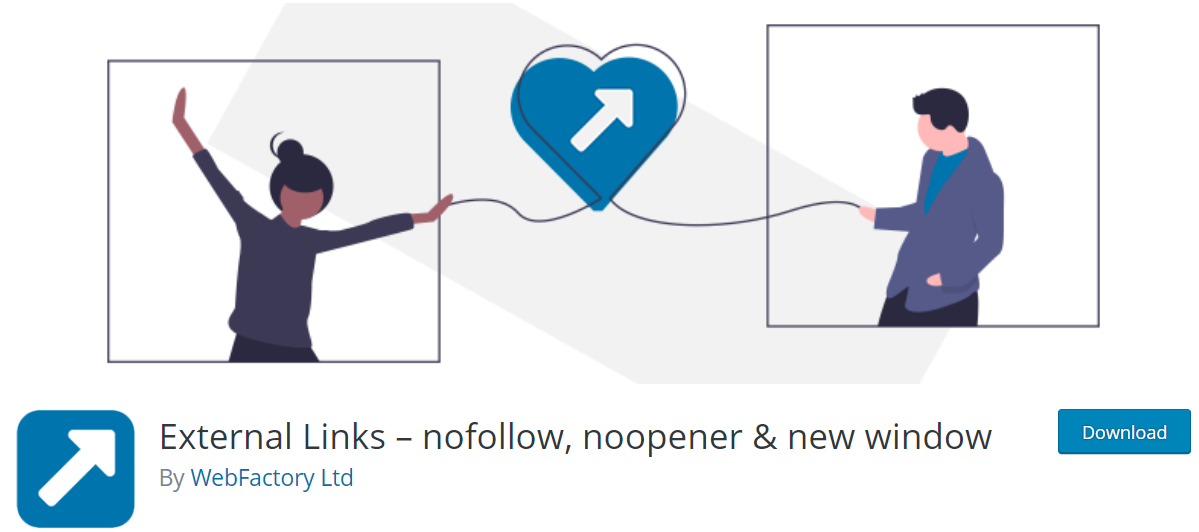 This is a plugin that can help you manage all of the internal and external links on your website. External Links offers advanced features such as noopener, user-generated content, nofollow, if links, font icons, and sponsored values.
With it, you can adjust all of your links. There is a possibility to open them in new windows or tabs, add follow or nofollow options to boost SEO, add noopener or noreferrer options for better security, add link icons, scan a complete page, or just parts of it, and much more.
You can set the preferred options for each individual link. The plugin automatically adjusts links while other content, such as posts and widgets, stays untouched. You can also add user-generated content, set features such as title or CSS, and apply plugin settings on some elements only.
14. WP Force SSL & HTTPS Redirect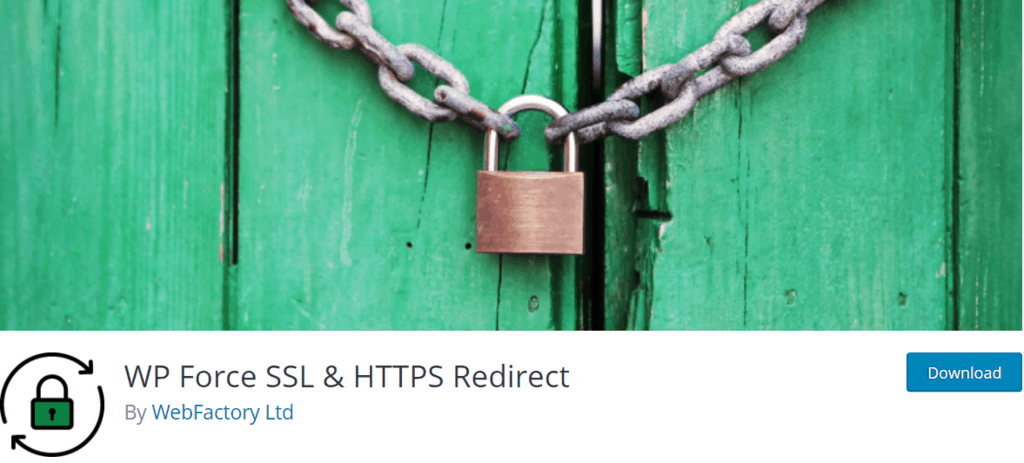 This plugin takes care of your website's safety by redirecting insecure HTTP to secure HTTPS traffic. To use WP Force SSL & HTTPS Redirect, you need an SSL certificate. The plugin works both with free and paid versions. After adding your SSL certificate, you simply activate the plugin's Force SSL, and it enables SSL on your website. The plugin moves your website to secure HTTPS by using your SSL certificate.
With this tool, you can even test the SSL certificate to validate it. You can ensure that your certificate is installed adequately and that it is up-to-date. If you want to add extra security to your website, you can activate HSTS or HTTP Strict Transport Security. If you use it, web browsers will interact with your website only through HTTPS connections. This mechanism shields your website from attacks. This plugin is perfect for anyone concerned about their website's safety and with an installed SSL certificate.
15. YouTube Feed by Tagmebed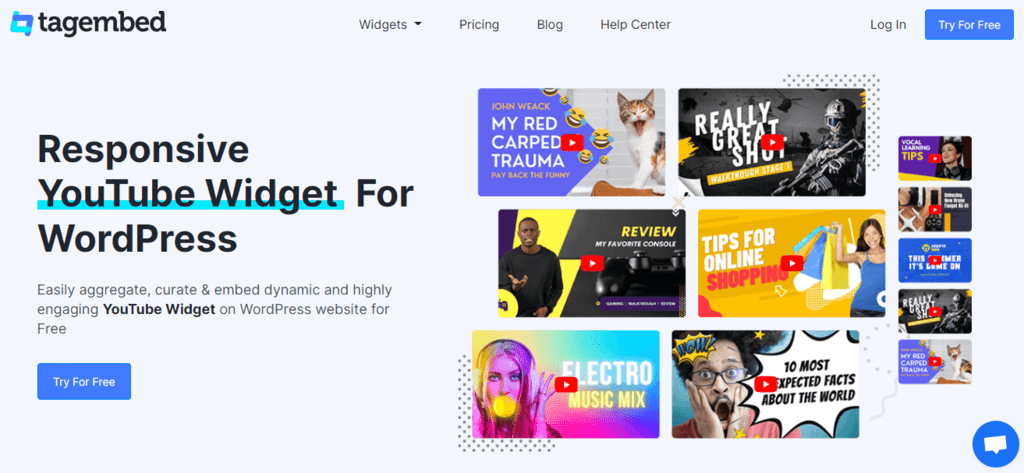 Videos carry the element of liveliness with them, so why not add them to your WordPress website and that too without affecting the website speed? With responsive YouTube Widget for WordPress by Tagembed, you can embed YouTube video Gallery on your WordPress website and bring that liveliness to it.
The seamless display also offers you some amazing features that add great significance to this plugin. Some of the major features include the customization feature – which allows you to personalize feed as per your need. Also, it provides you with ample layout and themes options. You can choose the one that best suits your style. Moderation, analytics, Custom CSS, responsive feed are some of the other features out of many of these plugins. In addition, it provides a Free-Forever plan, which makes it an ideal plugin for WordPress.
16. Yoast SEO
With this plugin, you can optimize your content by finding highly efficient keywords and adding them. You can add synonyms and key phrases to create original content with a natural flow. The plugin is available in more than 16 languages, with more yet to come.
By using this plugin, you can rest assured that Google and other search engines know exactly what your website is about. You can easily collect data in WordPress. The plugin keeps track of your content updates and alerts you when it needs refreshing. You can access a preview of your page on Google, Facebook, and Twitter. You can also scan your content for readability.
It also offers plenty of plugins for different kinds of businesses and goals. So, no matter the line of work you're in, Yoast has something that will work for you.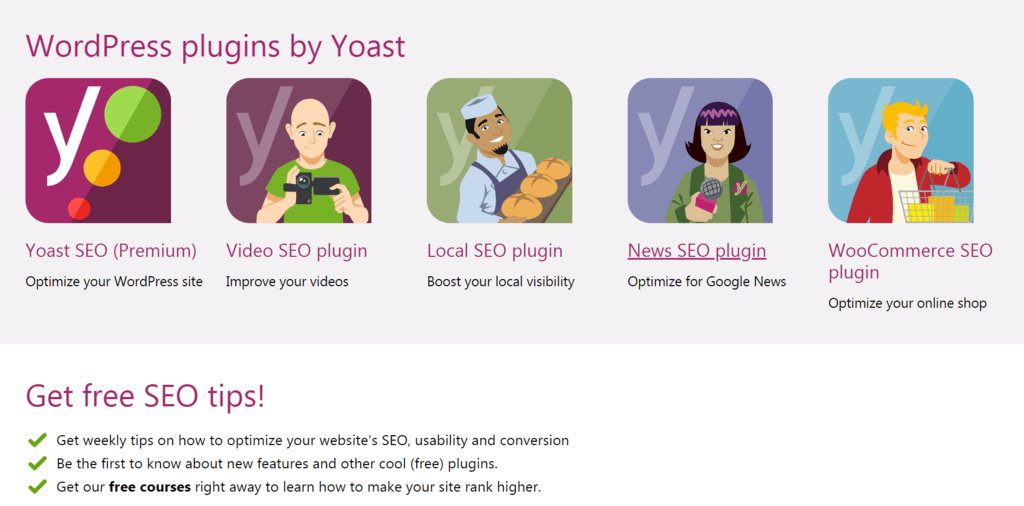 There's even an option to customize internal and external links while you are creating content. There is an option to mark the links as no-followed or sponsored. The plugin even advises you on which websites your links should lead to, depending on what your content is about. You can also sort the internal links in a preferred order, using linking blocks. This way, you can make sure that your website is well-structured.
The plugin gives you a detailed insight into your content and most used words and phrases. You can then compare them with your optimal keywords and key phrases. It also supports a redirect tool that can easily convert old URLs to new ones. This way, you will not lose visitors, and they will be able to access your updated content.
Instead of distributing your posts every time they are published, you can use the Zapier tool and send content to more than 2000 destinations simultaneously. The plugin works perfectly in the classic and block editors in WordPress. With this plugin, you won't have to worry about content clarity and focus.
17. WP Rocket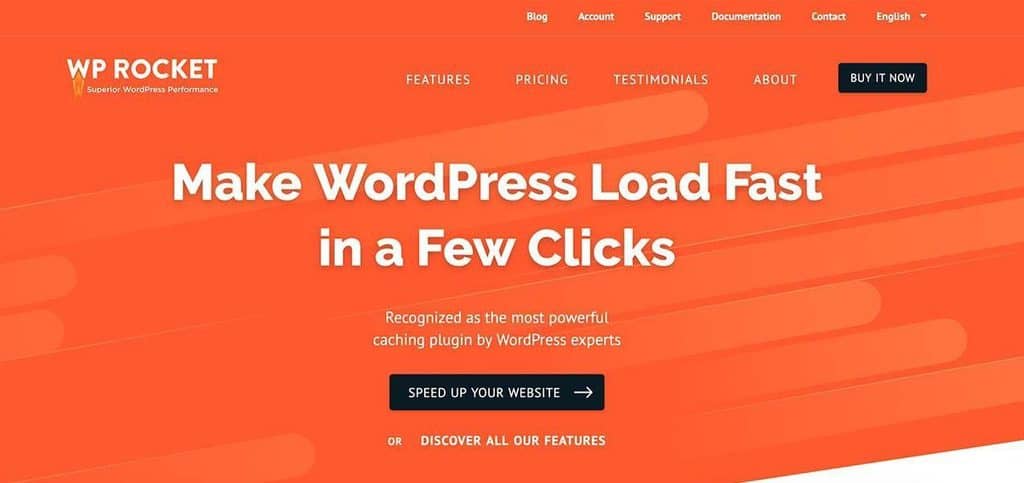 WP Rocket is a high-performance caching plugin that will make your life easier. You can use it to improve your website's speed, conversions, and SEO ranking. It speeds up the loading time of your website without the need to use any code. Keeping the loading time short is a crucial step in keeping visitors from quitting the website. An efficient caching system optimizes website speed and keeps users satisfied.
Loading speed is not only important for user engagement but also for ranking highly in search engines. By optimizing your website's performance, you can boost conversions and revenue. If you make any adjustments to your website, the plugin instantly preloads the cache to make your website even faster. It can even save the resources you often visit, such as images or CSS, to the device's local memory. This way, they can be accessed even faster.
This plugin makes your website faster by compressing pages on the server and decompressing them in the browser. This is a clever way to reduce file sizes and provide the maximum loading speed to the visitors. This plugin provides you with instant improvements to your website speed. You can benefit from using it and optimize the performance of your website.
18. Akismet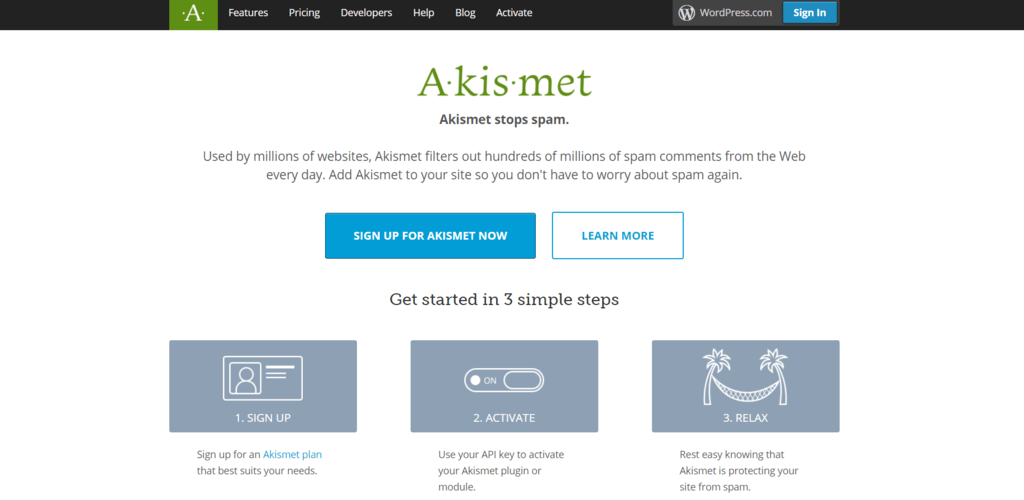 This plugin will get rid of unwanted spam on your website. With the amount of spam posted daily, it is almost impossible to filter it manually. By using Akismet, you don't have to worry anymore about spam affecting your website's credibility.
The plugin is constantly keeping track of what you mark as spam. It adjusts to your needs and learns on a local and a global level. On a local level, the plugin learns about your preferences and remembers the mistakes it made. On a global level, it uses all the input it can access to better understand what you consider as spam.
Conclusion
This concludes our list of the best WordPress plugins for your blog in the year 2021. You probably won't have to use all of the mentioned WordPress plugins and tools. That, of course, depends mostly on your needs, preferences, and the goals you want to achieve. However, you should definitely try out some of the listed plugins that best fit your website's style and purpose.
A good plugin is very powerful. It can help you to create an attractive, efficient, and successful website while saving you a lot of time, effort, and money. However, the WordPress plugin directory is filled with more than 55,000 plugins, so it's not always easy to choose the right ones that will work perfectly with your website.
So, no matter if you are a part of an agency, freelancer, or individual creating and maintaining a WordPress website, you should check out these plugins that can make your everyday life easier. Let 2021 be the year when you will finally make the best possible improvements to your website and achieve all of your business goals.