Before your potential clients buy one of your products, they'll go on your reviews page to see what others have said about it. Based on the reviews, they will either make the purchase or leave your site. Having user-generated content is a great way to increase your brand's trustworthiness.
However, having to manually collect it, organize it, and put it together is time-consuming.  Lucky for you, there are several different tools that make this process a lot easier.
1. EditMate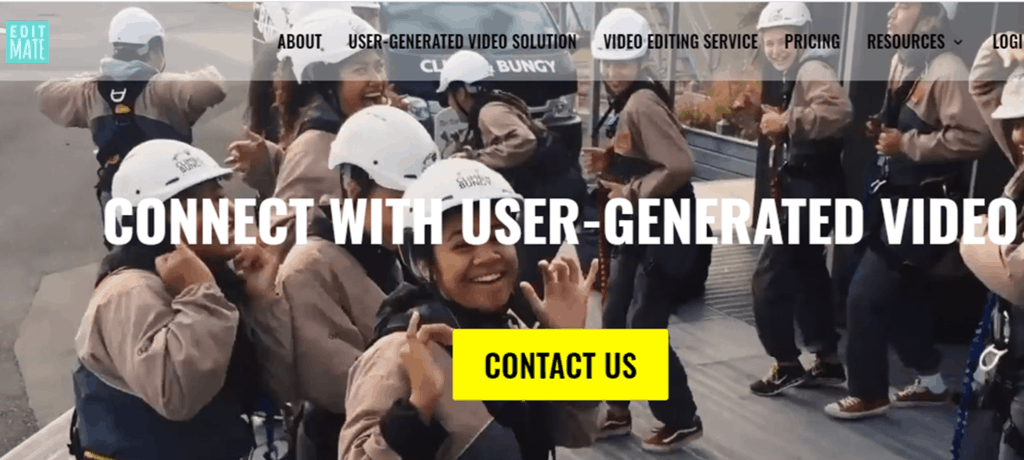 EditMate is a user-generated video marketing software that lets you create and provide social proof. This tool makes it easier for you to collect videos generated by your clients and put them all together. First, you start by crowdsourcing an unlimited number of videos from clients. You can also ask your clients to upload their content on EditMate's public uploader so you can save yourself the time of having to do everything yourself.
The uploader is also mobile-optimized and can be white-labeled to match your brand. You can even customize the URL and built-in terms and conditions.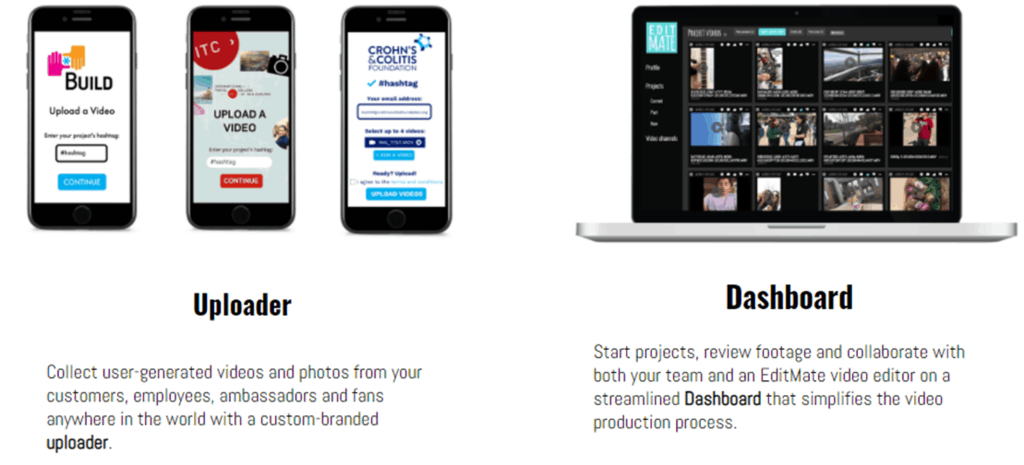 The process of uploading a video is really simple. Customers enter the project's hashtag and their email address. Then they select up to 4 videos or photos they wish to upload. That's it!
You can send and schedule emails on the dashboard, collaborate with your team, write project briefs, review footages, and share videos. Moreover, if you lack video editing skills, you can access a global network of professional video editors so you can share your videos.
There are several plans you can choose from. The cheapest plan costs $59 and includes all features for 5 dashboard members.
2. Yotpo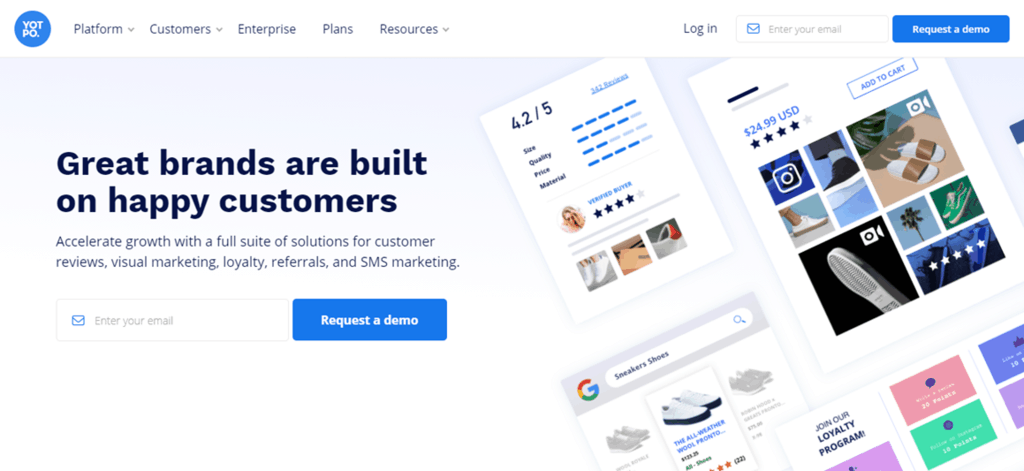 Yotpo is an e-commerce marketing platform. It gives you the features for customer reviews, loyalty, referrals, and visuals. You collect reviews, photos, and Q&A with AI-powered requests. You also have full control over your content and can auto-publish reviews based on your customized parameters.
You can use data-driven tools to easily post feedback provided by your clients. You can also display your customers' content on different sites and customize the review widget options to fit your brand.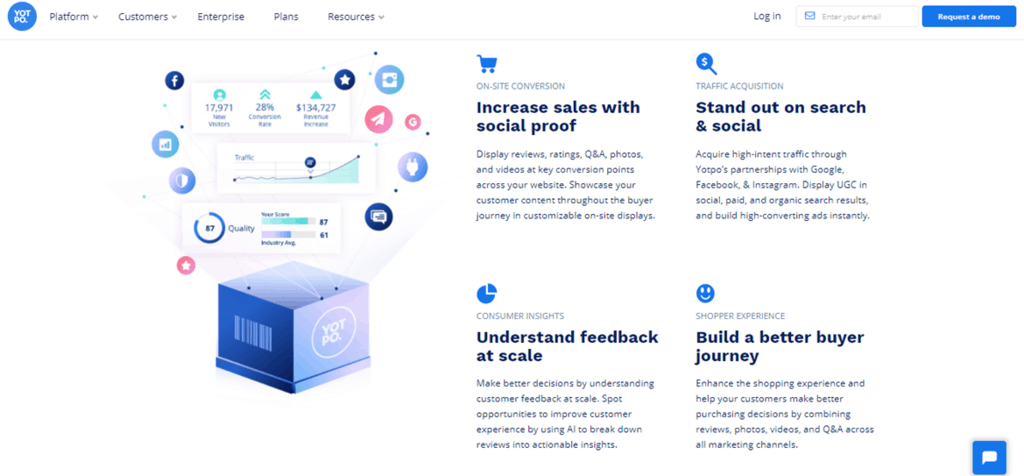 The tool is also great for generating more traffic and brand visibility. Moreover, you can build rewards and referrals programs to engage your current customers.
The tool can be integrated with Shopify, Magento, Google, Instagram, Facebook, Pinterest, Zendesk, and many more. You can start with the free plan and upgrade if you enjoy the features.
3. Bazaarvoice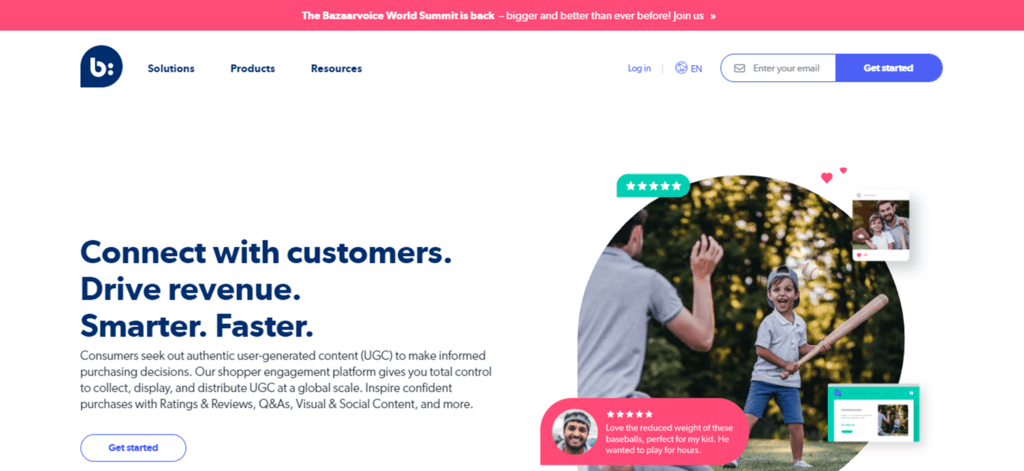 Bazaarvoice is a visual content platform. With this tool, you have the ability to collect, display, and distribute user-generated content. You can use authentic opinions, photos, and videos from your customers, get them to leave reviews and feedback easily after purchase, so your potential clients shop with confidence.
You can also inspire your customers to share social and visual content of how they use your products via the visual stories feature.
If you use the ReviewSource feature, you can get a continuous flow of organic review content. Your new reviews will be moderate with machine learning and human intelligence, so you know they are always of high-quality and trustworthy.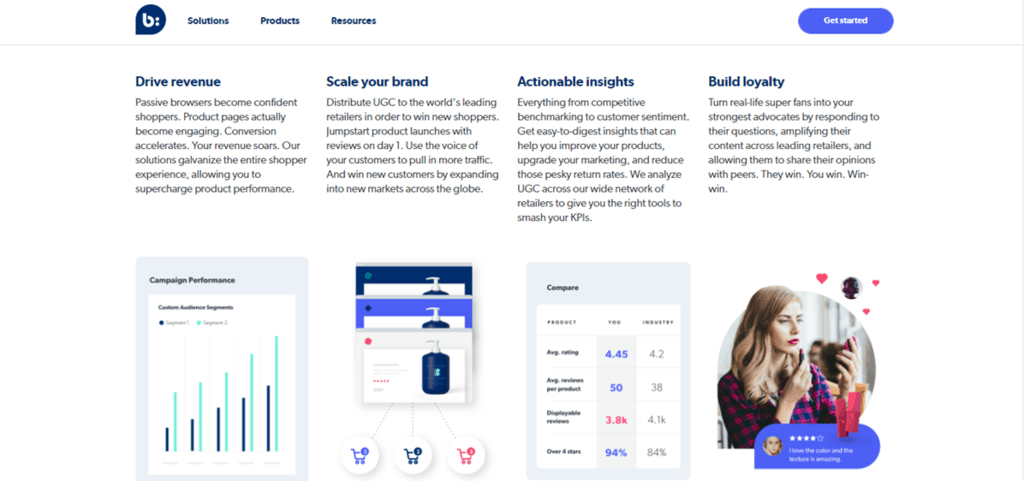 You can also join the Influenster community of more than 50M reviews, and 6M engaged members who read and write reviews, share photos and videos so you can generate the content you need.
This tool also provides insight so you can benchmark your performance, improve your marketing or products, and increase your brand visibility.
4. Taggbox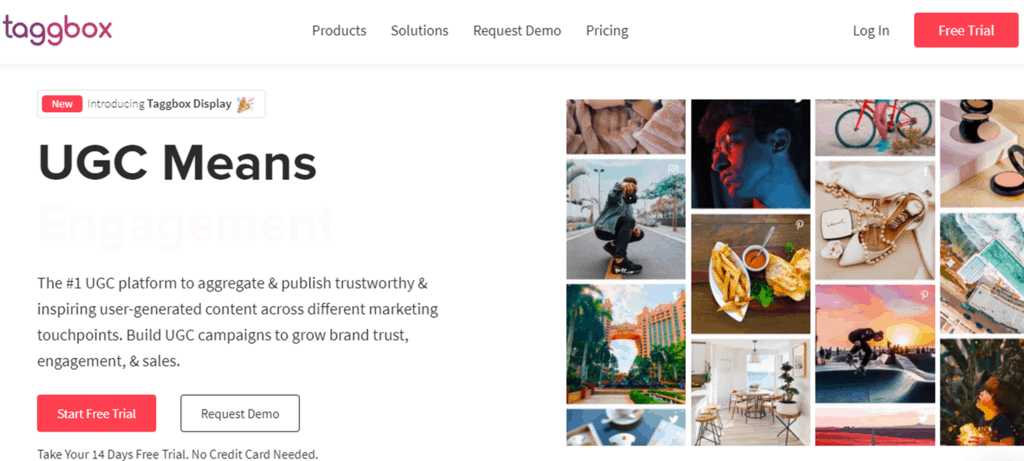 Taggbox helps you collect, manage, and display user-generated content for your marketing campaigns. You can curate user-generated content from social media, create a marketing campaign based on user content, and display it across your marketing channels.
You can also personalize the campaigns with it, modify the content, offers, and promotions to make them more attractive and engaging. You can also manage the content rights and get them directly from the users and edit their content for your campaign.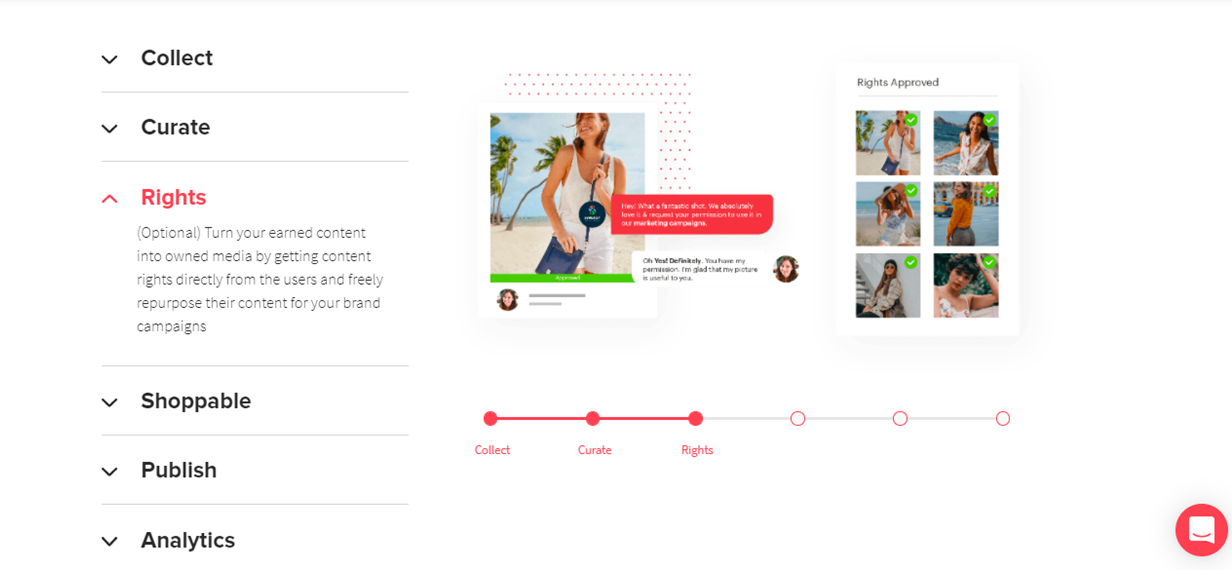 Moreover, you can even turn the user-content into shoppable content as you can add details like price, checkout link, and user-generated posts. You can display the user content like images, videos, URLs, along with a social wall in the split-screen views.
You can customize the content with different layouts and designs to motivate your users to generate more content, and you can gamify the experience by creating leaderboards, contests, and analytics to get them to engage even further.
Lastly, you can integrate with MailChimp, Slack, WordPress, Shopify, and SalesForce.
5. Photoslurp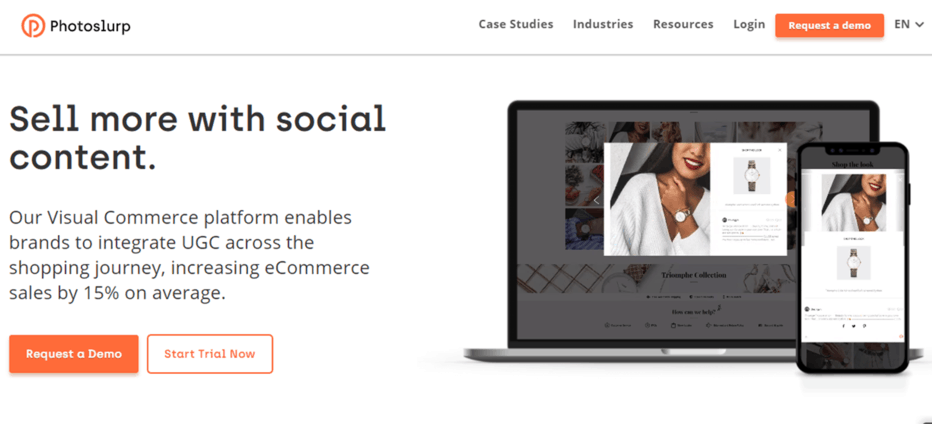 Photoslurp is a visual e-commerce platform. It allows you to integrate with your e-commerce platform and collect photos and videos of customers from different social media platforms (Facebook, Twitter, Instagram). Your users can also directly submit their content, so you don't have to spend extra time trying to collect it all first.
You can set up blacklisting and whitelisting features to help you block content that doesn't fit your brand image and is irrelevant. That saves you time so you can focus on using the relevant and useful content generated by your clients.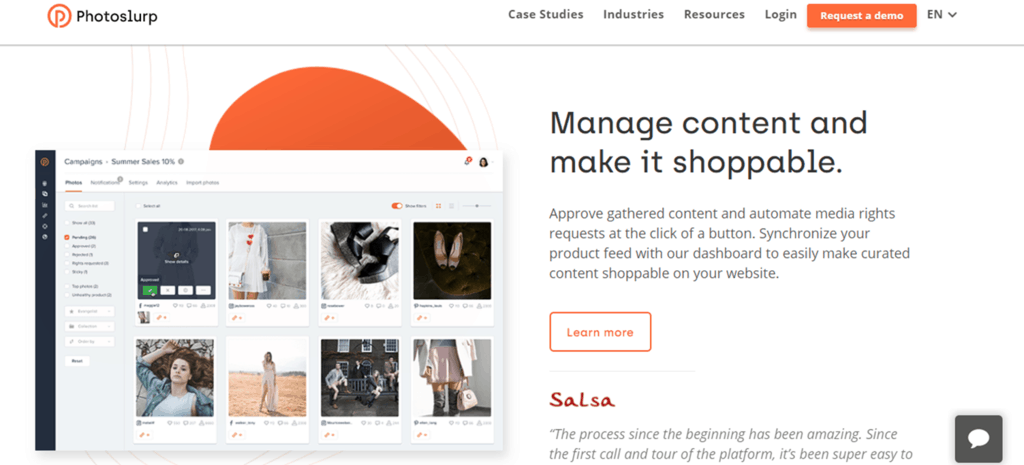 You can also edit, publish, and analyze the user content from your dashboard and add some details to it to make it more shoppable. You can publish the content into your home page, gallery, product, or category pages, as well as use it on your marketing campaigns, mobile apps, and in-store displays.
Moreover, you can track and analyze the performance of your content as you have access to data such as clicks, conversions, revenue, as well as the most active and the best brand ambassadors from your user community.
Conclusion
We hope this little review helped you see which tool would be most useful to you. We would recommend you definitely try EditMate. It is intuitive to use and gives you lots of useful and relevant features for low pricing (that is, you only pay once and can use it for as long as you need).