Let's be honest; we all love food. And some of us do not have the talent of cooking a meal, no matter how many tutorials we watch online. But thanks to the internet we have been given tens if not even hundreds of places from where we can order our food. Today, almost every restaurant has its own website, where its customers can view their menus, the ambient, and any other information regarding the restaurant.
This leaves the cooking part to the professionals, and all you have to do is do a bit of research and decide whichever restaurant you consider to be perfect for your cravings. If you are considering making a site for your restaurant or already have it but want to improve it, this article is for you. We want to introduce you to some plugins that will take your site to a whole new level.
1. Five Star Restaurant Menu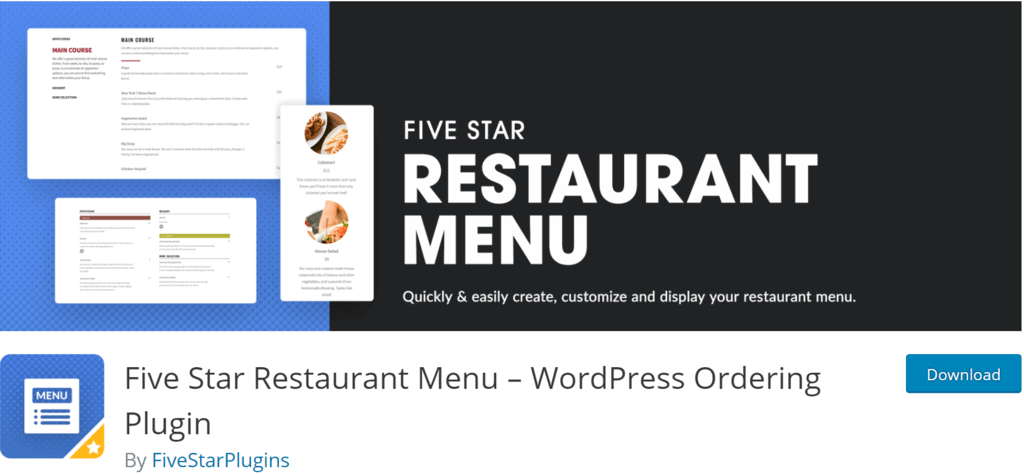 Five Star Restaurant Menu is the perfect plugin for today's topic. With it, you can simply and quickly create a professional-looking site for your restaurant. You can customize every part of your site, making it match your business perfectly. It includes the Gutenberg restaurant menu block, which is a block-based editor that makes every part of your site a draggable block.
Some of its best features include defining your work hours and accepting orders during them, making your design perfect even for mobile phones, adding pictures, prices, and descriptions on each of your items, a sidebar that easily guides you through different parts of your menu, and much more. This means you can have different sections of your menu, making it easier for your customers to look through (for example, desserts, appetizers, weekly specials, etc.).
This plugin also allows you to accept orders over your website. All the customer has to do is put the wanted item in the cart and insert their delivery information. Since it offers a paid-for version, some features are only included in the premium version. This means features like discount pricing, advanced styling options, badges for sales, and similar features require you to upgrade to the premium plan. They have three price plans ranging from $40 to $220.
2. WPPizza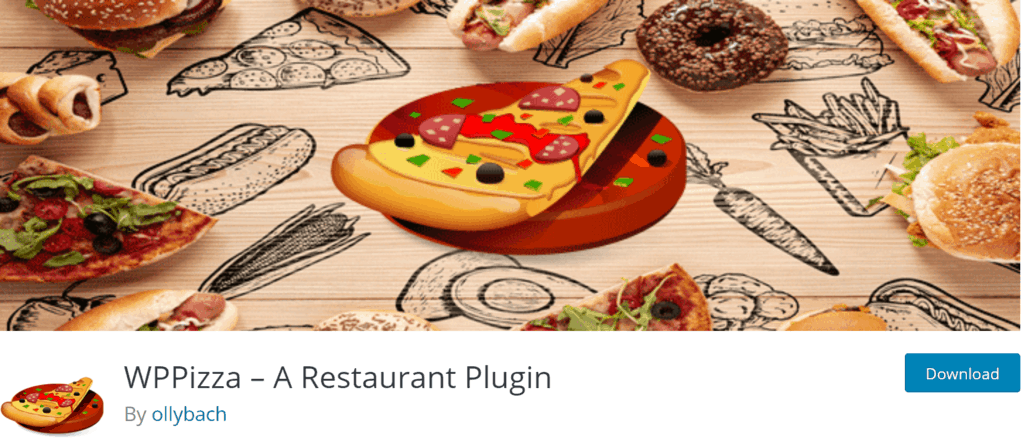 Even though its name has pizza in it, it does work for every other type of restaurant. WPPizza allows you to accept online payment but also cash over your site. Online payment gateways can easily replace paying upon delivery; these gateways include PayPal, Sofort, Rabobank, and many more. You can create categories for all of the items on the menu and add their descriptions and prices. It also allows you to receive notification of every new order you receive.
Just like the plugin above, you can set your working hours, allowing the customers to order during those times. With this plugin, you can add simple discounts on your menu items and receive order reports. The cool thing about this plugin is that if you are unhappy with only these features, you can download individual extensions that come with the premium version. They also do offer translation for languages like German, French, Spanish, and more.
3. Food Store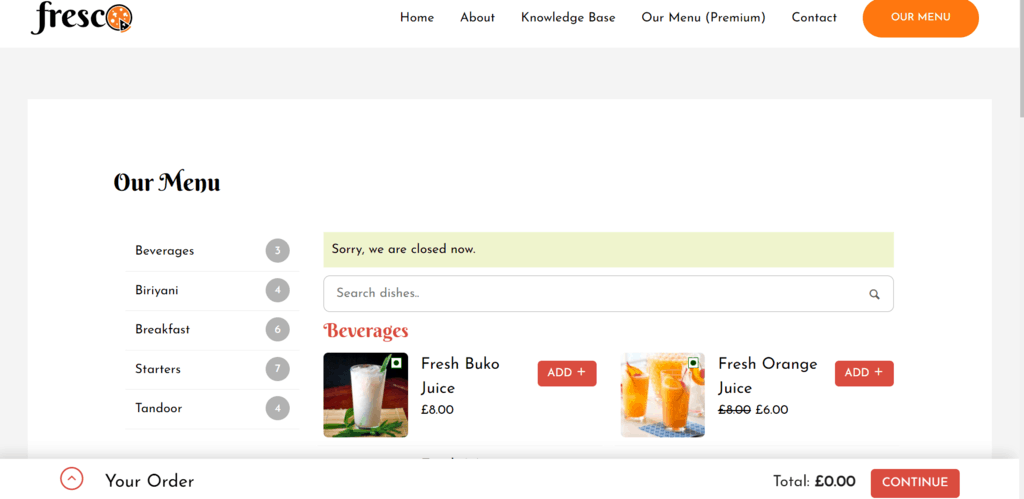 This plugin is perfect for those of you who want to incorporate WooCommerce into your site. It is very user-friendly, making it easy to set up even for beginners. Food Store allows your customers to order food using your site, choosing food from your online menu. The WooCommerce aspect of it can be seen in the cart and checkout features, including the payment options for the orders. Since it is a freemium plugin, some features are only available with the Pro version. Of course, you can additionally include food delivery, which is more convenient for the customers, not having to come and pick up food.
4. WP Food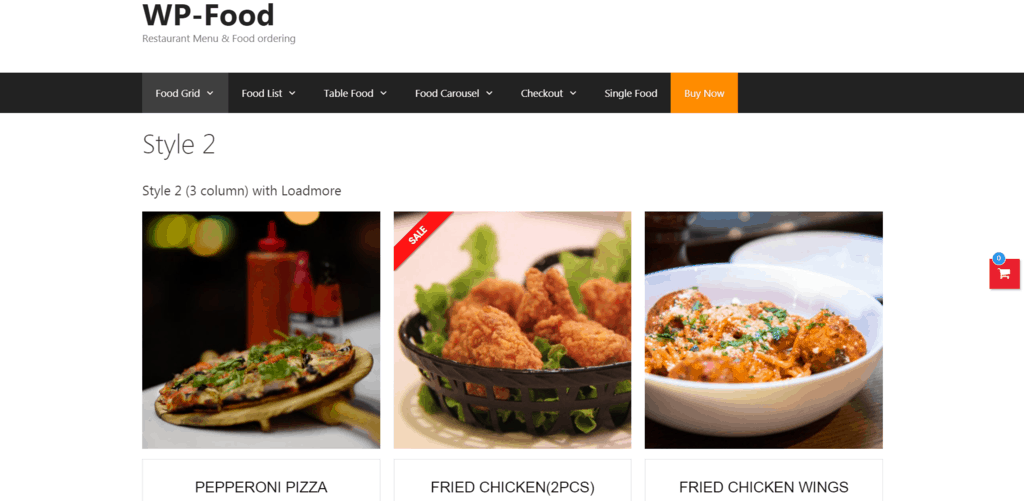 Another amazing plugin we think is necessary for your restaurant. WP Food is very easy to use not only for your customers but for you as well. All you have to do is display your menu online, allowing your customers to browse through it, pick out what they want and place an order. You can also receive and process all of your orders, as well as see any special instructions given by the customer.
This has everything a menu plugin requires, plus it looks really sleek. When it comes to the design of the site and its overall appearance, it does allow you to customize almost everything from layout options, fonts, colors, even adding pictures to each of your menu items is an option with this great plugin.
5. Restaurant Menu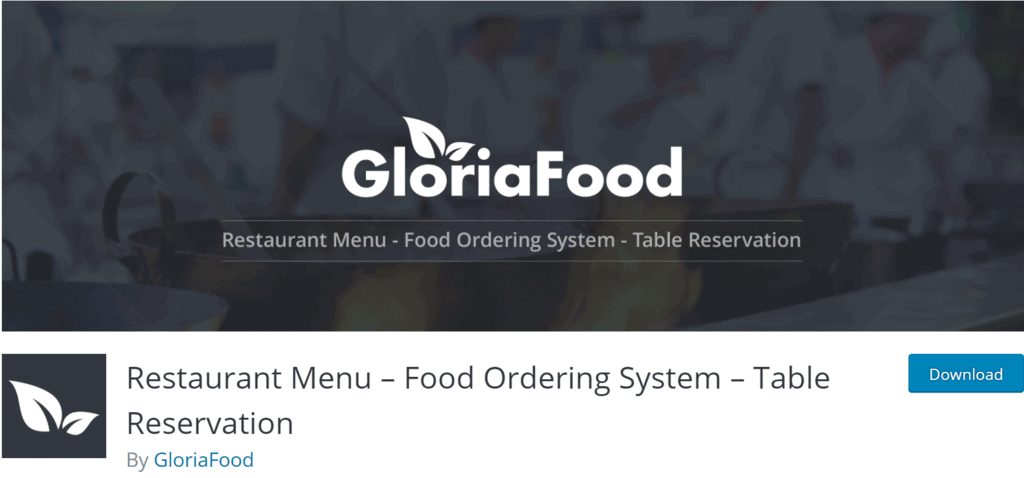 Restaurant Menu is a free plugin with powerful features. It's super easy to use but takes your site to a whole new level, upgrading it from only a site to an online business. All you have to do is upload your menu add an order button, and that's it. You can do all of that without writing a single line of code. When it comes to the menu, you can edit it any way you want, with the drag and drop function. It also includes an ordering app available on Android and iOS.
This plugin notifies the customer while at checkout if they are out of the delivery zone, for which you can set the boundaries. When it comes to the menu, everything is customizable, giving you the ability to add promotions on menu items. You can also receive and reply to table reservations, not obligating your customers to call. Any additional information can be found on their website.
Conclusion
We hope you have found this article helpful and that it will make your final decision easier. Giving any of these plugins a go is not a mistake. All of these help your business grow. But making good food and presenting it the best way is still your top priority. Adding these plugins is simply a way to implement a new ordering system with ease.
Also read: Best Restaurant Website Builders.