Have you ever noticed a little header while on a website that seems like it follows you everywhere you go? Those are actually made like that, and they are known as sticky headers. They also go as fixed headers, but the term sticky header is way more popular. So, what are they exactly?
Basically, a sticky header is a type of header that is usually set at the top of the page, and no matter how long do you scroll down, it will always stick at the top of the page.
They are handy for a lot of reasons. For example, people like to use them on their online store because they can type important information there, such as "Free Shipping Worldwide" or "50% off on all orders." When people are scrolling through the website page, that fixed header will always be there to provide that piece of information, resulting in people impulsively buying your product.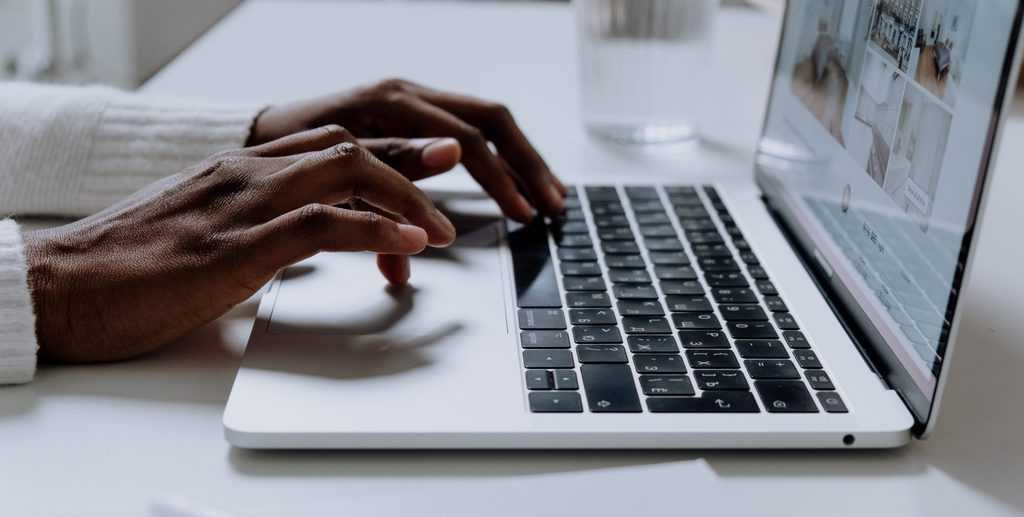 It is proven that if you put something catchy like the two examples that we mentioned above, you can actually increase your conversions by 3%, and this can be really beneficial, especially if you are a store that is trying to get sales.
They are also great because they do not take up valuable screen space, which is a big plus for you since it isn't annoying. It is also a big plus for your page viewer because the information you provide them in the sticky header will always be there to remind them of the benefits.
What are the actual benefits of a sticky menu?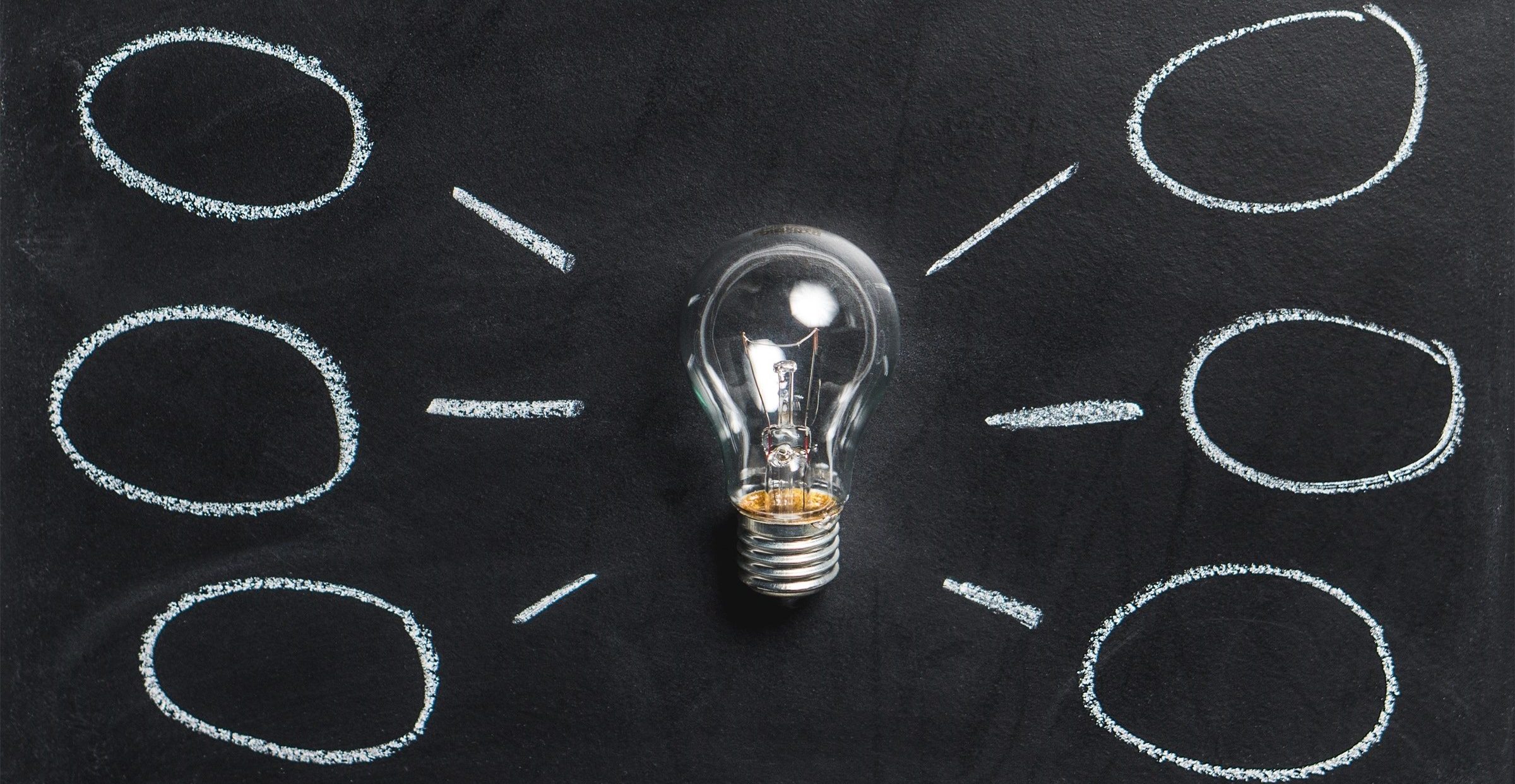 Sticky menus also help with navigation. Let's say that your page is really long. By inserting this type of header, your website visitors can always click on the "Home Page" button or anything else you provide them with, and just like that, they are on the top of the page again. This is a great feature to have since it is really easy to navigate with and also really time-saving, which is a huge benefit on the internet.
A recent study found out that with sticky headers, you are actually navigating throughout the web page around 22% quicker than usual, which is quite amazing if you think about it. Another great thing you can implement in these headers is your logo. Like we said, no matter how long does someone scroll through your website, your logo is always going to be there! This is great if you make your logo eye-catching.
Why, you might ask? The simple reason behind this is that if you have a great-looking logo, people are more likely to remember it and return to your website.
An added benefit is that it is easy to use and implement. You don't need to be a programmer to make one of these. It is as easy as just downloading your sticky header plugin and importing it on your website. There you can edit it the way that you want and prefer. There is no complicated CSS coding included since you just import it.
Another study found out that if your page has a sticky menu with various options, people with disabilities are more likely to use them. A sticky menu helps them navigate easier throughout your page with less resistance, especially with the constant scrolling up and down. They can often find it intimidating when they see a lot of text and information that they don't need, and by implementing a sticky header, they will definitely use your page more since it helps them out.
Top 10 Best Sticky Header & Menu Plugins for WordPress
Now that we got the theoretical part out of the way, we present you our top 10 picks for the best sticky header and menu plugins for WordPress. Let's dive right in.
1. Sticky Menu, Sticky Header (or anything!) on Scroll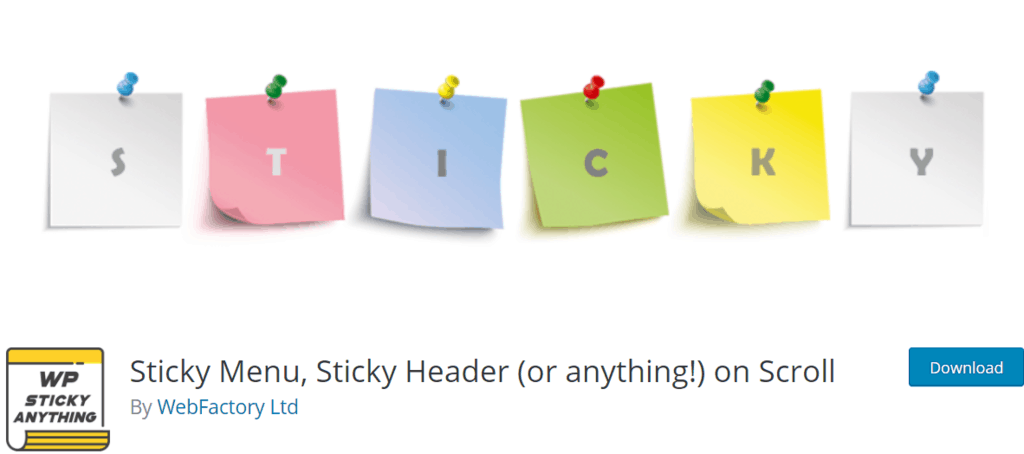 The number one pick for this list is definitely Sticky Menu, Sticky Header (or anything!) on Scroll. We recommend you try this one for a variety of reasons. You can solve your sticky header problems with so ease. It is straightforward to use, and it saves you so much time and energy. It is as simple as downloading it, implementing it to your website, and just editing it the way that you want. It offers us a variety of features.
An awesome feature this plugin offers is the color picker. You can literally just move your cursor to your logo, picture, or anything else and immediately get the code for that same color. You can use this code later on to edit your website and make it aesthetically better. Using this, you save so much time by dragging the cursor to the color instead of the traditional internet search for the color, which can be time-consuming.
Another thing to keep in mind is that this plugin, unlike many of them on the internet, is compatible with every theme and looks amazing on your computer, phone, or tablet. If you run into any trouble, please do not worry since they have a really responsive customer support center. You will not talk to automated bots that companies usually set up. Instead, you will be talking to the same people that made the plugin.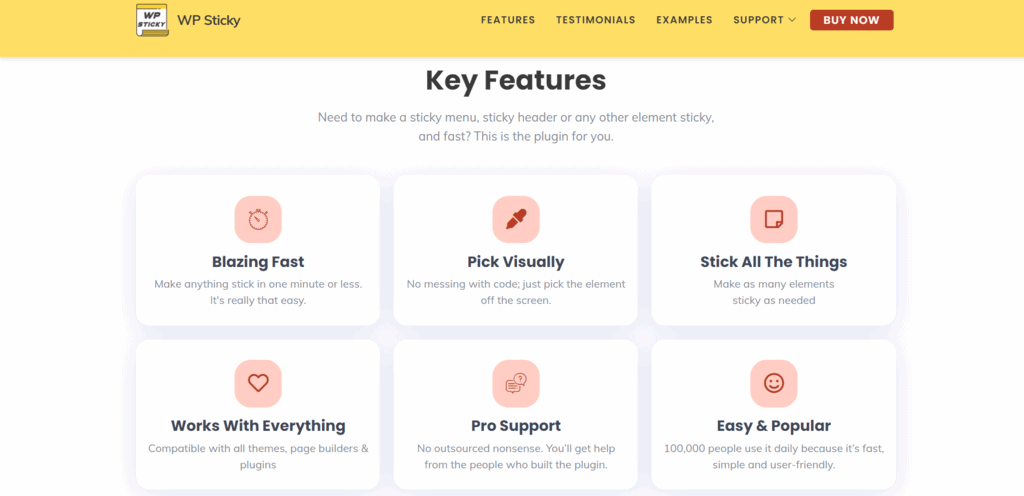 They also offer priced packages with amazing benefits such as different site licenses, unlimited sticky features, lifetime consulting, and updates. The PRO version of this tool really is fantastic if you're looking to really up to your sticky game, both when it comes to functionality and aesthetics.
Please keep in mind that this is only a one-time payment deal, so you don't need to stress about the monthly subscriptions. You have the Basic, Team, and Agency plans with different benefits, and currently, they are all 50% off, so make sure you get one before the deal is done! Over 100,000 people use WP Sticky already, and it already has so many positive comments, so we definitely recommend you try it out.
Pricing: $39 to $99, depending on the plan.
2. QuadMenu – Premium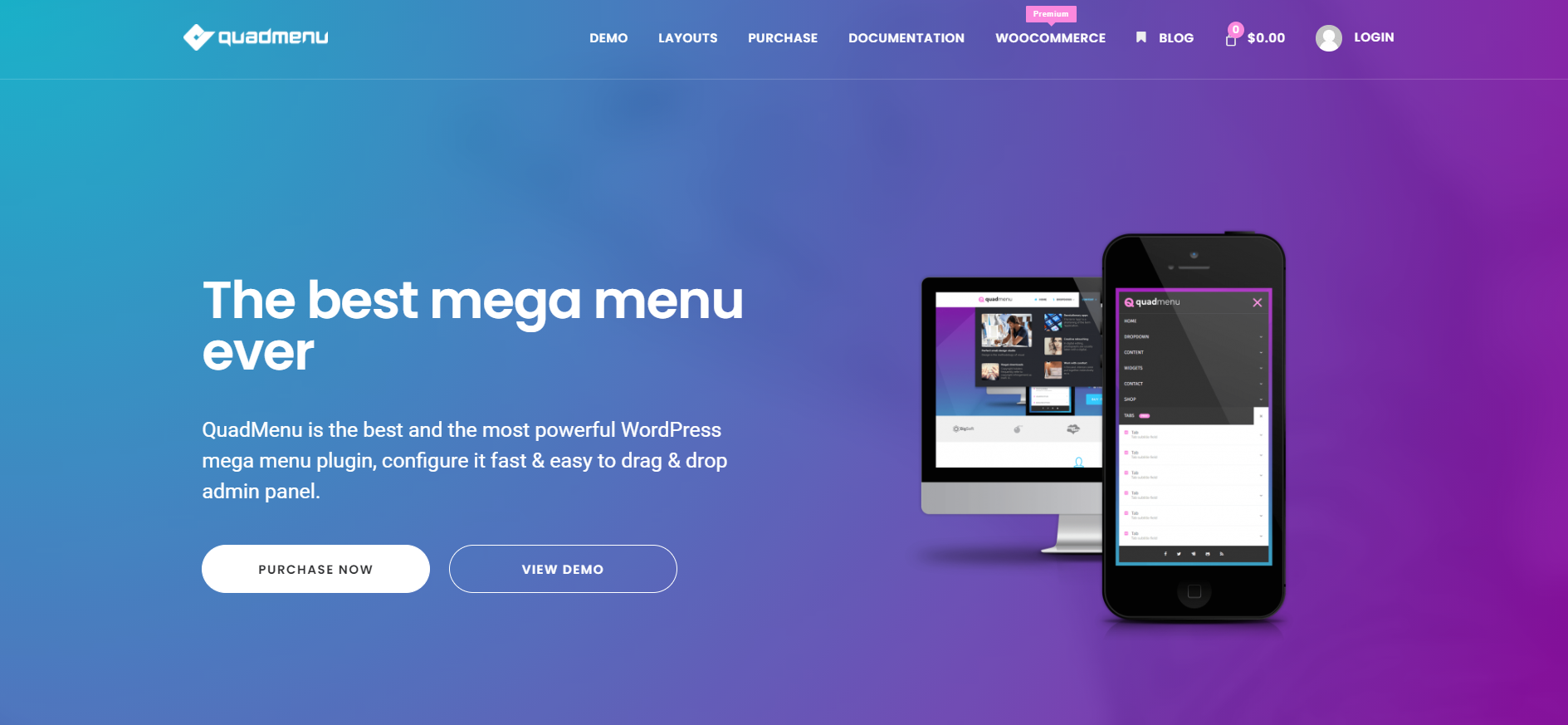 The second one on our list is QuadMenu Premium. This is the most popular WordPress mega menu plugin. It has a lot of features, and just one of them is the drag and drop editor. This makes the creation process super simple and easily manageable, even to new users. Besides this feature, it offers a horizontal or vertical layout, a sticky on scroll option, and it also offers to make custom logos there.
3. myStickymenu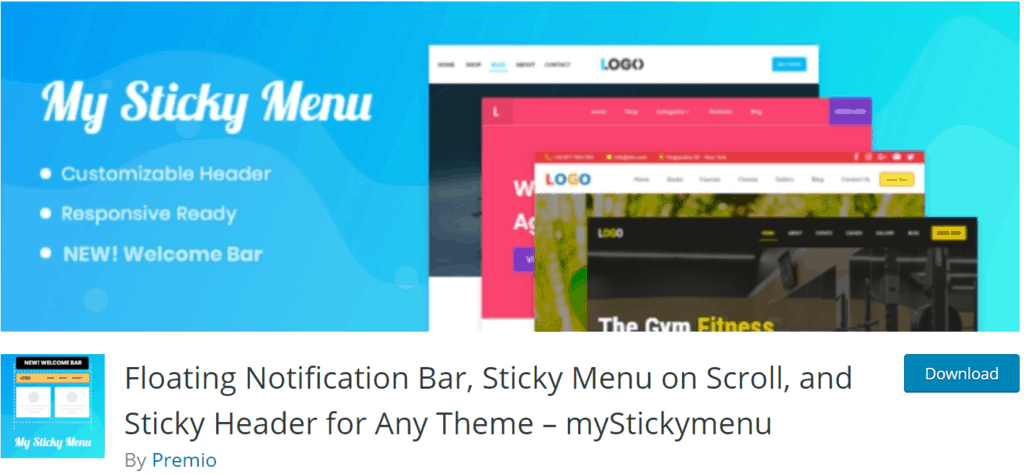 Another great sticky menu option is myStickymenu. It is a simple-to-use sticky header plugin that also you to make virtually anything sticky. It's good because it is really responsive and it supports multiple languages, which is good if you have an international audience. myStickymenu also lets you add custom CSS code. You can set it up as a full-width sticky menu or a limited header.
4. Hero Menu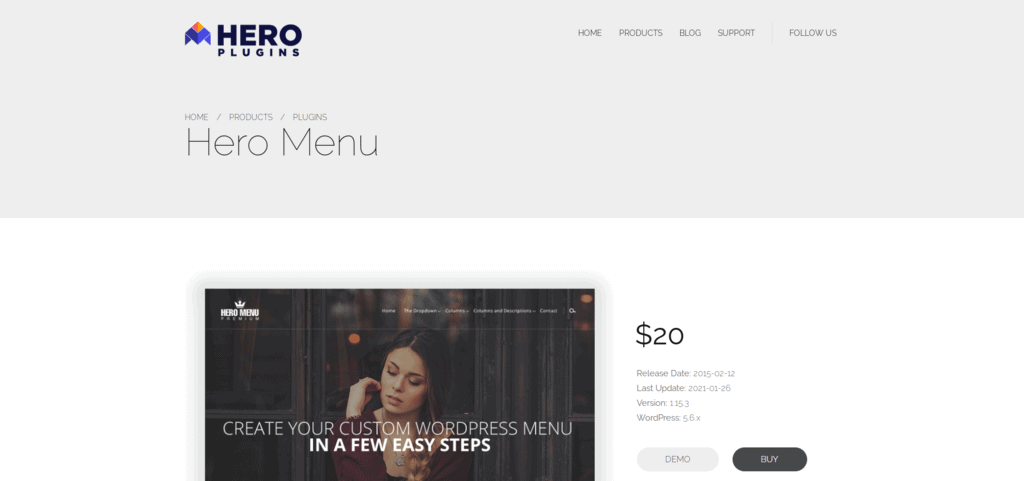 Hero Menu is a customizable and flexible sticky header and menu plugin. This sticky menu option is really easy to use and has a drag and drop interface to make everything more organized and user-friendly. It offers limitless header options, and it supports CSS. By using this plugin, you have different layout options available. Hero Menu is really responsive, and it has great mobile navigation. So, you never have to worry about different screen sizes.
5. Simple Sticky Header on Scroll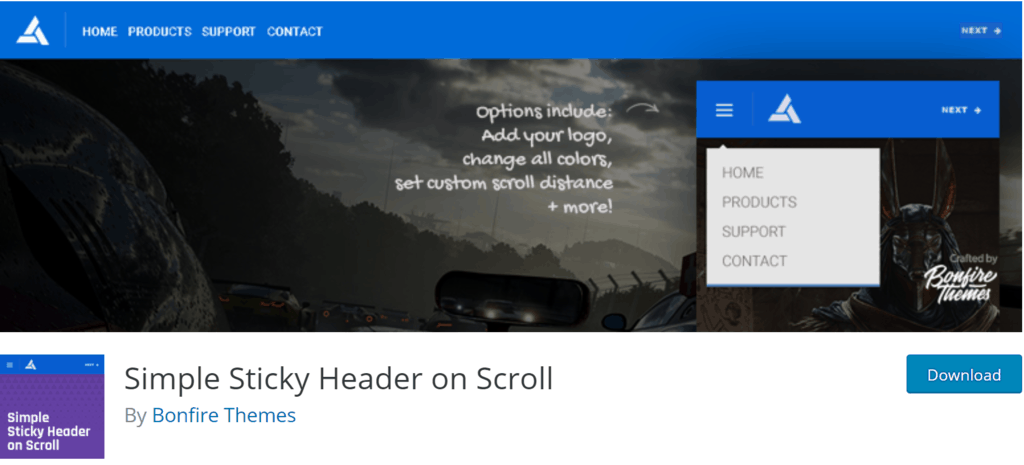 Simple Sticky Header on Scroll is a great sticky menu option because it works with every WordPress theme. It has many options regarding colors and logos. You can also preview your fixed header as you are editing it so you can know what it's going to look like when you add it to the page. After that, you simply publish it. As easy as that. You can color customize every element, and it's a real quick and easy setup. It also offers a mobile dropdown option which is useful because it doesn't take up much space on your visitor's screen.
6. Awesome Header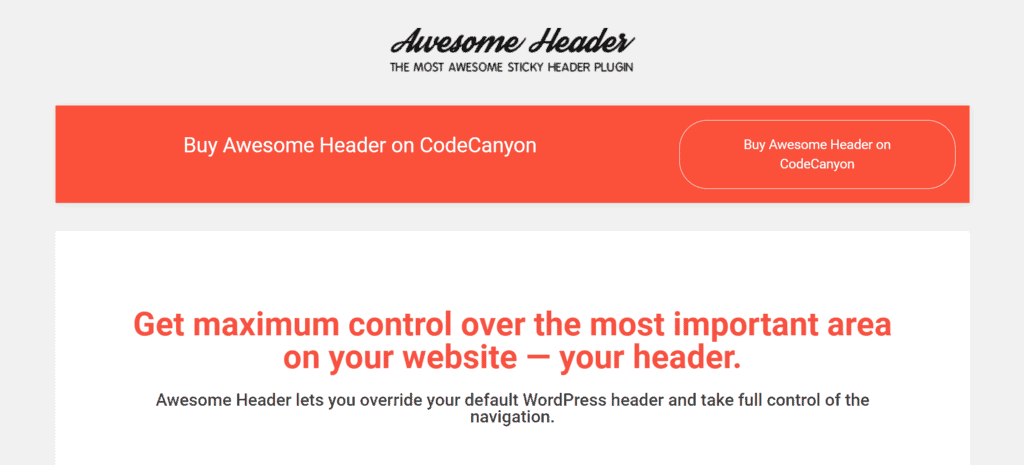 On the sixth spot is the Awesome Header plugin. This is definitely one of the better-fixed header options since you easily replace your WordPress header entirely by using this plugin. It is used worldwide because it is supported by WooCommerce and bbPress support. You have three levels of navigation, and you can also implement cool background images using this plugin. It's also very SEO-friendly and allows you to add social icons.
7. Fixed and Sticky Header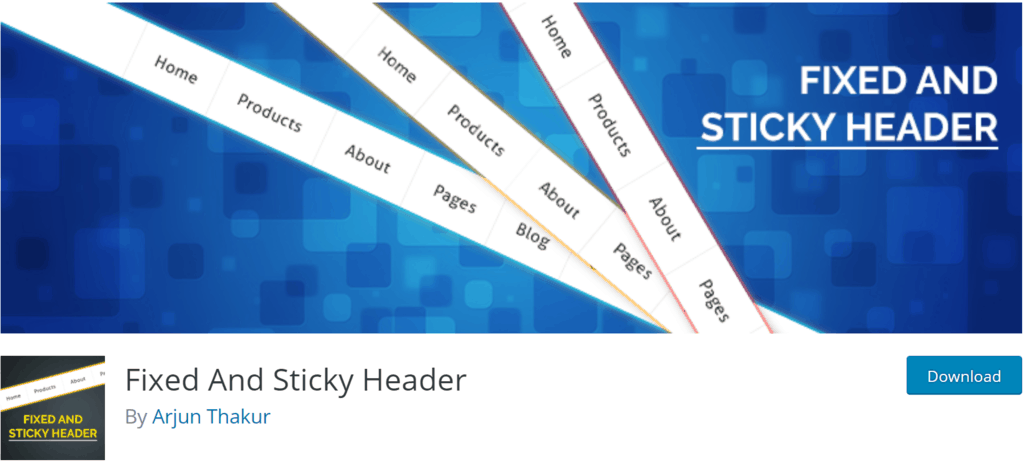 Fixed and Sticky Header is great if you want your header to be visible at all times. It allows your website visitors to navigate through your page easily. It is fully customizable, so you have a variety of options when you are designing your own fixed menu. This plugin is really easy to install and setup, and besides that, there are also different options when choosing fonts, font colors, and you can also have custom backgrounds.
8. Mega Main Menu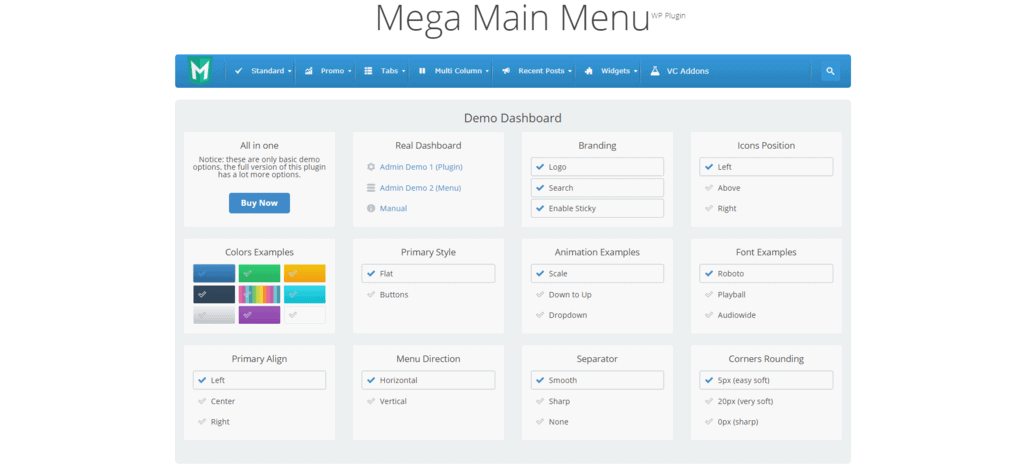 Mega Main Menu is surely one of the better sticky menu plugins currently on the market. It's really versatile and easy to use, and that's exactly why people love it. MMM is fully customizable for to needs, and you can basically personalize everything. This sticky header plugin offers 10 different menu styles to choose from. There are unlimited fonts, colors, icons, and much more! It is really responsive, and it's also cross-browser compatible, and that is a big plus.
9. Sticky Header Effects for Elementor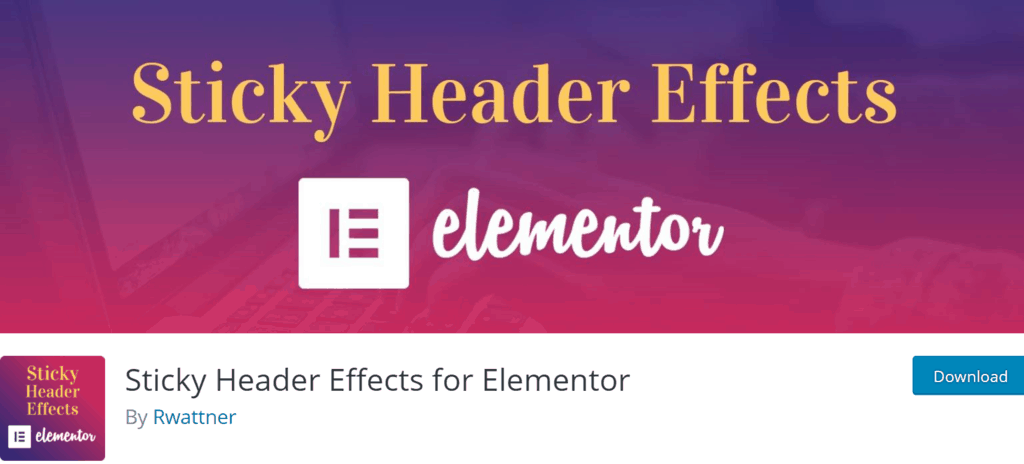 Sticky Header Effects for Elementor is a fully customizable plugin for fixed headers. You can play with different types of colors, and you can also implement a header background of your choice. It is fully responsive, which is great, and like the previous one, it is cross-browser compatible. One cool feature it offers is definitely the transparent header which most plugins do not have.
10. Sticky Header on Scroll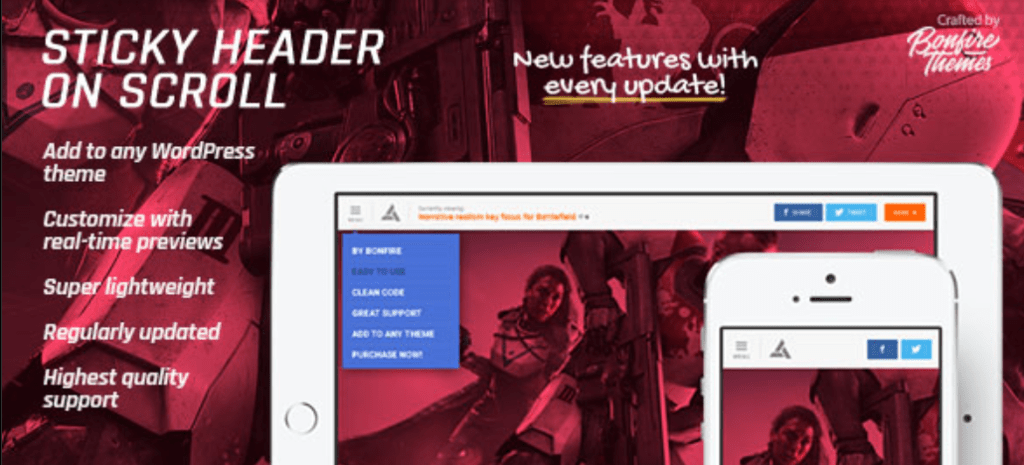 Last but not least on our list is Sticky Header on Scroll. This is definitely deserving of its place in our top 10. Simplicity is key with this plugin because everything is straightforward while constructing your sticky menu. It offers an option for a dropdown menu and also a real-time preview. You can fully adjust the header and make it fit your page in every way possible. Plus, there are also plenty of options for logo customization.
Conclusion
Now that we know what sticky headers are and the Top 10 picks, we would like to recommend WP Sticky again. It is such a simple-to-use plugin that has many options for you to choose from. It doesn't matter if you have an online store or run a blog. You can use it anywhere. We definitely recommend it.
Do you like sticky headers or not? Why? We would really like to know your opinion on sticky headers, so feel free to leave us a comment down below!