It is no secret that SEO is very important for web owners who want their website to rank high in SERP, which attracts more conversions. However, even though SEO has been around for a while and there are many "SEO Experts" who offer such services, unfortunately, it has become extremely hard to distinguish the good ones from the bad.
Freelancer SEO Consultant Amine Dahimene, says "it's worth to consider looking at their experience and reputation by checking for their reference and ask how efficient, and reliable in delivering results based on their experience."
The thing is that there is a high demand for SEO services, and some companies are trying to take advantage. Lots of companies provide below average results but since most customers are inexperienced, they can't tell the difference. This is why you must pay attention to every little detail (types of services) that you can find and research them thoroughly.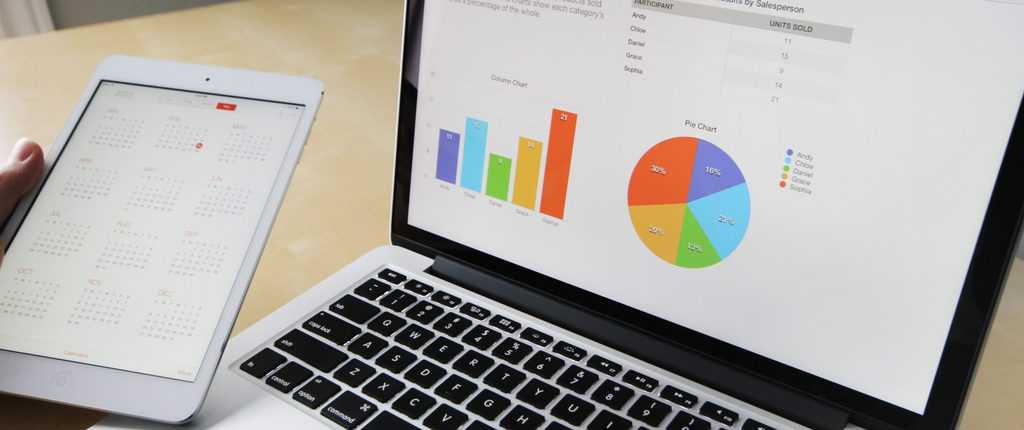 If you are unfamiliar with backlinks, they are links that lead from one website to a page on another website. Search engines in general consider backlinks "votes" for a specific page. Therefore, pages with multiple backlinks are more likely to have high organic search engine rankings.
High-quality backlinks usually come from pages with high domain authority and help establish your presence (authority) on the web. Now, the real question here is how can you investigate their services and check if all they say is true. Well, do not worry as in this article you'll find out what to look out for and how to pick the right one, so let's get started.
What to Look Out For?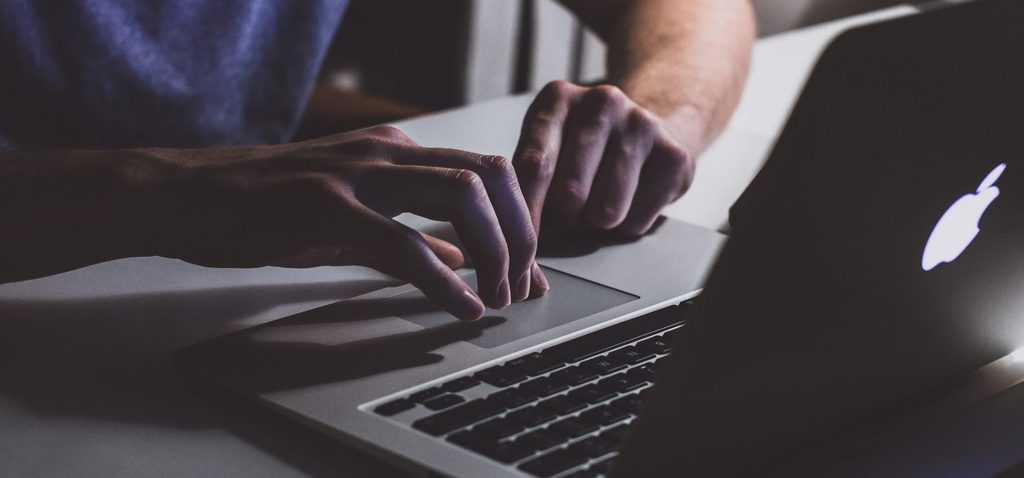 1.  Research the Company & Check Their Previous Work
Any reputable company should have portfolios, reviews, and/or testimonials visible so that potential customers can see what their services have to offer. However, even if they have a good-looking portfolio, it does not mean they are telling the whole truth. Obviously, everyone will try to show themselves in the best light, which is why you always must do your research.
If a company can't optimize its website, then, nobody can expect them to do a good job. Thankfully, there are ways to check if they are telling the truth.
Anyone can claim to be an SEO expert/company but it is hard to find one with good results. Make sure to Google search the company and see how they place on the search engine's organic positions. If they don't place in the top 3 places, it probably means they have very little experience and will fail to deliver results.
A great SEO company must be able to implement SEO for themselves first if they expect people to use their services. Another important thing to do is to analyze their stats. For example, there are free tools that allow you to analyze SEO, backlinks, traffic, keywords, and so on, which can help you decide if their services are good enough for your needs.
How to Analyze a Website and Check for Backlinks
 As I said, you can use free tools to scan websites, so let's get to it then.
Ubersuggest
Ubersuggest is a nifty tool that most web owners use quite often. It offers numerous features (stats) and you can find out pretty much anything you need about a domain. Simply enter a domain (URL) and it will scan it and show you the results.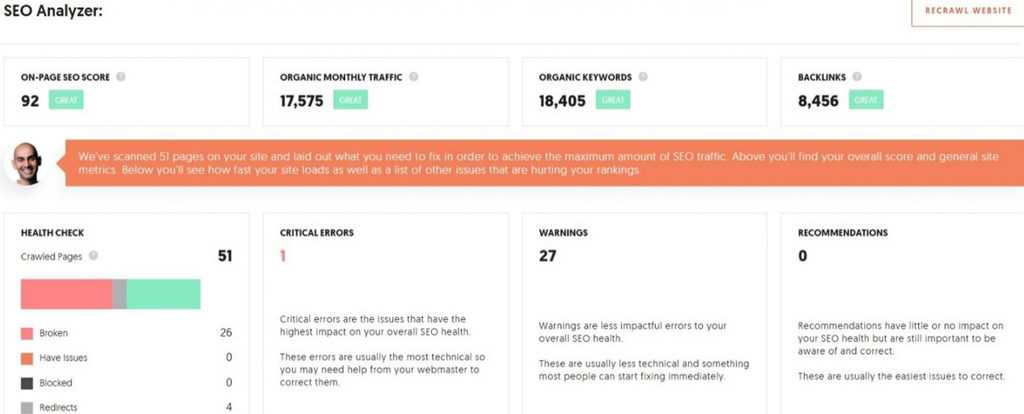 Pictured above is an example of what you can expect to find. As you can see, it shows the on-page SEO score, organic traffic, keywords, backlinks, errors, as well as warnings and recommendations. Ask any web owner and I'm sure that they'll tell you that they've used this tool numerous times and that it hasn't failed them.
Backlink Checker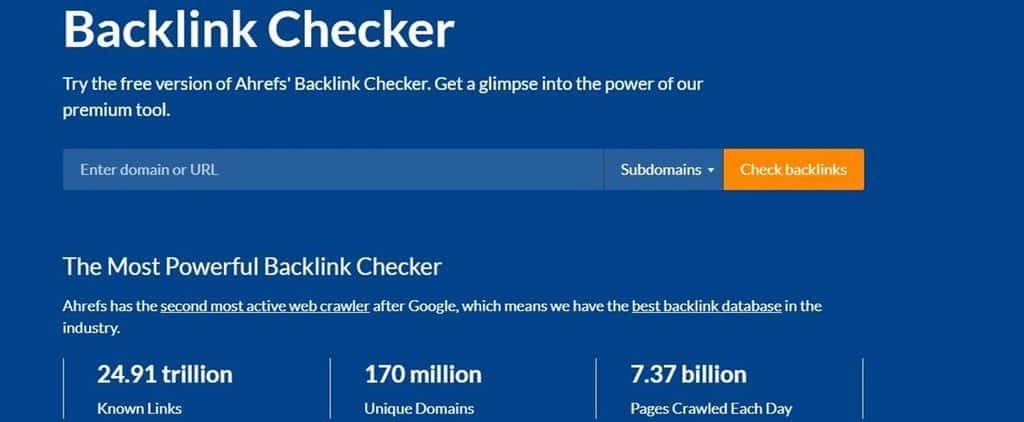 A worthy alternative to Ubersuggest that allows you to check for backlinks via their large backlink database. Just type in the URL to scan for backlinks.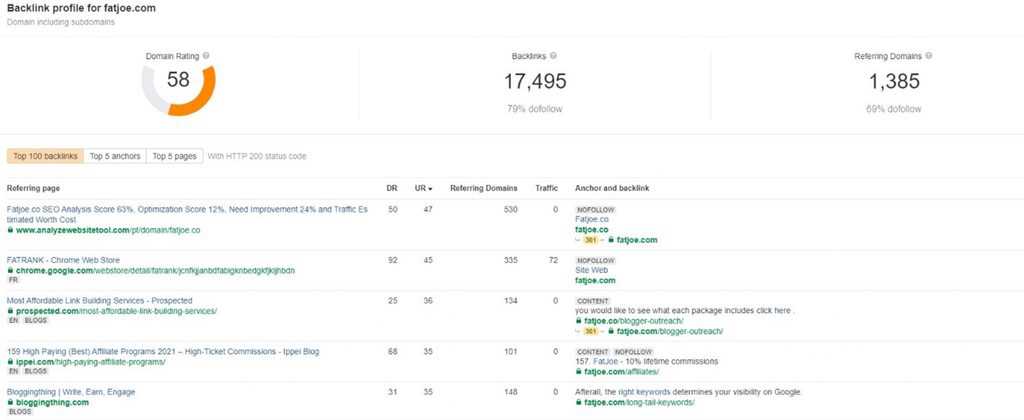 In the image above you can see s a glimpse into some of the data that you can expect to find if you opt for Backlink Checker. Easily find out domain rating, backlinks, and referring domains.
2. Check and Compare Prices
Each SEO company is a bit different when it comes to features and pricing. This is why you should check them out separately and find out which company best fits your needs and budget. Most companies offer free consultation and will provide you with a quote depending on your website's needs.
3. White Hat VS Black Hat SEO Techniques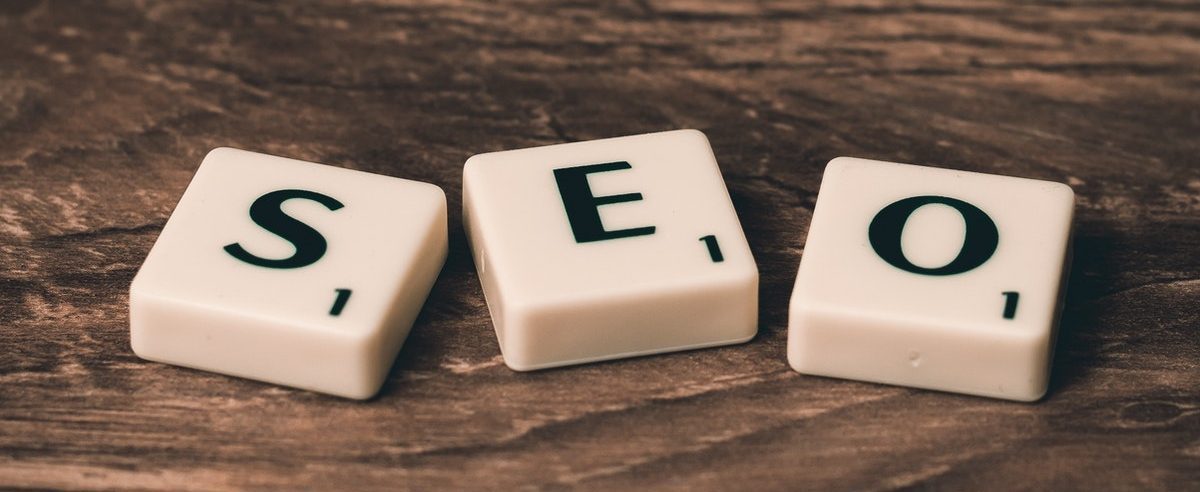 White hat SEO techniques target a human audience instead of a search engine. These techniques usually include using keywords, and keyword analysis, researching, rewriting meta tags, backlinking, link building and even writing content. The thing is that white hat SEO is a long-term investment, as the results can take a while to show but they do last a long time.
Black hat SEO techniques are used to get higher search rankings by breaking search engine rules. Black hat SEO is primarily focused on search engines and is generally used by impatient people who want quick wins. These techniques typically include keyword stuffing, link farming, hidden texts and links, and spamming. Keep in mind that if you use black hat SEO techniques, it could result in your site getting banned from search engines.
Most reputable companies use white hat SEO, which they typically state on their business websites. I highly recommend you avoid black hat SEO, as you will get caught and it simply isn't worth it.
4.  Pay Attention to Transparency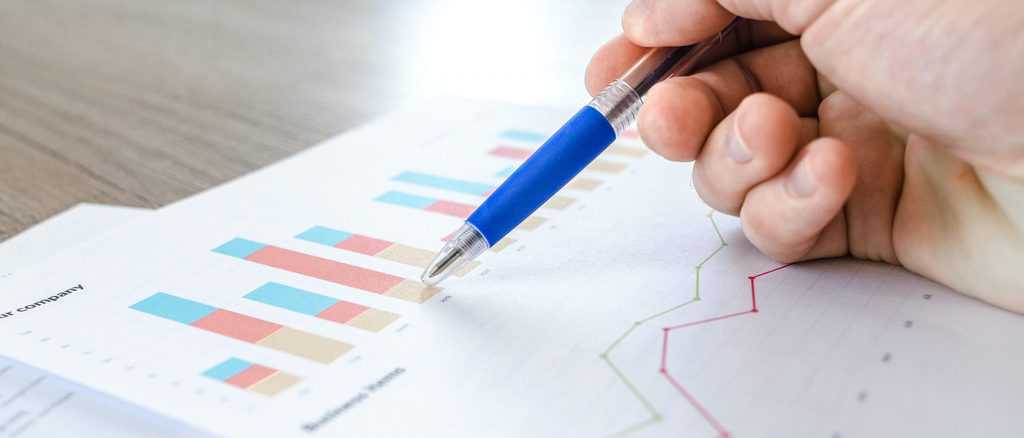 Companies that define their services by providing clients insights into campaigns can be considered transparent. Such companies help their clients understand how they increase rankings by explaining the whole step-by-step link-building process and showing visible results.
Most companies include services, which track every action that takes place on your website and provide details via SEO report to keep you in the loop with the progress.
Things to Consider:
Do they provide details of each generated link (full analytics) or they only share a general report at the end of the month?
Do they let you compare the results and allow you to plan for the upcoming campaigns?
Make sure they don't allow duplicate content/links.
Go for high domain authority (DA) services if your budget allows you to
Best Companies For Backlink Acquisition
1. FATJOE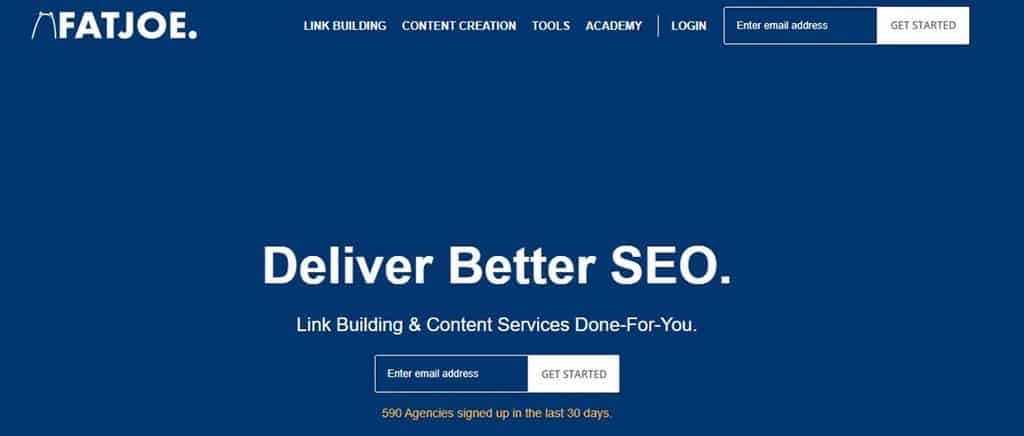 One of the best blogger outreach services that offer organic, relevant, in-content link building and content services for SEO. They Include a 500-word blog, 1 anchor text/target URL, and tracking within the dashboard.
All you need to do is provide the anchor text, the target URLs and choose the content length for your placements. FATJOE's team will then reach out to reputable bloggers and find a suitable solution to your needs.
What's great is that you can see each blogger outreach placement as it gets secured via the dashboard. You can also take a look at a snapshot of the DA metrics and export an unbranded CSV for white labeling.
If you place an order for up to 10 placements and you're not satisfied, they will give you all of your money back as well as remove the mentions.
FATJOE Features:
Genuine outreach – placements on genuinely outreached sites.
In-Content Links – links are inserted editorially within the content.
Top-notch Quality – high-quality and unique content only.
Domain Authority – outreach to sites with high DA ratings.
No Duplication – no duplicate placements per domain.
You can find some examples here.
Plans & Pricing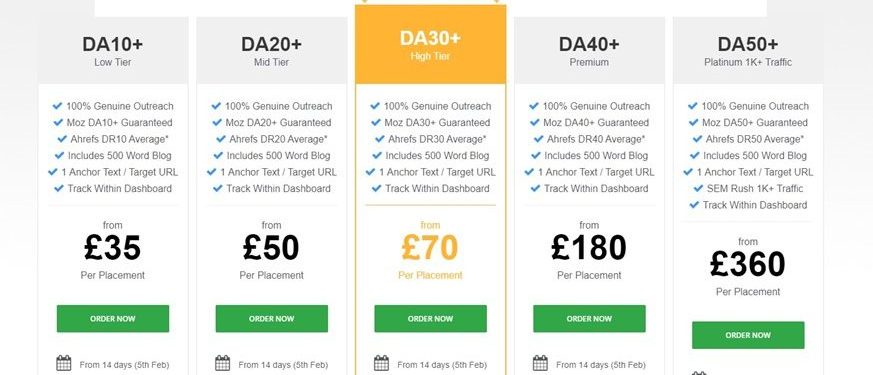 Here is what you can expect from FATJOE and I recommend you at least go for the DA30+ option if you want to build enough authority.
 2. Neil Patel Digital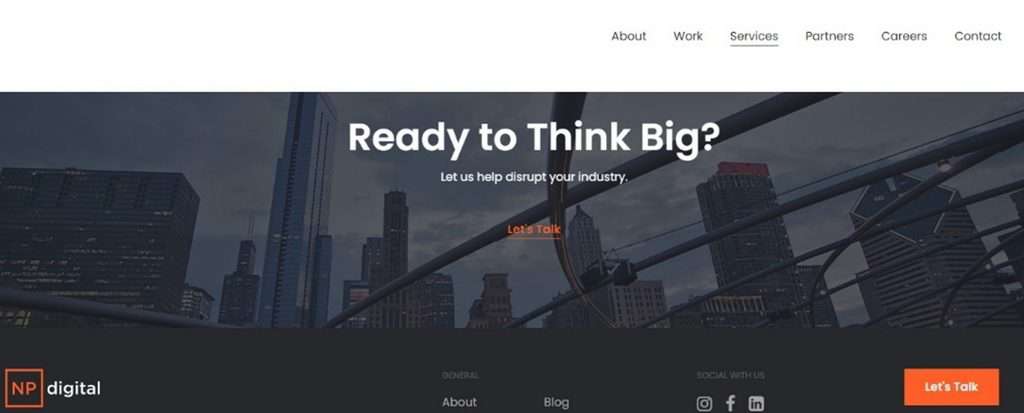 Take on a journey to the top of the SERPs with Neil Patel Digital's SEO services. Let search engines find your content more easily and in return reward you with visibility.
Their technical SEO team ensures that search engines can access your content. They also analyze your audience as well as the search landscape to find and understand what your website needs to climb up to the top of the search engine results.
They specialize in promoting your content (marketing) in places where your (organic) visitors/audience spend their time online, which is perfect for getting better visibility. The secret lies within editorial links, which Google and other search engines prioritize as such links act as a vote of confidence from other sites.
Neil Patel Digital Features:
Manually review your current site – get all insights.
Audience Analysis – get to know your audience.
Competitive Analysis – analyze the market to be one step ahead.
Content Analysis – analyze content for improvements.
Link Building & Content Promotion – build links and promote content.
Social Media Marketing – grow your audience via social networks.
Consultations – get quotes and find out more.
Plans & Pricing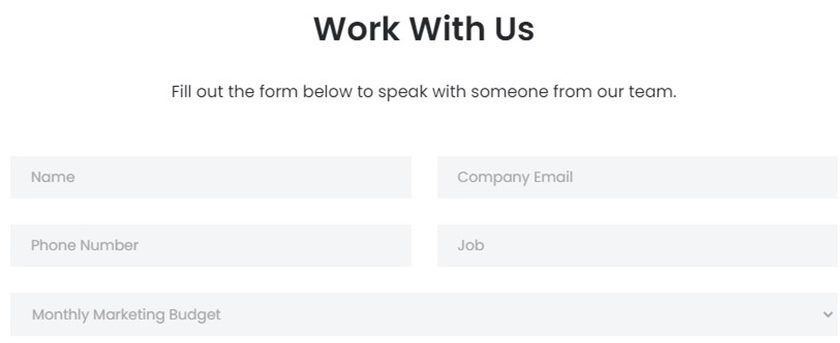 You have to contact them and let them know your budget so they can send you an offer. Since all websites/businesses are not the same, different rates may be applied.
3. Page One Power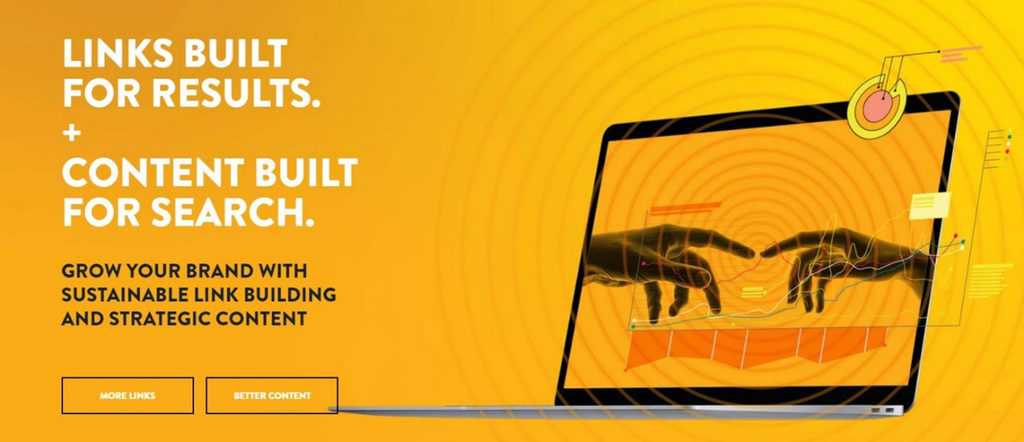 If you want to get backlinks from higher domain websites (DA60+), you'll need linkable assets, outreach, and a well-thought-out strategy.
Page One Power is a premium service, which is perfect for those who aren't on a tight budget. They customize the link building campaigns to meet your specific needs. As every website is unique and requires specific care, it is best to work together on your site to generate links. Link building process goes through relationships across the web to ensure real (relevant) links. You can expect your campaign to integrate easily (effortlessly) into your current SEO strategy.
The good news is that they are fully transparent and will keep you informed about how they build links. Sounds like a start of a good partnership, doesn't it?
Page One Power Features:
Custom Link Building – a custom-built campaign.
White Label Link Building – manage link building for your client(s).
Technical SEO Audit – deals with technical issues before pursuing links.
Link Building Training – enroll in their training program to learn more.
Plans & Pricing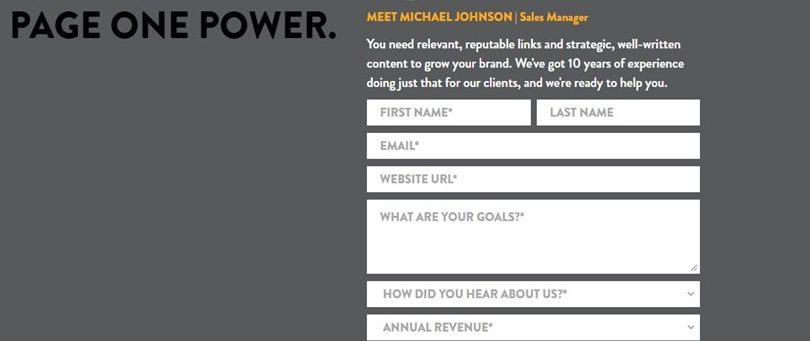 As it was with the companies we mentioned before you'll need to get in touch to get an offer. Every business is different and some may need a bigger budget than others.
4. OuterBox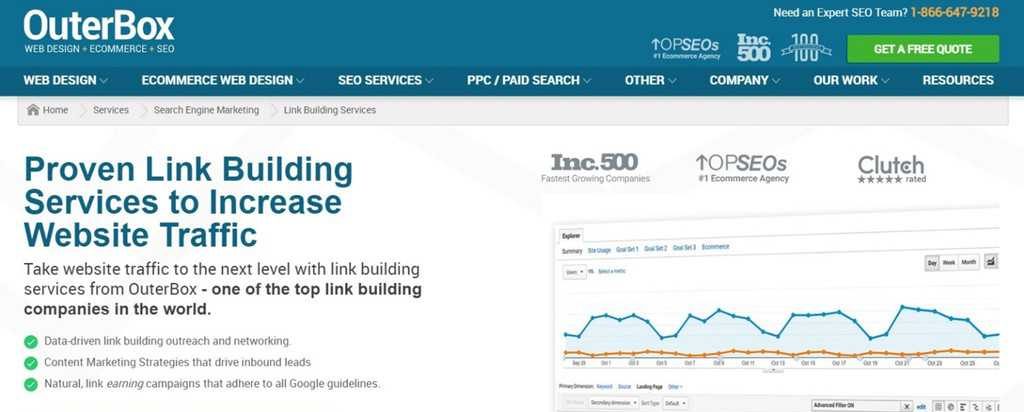 OuterBox provides SEO and performance marketing services and focuses on eCommerce SEO. If you have an eCommerce business/website and are looking for the right company to lead your business to the top of the search engines, you should definitely give OuterBox a try.
No matter which eCommerce platform you have used to build your business, you can always rely on OuterBox for superb eCommerce SEO. Thorough research allows them to develop a proper backlink campaign that can be customized to fit your brand, goals, as well as SEO objectives.
They use white hat link building services and follow all Google guidelines. Their link building services focus on networking and researching for potential backlinking openings. At the end of each month, you'll get a report of accomplishments, newly acquired links, and measurements on your bottom line gathered from those new links.
OuterBox Features:
Tested Custom Link Building Techniques – implement proven strategies.
White Hat Techniques – abide by search engine rules.
Reports – monthly reports, statistics, finished and upcoming tasks.
SEO Services Provider – high-quality SEO services.
Plans & Pricing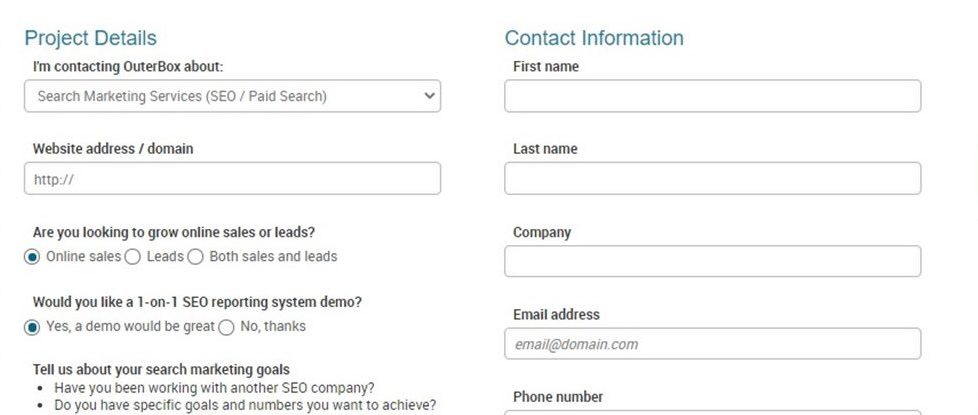 Fill out the form and let them develop a (free) personalized plan for your website's needs.
5. Rhino Rank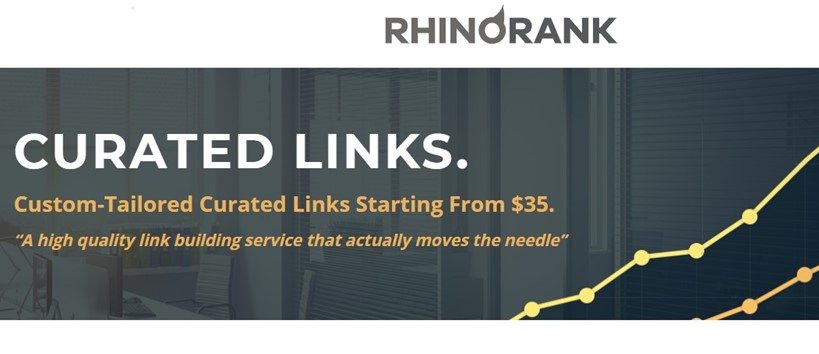 In cases when other websites publish content pieces with information that is relevant to assets on your website is where Rhino Rank excels. It reaches out to those webmasters and asks for a link, which is called curated link-building.
They reach out to numerous talented webmasters to secure backlinks for their clients in existing content on the webmaster's domains. Rhino Rank ensures the links are weaved naturally and uniquely tailored to your needs.
The price of each custom-tailored curated link starts from $35, which isn't too much if you already have a large audience.
Rhino Rank Features:
Natural Link Acquisition – outreach via a natural white hat process.
Unique Links – unique curated links and results.
White Label – no branding, you can resell directly.
Fully Scalable – pay-per-service model.
Client Dashboard – place, manage and track all of your orders in one place.
Plans & Pricing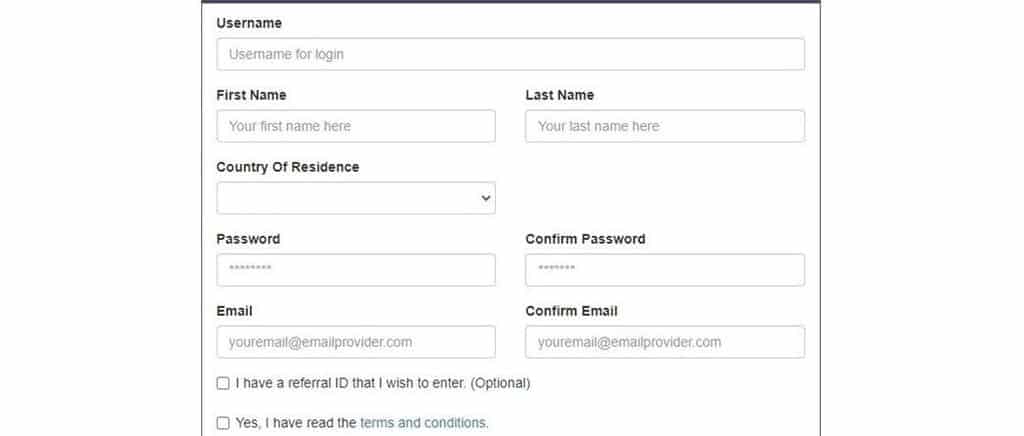 You need to create an account to access the "Client Dashboard" and check their specific offers for your website.
Conclusion
If you're serious about ranking at the top of search engine results, you will definitely need SEO services. Since most companies charge different prices that depend on your website's needs, I highly recommend you contact each company and ask them for an offer.
Make sure to compare all prices and features before going through with the purchase. You should avoid low-cost services as they tend to deliver poor results and you get what you pay for. Generating high-quality leads takes a lot of time and effort, which means you need to be patient.
Keep in mind that backlink acquisition can boost your rank immensely if done right, so make sure to experiment and see what works best for your website/niche.