Resumes assist companies in choosing who they want to hire, and a well-written resume helps you get interviews and, hopefully, your dream job down the line. That's why it's important to put a lot of thought into creating your resume and writing it properly.
Resume builders are quite useful because while generating a resume, they can assist you in showcasing your personality. Because they are so important, we have collected a list of the 6+ best resume builders we would recommend that can help make your resumes better and more efficient.
1. Zety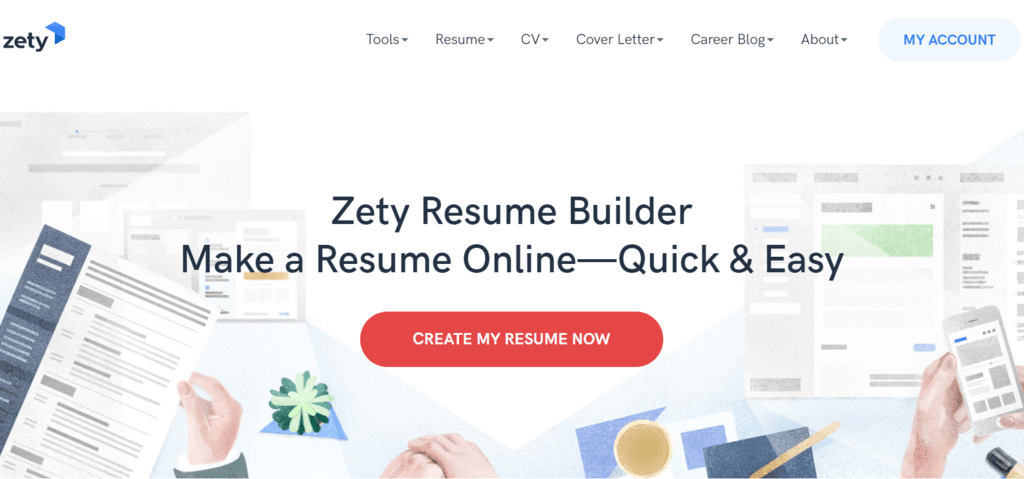 Zety is an online resume builder that includes over 20 blank resume templates as well as features that help you write faster. Select a resume template that is professional, beautiful, creative, or trendy. You may simply alter the colors and style to fit whatever resume format you want: it can be functional, reverse-chronological, or a combination of both. Zety will help you to make prompts that are simple to follow and arrange.
2. Resume Genius
Resume Genius is without a doubt one of the simplest and fastest resume tools available. The tool guides you through areas such as work experience, education, and references, with a simple and easy-to-use interface. It provides a variety of templates to choose from, which will make your CV look flawless. The templates consist of blank spaces that are easy to fill up with your personal information, so it doesn't take much time to write your resume.
3. ResumeCoach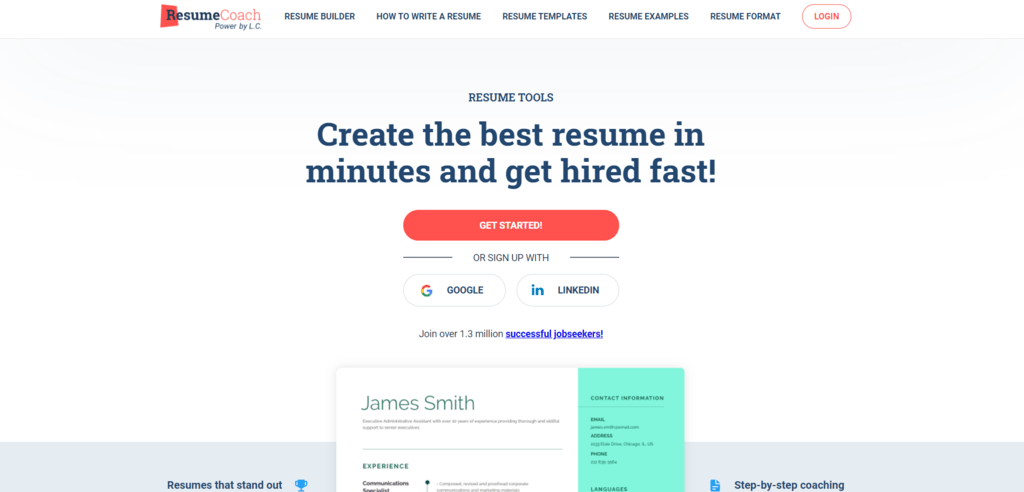 ResumeCoach's website is simple to use. The app takes you through every stage of the resume-creation process. If you want, you may quickly add and delete parts to design a CV tailored to your industry. ResumeCoach can manage a large number of resumes and cover letters. If you want to tailor your CV to specific job vacancies, this is the way to go.
4. Resume.com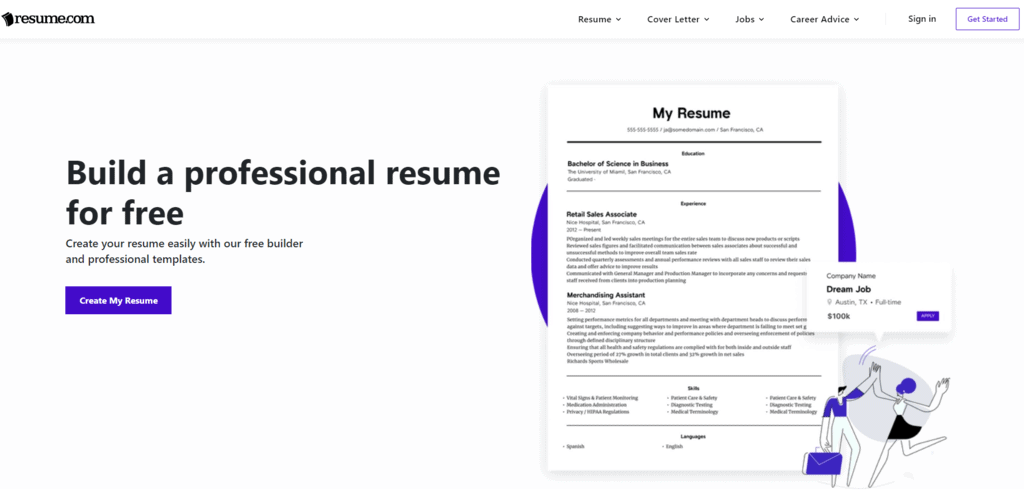 Resume.com is one of the apps you can use to make minimalist-looking resumes. It allows you to create a stunning resume in minutes. If you want advice on what to put in your resume, this tool is a great place to start. Furthermore, the site provides popular templates for a variety of job categories to help you with creating your own. According to some sources, around 5,8 million resumes have been made using this app.
The fully free resume builder comes with 24 resume layouts to choose from. Users can upload and update an existing résumé, create a new one, or modify one of the sample resumes provided on the site. It's simple to use and produces a professional-looking document.
5. Standard Resume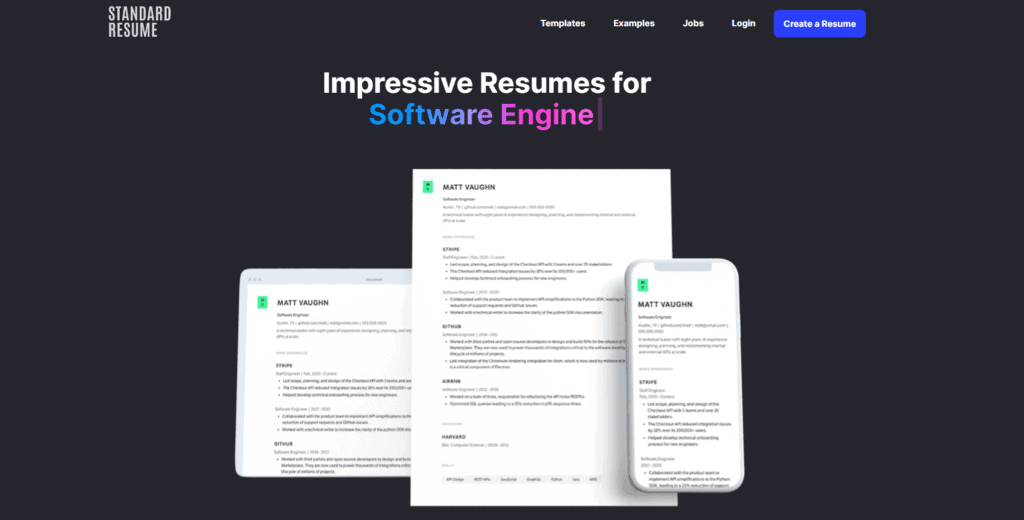 Standard Resume is a great app for those who have a LinkedIn profile. When making a resume, it allows you to import information from your LinkedIn profile. This can be very useful and a great time saver.
Your resume will have a very minimalistic look that will allow the reader to focus on the most important thing – the information you've put in your CV. Once you are finished, you can download it as a PDF file. It is mobile responsive, so you can also view it on your mobile device.
6. EnhanCV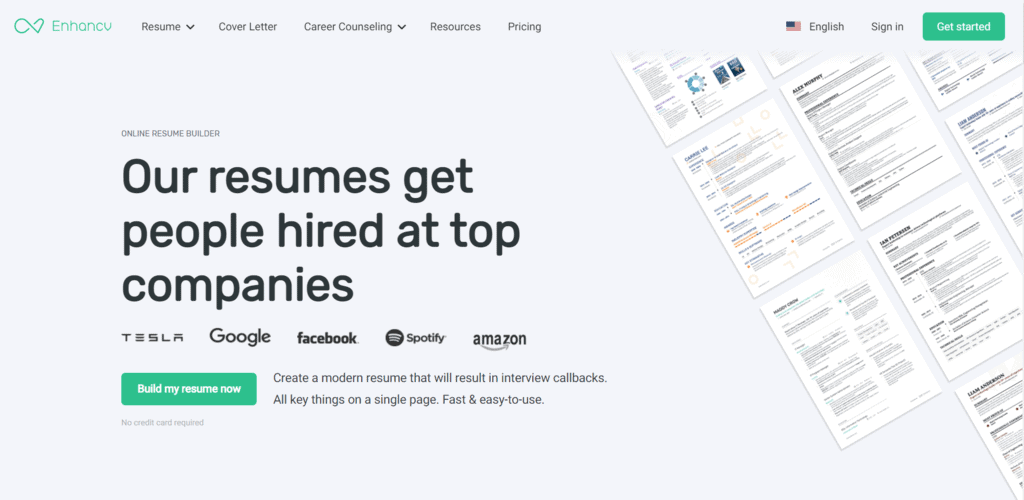 Enhancv provides you with four distinct resume builder templates for you to pick based on your field and employment experience. The tool is quite easy to use. You simply select a template and then personalize it as you wish. You can change the colors, layout, fonts, and other parts. The program has minimal to no learning curve, and because of that, you may begin making a resume as soon as you log in.
7. Resume-Example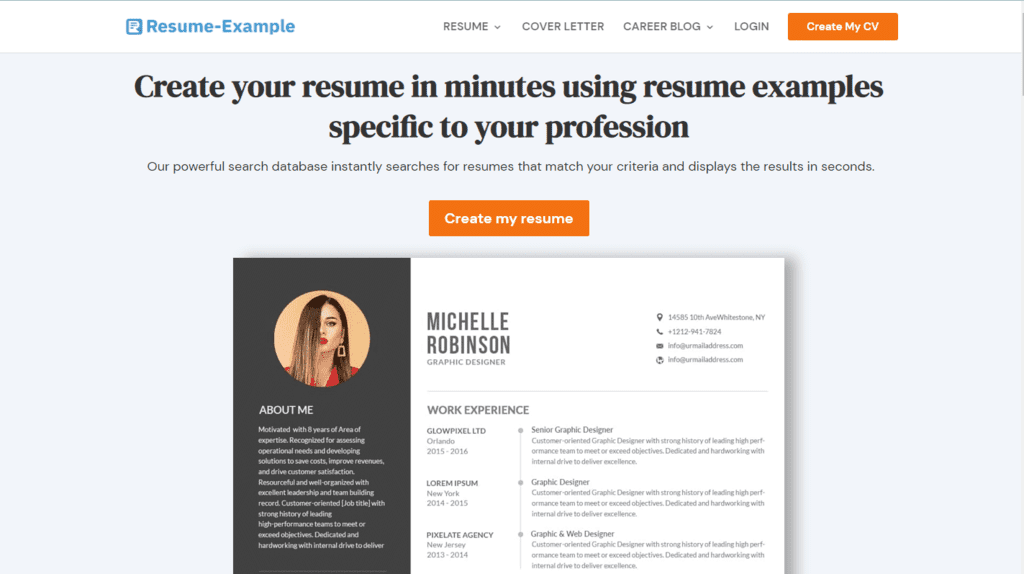 "Resume-Example" is a powerful search database that instantly searches for resumes that match your criteria and displays the results in seconds.
You will have numerous resume templates at your disposal. Modern, professional, and creative designs to help you multiply your chances of success.
Clear, fast, and easy to understand. Follow the steps and you'll write a captivating resume effortlessly, in only a few minutes! So simple, the assistant will tell you exactly what to do to highlight your skills.
Conclusion
Don't worry too much when making your resume. There are a lot of templates that are available on the internet. With a lot of variety, you can surely find something that you like. In reality, all of them are capable of doing the task. Regardless of which one you choose, you will have a functioning resume at the end of the day.
Choosing the appropriate resume builder and resume template, on the other hand, can have a significant influence on whether or not you get employed, so make sure the one you choose fits the purpose and the job you are applying for.