Ad testing is an important part of your business; it gives you a look into what your audience wants to see, what's working, and what should be changed. It's a form of research that tests the ad's effectiveness based on customers' feedback, behavior, and responses. It's a good way to make sure your ad is actually reaching its intended audience.
Making sure the ads are being consumed by the right people will lead to better conversion rates, increases in traffic, and a boost in your brand's positive associations. Of course, branding is much more complex subject, but with the help of proper brand companies, it gets polished a lot easier. To test an ad, you want to choose a segment of your audience representing the targeted group of your campaign. After taking the pre-selected segment, the audience is shown different variants of the same ad. You can then survey the respondents to get their feedback and get information about the ad and its concept.
Testing multiple times before launch is a good idea to avoid any possible mishaps and to be completely sure that the ad is perfect. There are different ways you can test your ads, and below are some of the platforms and tools that will make the job easier.
1. Marpipe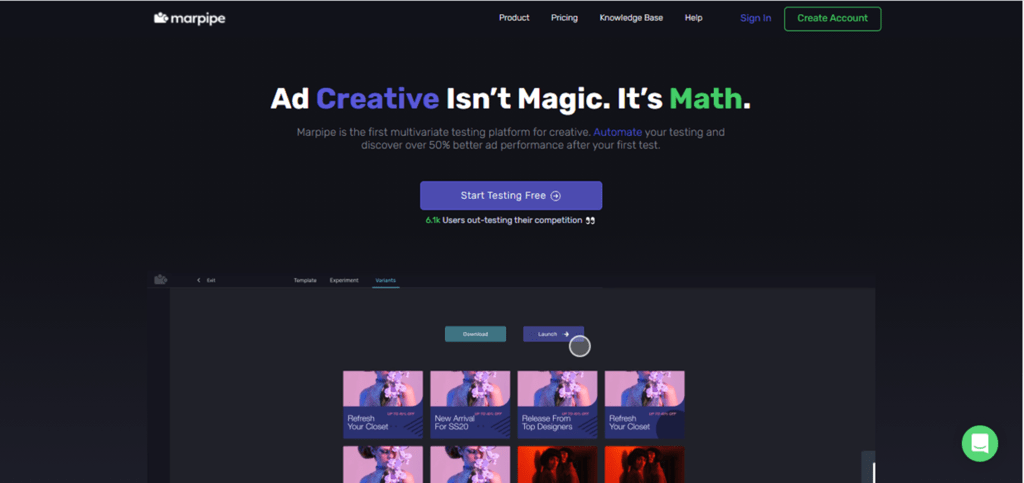 Marpipe is the tool you want to have if you are a part of a team that works on collaborative projects be it, marketing or creative, and wants to build and test ads without wasting time. It is a multivariate platform that will help you build, launch and analyze ad creatives. Furthermore, it's a perfect way to refresh your existing ad creatives as well as track your asset's performance. 
Marpipe offers several templates you can use to create your ad variants easily. The template collection is updated daily, and the designs are made with performance as their priority. To create a new ad, you just need to upload your assets and use the drag and drop tool to insert them into the builder. Marpipe's Ad Builder lets you create up to 1500 ads at once.
You can then customize different variants and change the copy, add different backgrounds, switch the placement, and more. There are also advanced tools that allow you to adjust the look of the ad, such as auto-sized text and focal points that will automatically keep your subject in view. 
When it comes to testing your ads, choose the type of campaign you want to test, such as traffic, reach, or conversions. After that's done you can split-test up to 1500 Facebook ads test how the ads work on multiple audiences and set your budget. All of those options packed onto a single interface.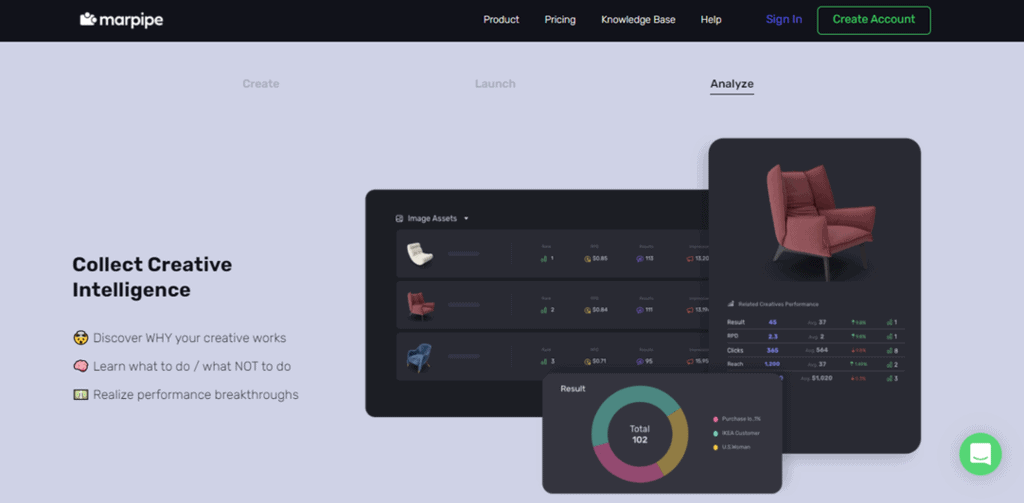 You no longer have to upload and duplicate each ad manually, as Marpipe also lets you upload them in a batch. All you have to do is launch them, and Marpipe does the rest, including a unique ad set for each variant and controls for every speed.
Of course, the most important thing is getting feedback on how your assets are performing. You can track each image's analytics and copy assets to monitor performance in detail. There's even an option to filter assets by what you want to achieve. So, you can filter by CPR, ROI, leads, clicks, and more. The information and data you will receive is the best tool to boost the effectiveness of your campaigns.
Another useful feature of Marpipe is the built-in library where you can store all of your variables, images, copies, fonts, and URLs. If you have many assets and can't be bothered to go through each folder to find what you need, this will make your life so much easier.
In addition, it's worthy of mention that you can use a separate account for different brands, so you won't be getting clients confused either. Each account will be linked to a specific Facebook ad, and once the link is saved, you can simply launch the ad to an already saved audience.   
2. Qualtrics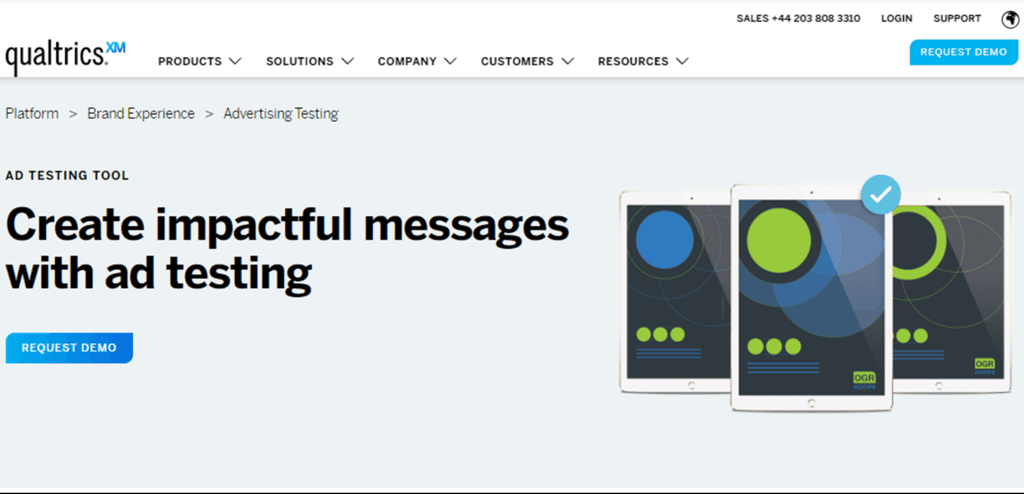 With Qualtrics' ad testing tool, you can validate your advertising concepts and campaigns by testing them with a sample of your target audience. By using the Core XM tool, you can test which print, video, or digital ads drive sales and traffic, as well as what kind of ads don't perform well.
By utilizing this kind of testing, the feedback you get will help understand your target audience and their preference. Understand how your brand is perceived, what you should improve, and what's doing well. 
All of the tools for evaluating your ads are in the same place, making it easy to test without switching between tools. In addition, it is an easy and simple solution because you can do the advertising research and testing with multi-channel distribution, such as email, mobile devices, and social media. Speaking of social media, along with Qualtrics, you should also check out the editor's review of Poprey, one of the best social media marketing tools.
Now, back to Qualtrics. With it, you can even survey your audience and offer a way to engage them further and gain insight into what they really think about your ads.  Finally, Text iQ analyses open text and gives you feedback so you can have complete understanding. 
3. Numerator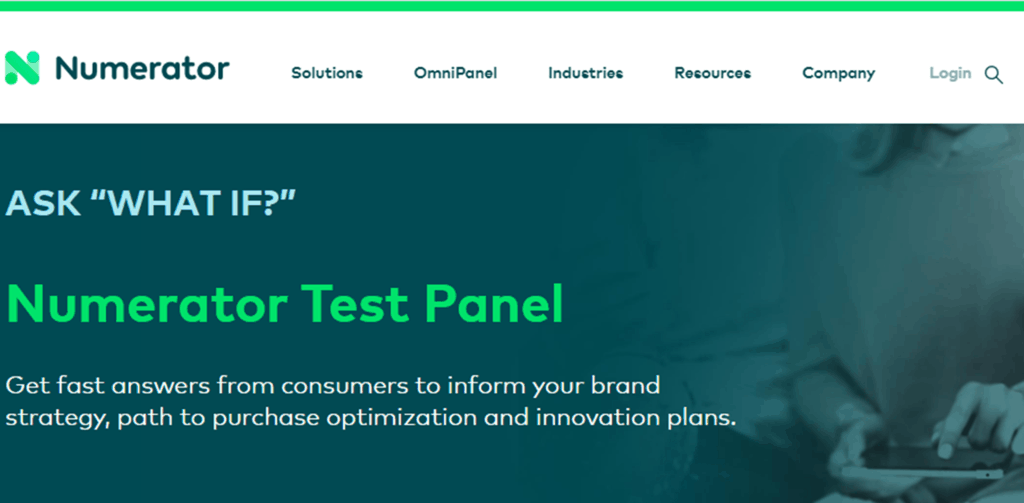 Numerator is a platform whose main aim is to understand consumer influences, behaviors, and opinions that help you create ads catered to a target audience. With the Testing Panel, you can get feedback, optimize the ad creation process and understand your brand's performance. 
The concept screening will give you insight into your target audience's reaction to certain concepts and products. When it comes to ad testing, the most important part is the feedback you get back from consumers. Their perception of what you're putting out makes it clear which messages are resonating with them. So you'll always know what to keep doing, and what to change. 
Final thoughts
It's important to know how your ad is resonating with your audience. To gain insight into whether or not something is working, you should test it. Analyze certain ads and concepts to help you get a better understanding and feedback. Once you get customer feedback, you got a solid base. However, this is easier said than done, and if you don't have enough skill and knowledge, it's always better to consult with top advertising agencies and get the help you need.
After that, it's so much easier to create an ad that targets the audience you want it to. Be sure to try out the tools mentioned and bring your ads to perfection.