Running a sports blog sure can be a fun and website to run, but there isn't much support when it comes to WordPress themes involving sports. If you want to build a good-looking sports blog, you'll have to download a plugin or two. In this article, we'll show you the top 10 plugins that are a great fit for any sports blog.
1. UnderConstructionPage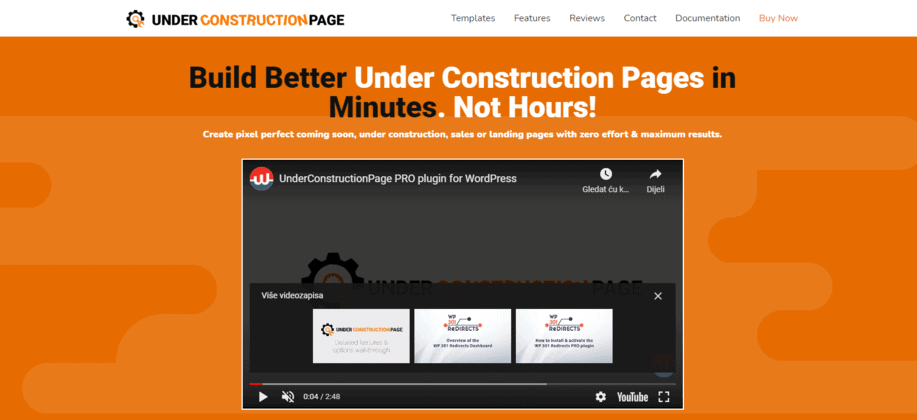 When it comes to under-construction pages, you'll be happy to hear that a plugin by the name UnderConstructionPage actually has a few pre-made templates that are fully sport-based, so you don't have to customize anything by yourself. It's all done. Some of them are even a perfect fit for a blog that includes a shop.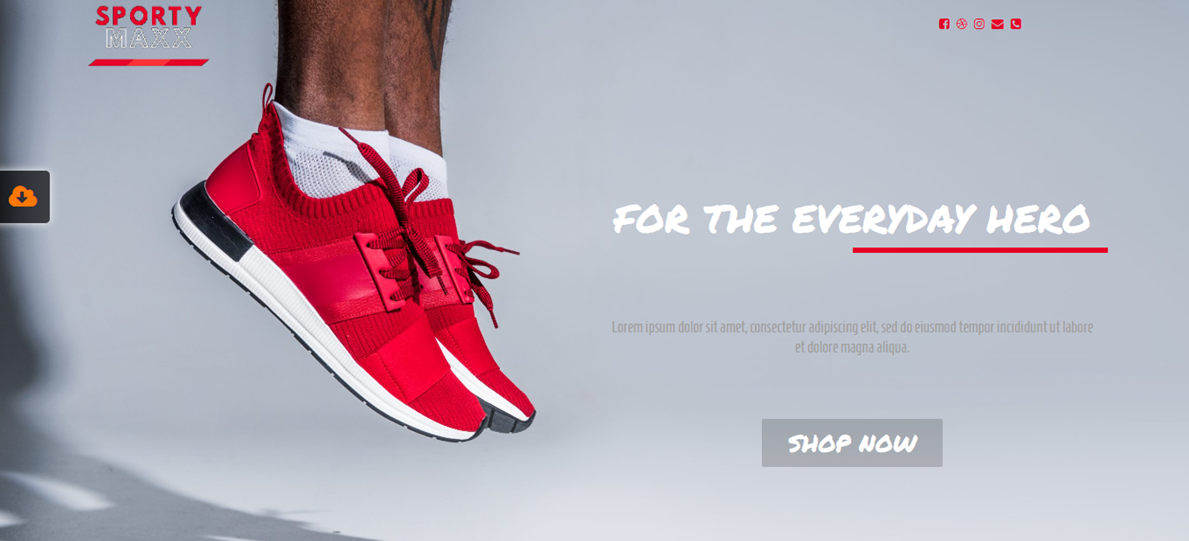 There are plenty of finished templates, yes, but if you want to customize any of them, you are free to do so with this plugin. Plus, it features a super user-friendly drag & drop builder, so you don't have to worry about that either. It's all very simple.
Besides just having a great builder, the plugin also has over 2 million premium images that you can use anywhere, and it's pretty fast on the server-side, too. Price also shouldn't be a big problem – $69 for 3 sites.
2. WP Reset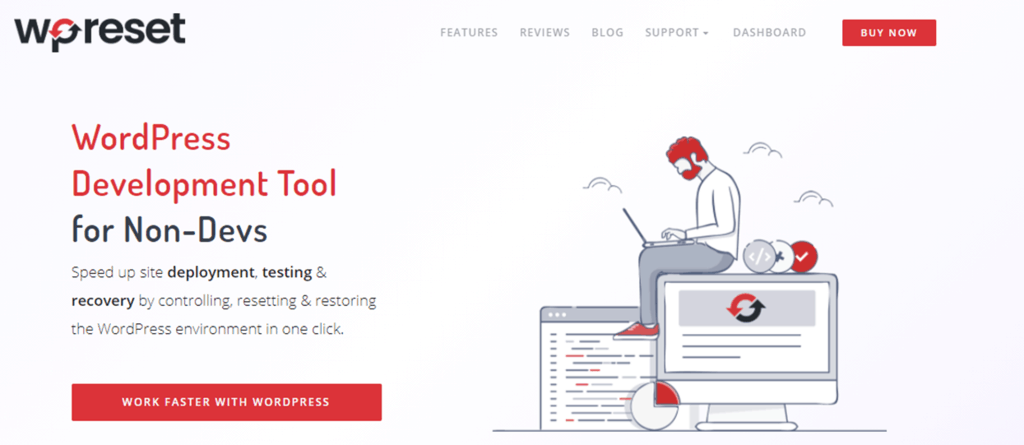 Even though it has nothing to do with sports directly, WP Reset is a plugin that will greatly help you with building and managing your website. WP Reset's main job is to speed up site deployment, testing, and recovery. It does all of that by controlling, resetting, and restoring your whole WordPress environment in just a few clicks.
What this means is that you won't have to worry anymore when building a website. If you take a wrong turn somewhere, mess up something up or even delete everything by mistake, WP Reset will recover it in a few clicks. The price is also great in comparison to other similar tools. Only $39 per year for a starting package.
3. Team Rosters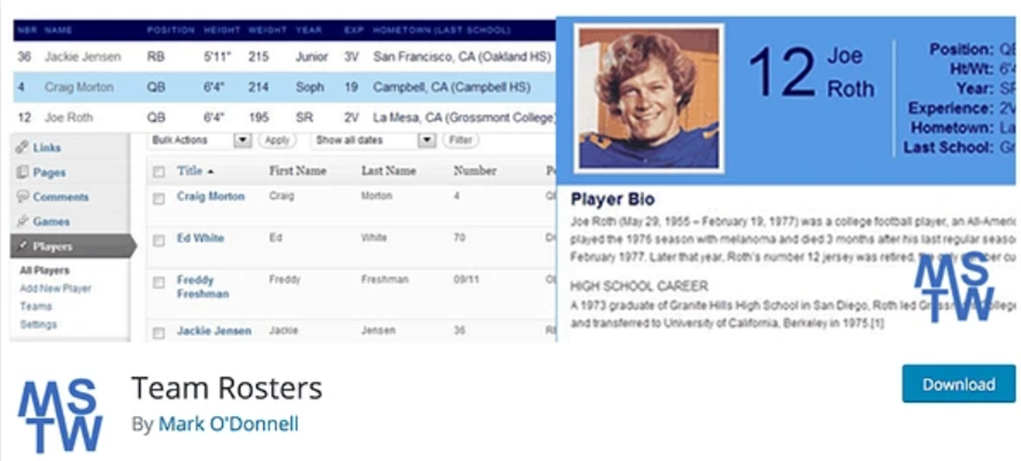 If you want to present a sports team on your WordPress blog, it'll be pretty hard to do without a plugin, and that's where Team Rosters jumps in. With Team Rosters, you'll be able to make a table for a roaster in just a few minutes. Everything from the position, height, weight up to their hometown can be added to your site in minutes. We have to mention that this plugin is absolutely free, so it would be best to download it yourself and check it out.
4. Simple Author Box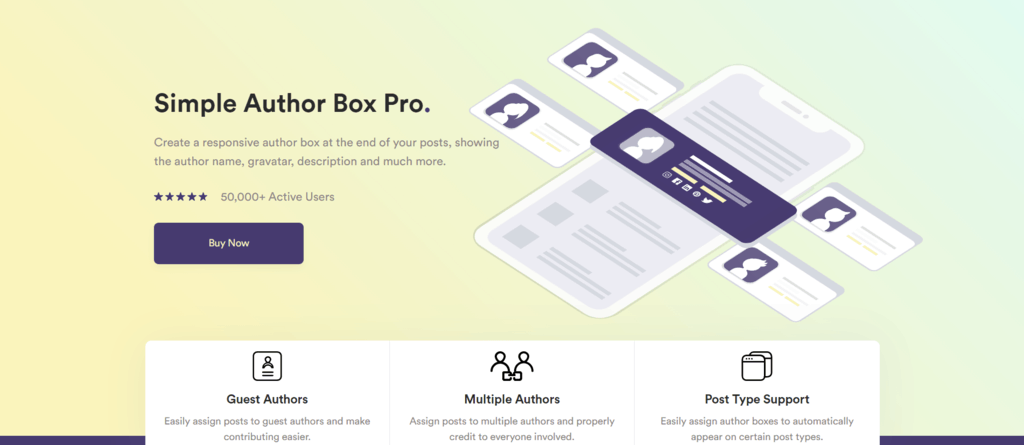 Every blog needs an author box, and so does a sports blog. With Simple Author Box, you'll be able to add an author box to every blog post you make, letting your readers know who wrote the piece. This plugin also comes with lots of customization options, so you don't have to worry about the box not fitting your website theme at all – you can fully customize it. The price of this plugin is also quite affordable – $39 a year for one website, and that's all you'll need.
5. SportsPress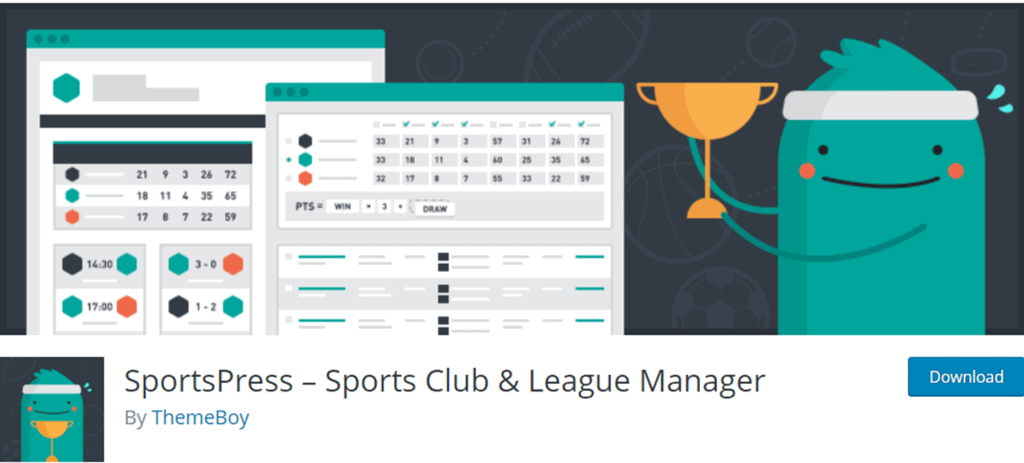 Loved by so many users worldwide, this plugin is a must for anyone running a sports blog. With SportPress, you'll be able to make a whole league table, make teams, fixtures, results, standings, player rankings, and much, much more.  There are also lots of themes for this plugin, making sure that it'll fit your style. There's a version for every sport, too, so make the choice and pick one for yourself.
Now, you would probably think that this plugin costs a hefty amount of cash, right? Wrong. SportsPress is an absolutely free plugin, meaning that you can download it right now and set it up on your website. We recommend doing that – it'll be worth it.
6. WP Sticky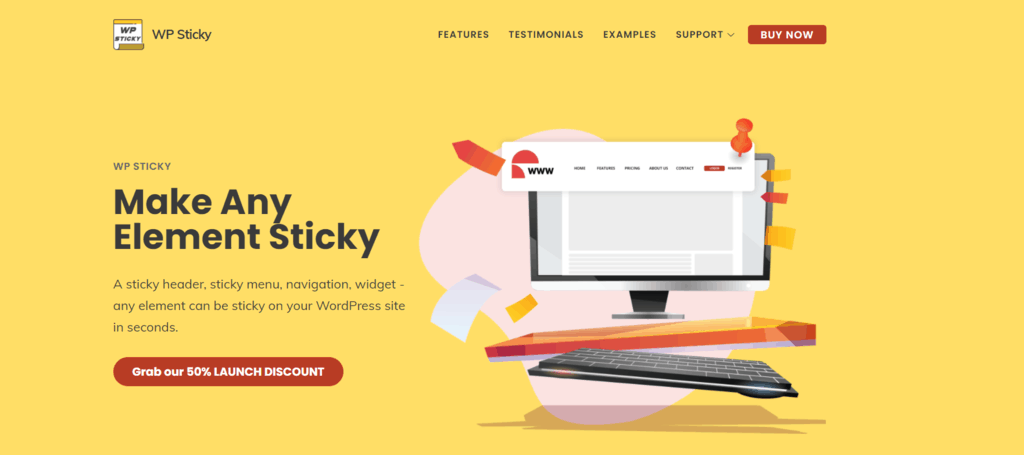 Now, while building your sports website, you'll probably want some elements to stick while scrolling, and you're wondering how to make that possible. Since WordPress doesn't really support that, you'll have to go with a plugin, and what better plugin than WP Sticky? For just $39, you'll be able to make any element on your website stick while scrolling. 
Besides that, WP Sticky barely affects your website performance and works with most plugins. In case you encounter any problems and need some help, you can always get help from the people who built the plugin.
7. BackupGuard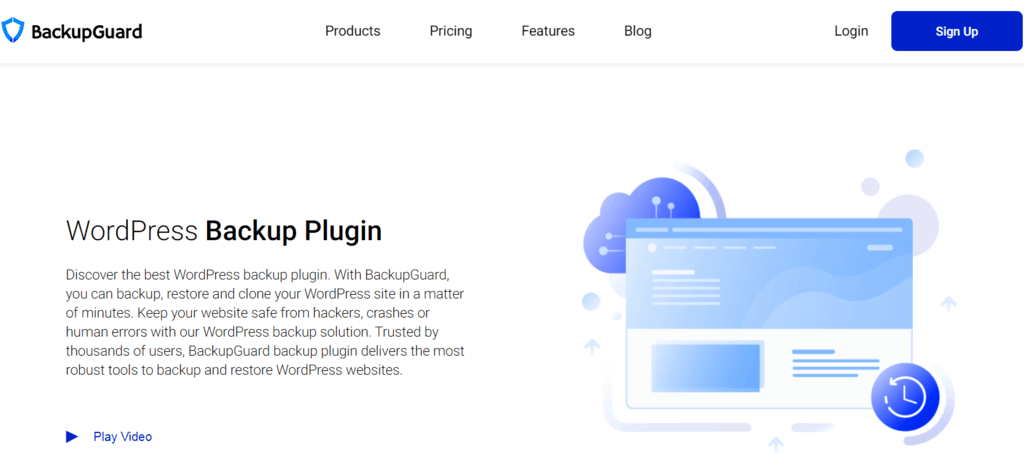 Besides all of the things we just mentioned, you'll probably want to backup your website every now and then, and we get you. Everyone should back up their website in case something bad happens, and what better way to do that than with BackupGuard? With BackupGuard, you'll be able to easily backup your website by just setting it up once.
After setting up this plugin, everything will be automated. You won't have to enter the plugin every month to back it up yourself – it's all done by the plugin itself, automatically.  Not to mention, you'll have many other features that we won't talk about right now – best check it out yourself.
This plugin comes in pretty cheap, only $39 for backups that will cover 5 websites.
8. Google Maps Widget
In case you want to add a location on your website and show it on a map, you simply can't go wrong with using Google Maps Widget for Google Maps. With this easy-to-use plugin, you'll have the ability to add maps to your website in 2 minutes. You can also fully customize the map and change any default options.
This plugin is also fully responsive, meaning all of your mobile users will be able to see the map, too. Much like the others we've mentioned so far, Google Maps Widget won't break the bank. You can get a yearly subscription for 29$, but a lifetime package that's currently priced at $39 is much better and cheaper.
9. WP Club Manager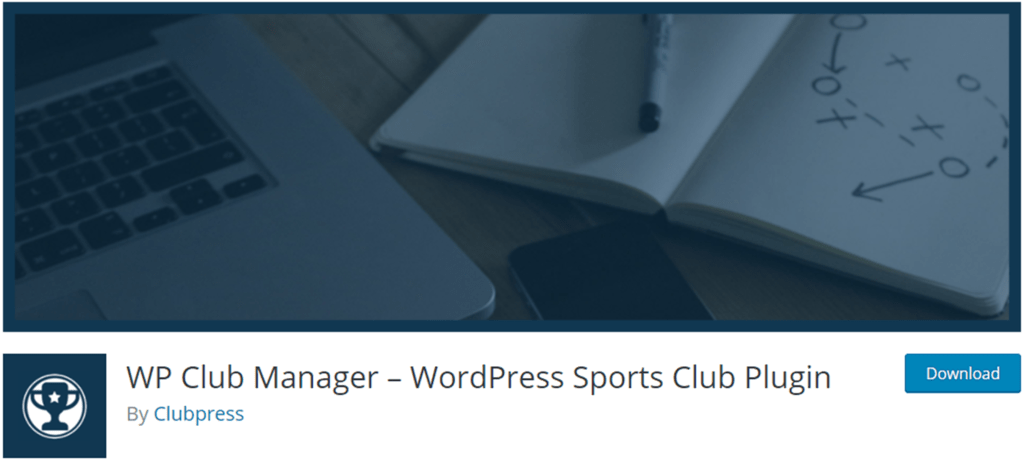 Another plugin that will give you the ability to create and manage a sports club in WordPress is WP Club Manager. Although we mentioned a similar plugin before, this is a special one since it supports lots of sports – everything from American Football up to Lacrosse, meaning that you'll be able to make a club no matter what sport you are focused on.
Besides this, WP Club Manager has lots of different customization choices and themes, so don't worry about that, either. Another good thing is that this plugin is free, so feel free to download it and test it out. You can always delete it if you don't like it, but we don't think that there'll be a need after testing it out.
10. WP 301 Redirects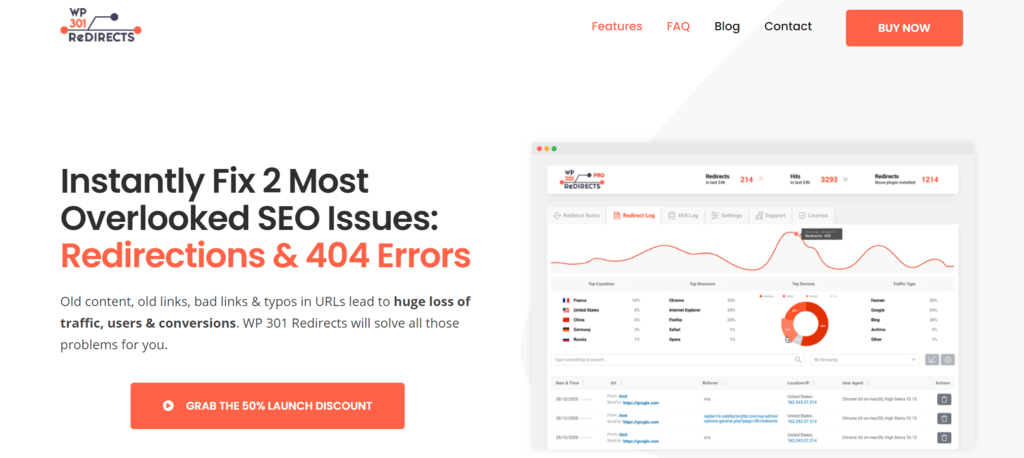 One of the most frustrating things when browsing through a website is 404 pages and other errors, and that's what WP 301 Redirects is made for. This plugin has the ability to redirect and fix all 404 errors and bad redirections on your website, saving you from a big traffic loss, too.
The way WP 301 does it is by removing all old broken links and redirecting them to the right ones. A pretty simple thing that helps out a lot. Like this, you'll be avoiding bad traffic while boosting organic traffic.
The price of this plugin is also totally worth it, currently on sale for only $39 a year. That's the personal package which is more than enough for a single website.
11. AppMySite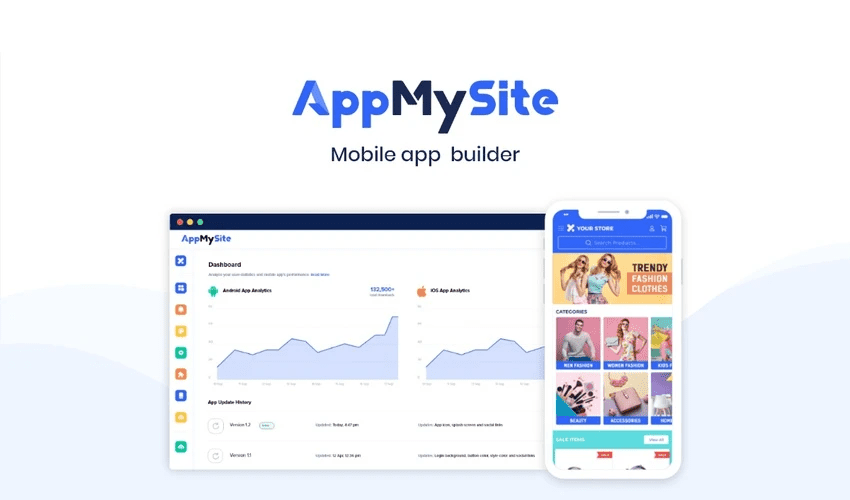 AppMySite is a free WordPress plugin that allows you to create a mobile app by using your website as a foundation.
If you have a sports website built on WordPress, you can use the plugin to connect your website and app. All your site's content such as posts, pages, categories, and more will be synced to the app in real-time. Additionally, all the new stories you add to your website will be reflected in the app as well.
Using an app-making platform like AppMySite is a great way to create an app if you don't have the resources to hire a development agency to create an app from scratch. The plugin is freely available on WordPress, but you would need to upgrade to a higher tier in order to publish your app to Google Play and App Store.
Conclusion
All in all, the plugins we just mentioned make a perfect match when combined, but you are free to check them all out and pick the ones that fit you. Some are free, some are not, but they are all pretty worth it and cheap when compared to the features that they have. Although this list is focused on sports blogs only, lots of these plugins will make good helpers on other websites, too, so don't back away from them just because you are not running a sports blog – try them out.