We've all seen reviews on Google and how they display yellow stars. People can comment and leave reviews that can turn into stars and make a visible representation of how a website is doing in the eyes of the public.
AddStars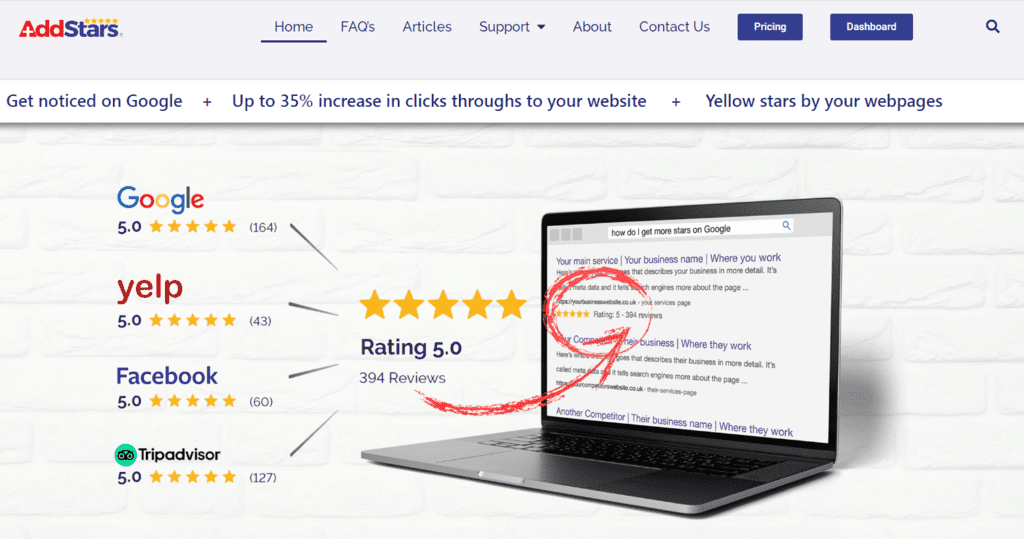 If you need that for your website, get AddStars and ensure that all your reviews will be collated and displayed as yellow stars. Doing this to your website and collecting all your reviews over multiple platforms means more traffic to your website. If you want details, you can improve your website's traffic by 35%. This means you can stay ahead of the competition by making your reviews appear as golden yellow stars!
The next question that comes to mind is how does this tool work? We have already said that this tool displays all your reviews as golden yellow stars. No matter where the reviews were left and on what platform, everything can be collected from Google, Yelp, Facebook, and any other similar platform where you can leave a review.
These stars will appear on Google Search's listing or SERP. This means that when someone searches for your business and gets a result on Google, all of your reviews that have been made into stars will be shown right there. Your customers will be able to see how your business is doing right away when they search for it. Imagine the power you could hold with that.
How does this help my site?
The first thing that should come to mind is that you will stand out from the crowd by having yellow stars appear as soon as someone finds your site.  You will for sure be positioned higher in local search results as well. Every review collected across multiple platforms will be shown as a total next to your web pages, and everything will be nicely organized so it looks professional.
If customers search for your website and they see that reviews are automatically displayed and that they can see different reviews from across different platforms, this means that you can easily build a better, trusting relationship with your visitors. AddStars has it all, the beauty and the brains!
Conclusion
In this article, we have talked about a tool that can help you aggregate and show reviews as stars on Google. The name of that tool is AddStars. A straightforward name tells you the benefits you can get if you use this tool. If you want to beat the competition and stay high on the search engine results, you need to get AddStars today and make sure nobody knows the game better than you!