Reviews are known to shape an online reputation. However, the customers' needs and your services won't always align. Each review you get is a chance to show the world what your brand truly stands for. So, what if you want to collect all the best reviews in one place? Grab Your Reviews is the perfect tool for you.
Grab Your Reviews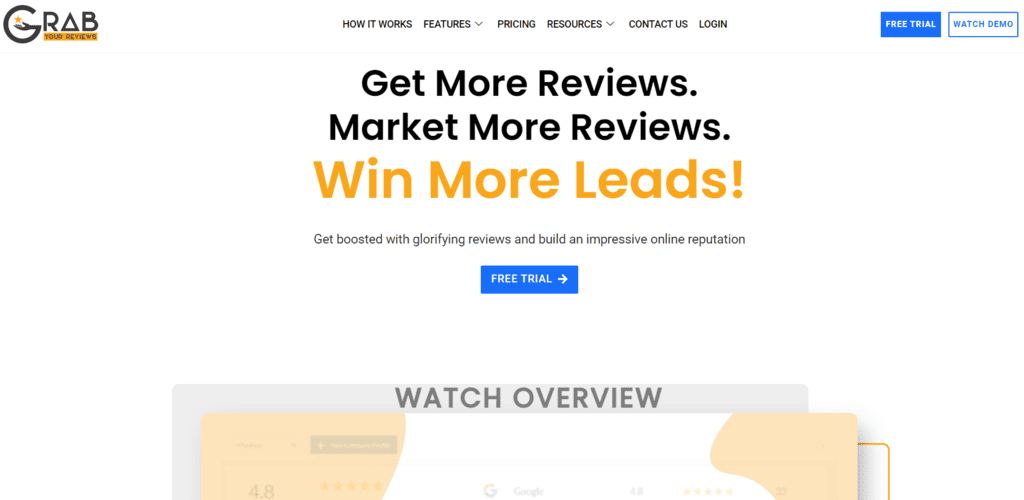 This must-have tool helps you collect reviews from over 50 review platforms. It collects and displays them on your website and your social media accounts. It helps set up email and SMS funnels to request more customer reviews and get valuable feedback. Showcasing your reviews will boost your SERP rankings and improve your overall brand reputation.
Grab Your Reviews lets you collect and manage feedback from multiple review sites on one single platform. You can automatically show off the reviews you collect to prospects on social media or your website. You also get alerts that identify trends, showcase reviews, and track your online performance.
It has a white-label feature that allows you full customization. This feature lets you add a company logo and makes the platform suited to your brand. It comes with seven customizable widgets that help you display customer reviews.
You can set up custom URLs, your subdomain, and email sender domains to build trust and credibility with clients. You can also customize the dashboards and invite team members to collaborate. Grab Your Reviews lets you set up custom email and SMS funnels. This makes it easier for customers to send you feedback.
If you need to respond to customers, this tool enables you to do it directly from the platform. This way, you can easily connect to customers. Take all reviews into consideration and work on improving your brand.
Whether you want to show off the best side of your brand or build trust, you can hide or display negative reviews. You can also exclude reviews that lack text or have low star ratings. This tool enables you to invite customers to leave reviews by sending emails and texts. You can also modify emails and SMS templates and set data, time, and frequency of messages and follow-ups.
Final Words
Grab Your Reviews is an easy-to-use tool that helps you gather and display reviews from over 50 review platforms. This must-have tool helps you build a brand reputation like no other. It is ideal for small businesses, web design agencies, and solopreneurs. It integrates with Zapier and is an alternative to Gradeus, Birdeye, and Nicejob. Reviews can make or break you, so if you want a spotless reputation, start using Grab Your Reviews and watch your brand grow.