Since the Internet has become a crucial part of our lives, we are all comfortable using it. But with all the benefits that it brings, there are also numerous threats that can harm us. Protecting your personal information online has never been more important.
There are a lot of stories about various security breaches where a large number of people have encountered tremendous losses due to the vulnerability of the Internet and cyber-attacks. Businesses and companies often have to share their data and large files digitally, so it is extremely important for them to have a safe network and secure channels. One way of making your files safe and information confidential is by using Sealit.
Why is Sealit the Best Solution?

Most contemporary security solutions are a bit too complex to use daily, so sometimes it can be extremely frustrating to share your files with your clients. Sealit is a modern security solution that offers maximum protection and makes your life password-free. The most important thing is that it always enables you to know who is accessing the data that you have shared. With this tool, you will be able to protect the most sensitive data that you send to others via email' even though your device is not fully secure.
You can easily encrypt any of your file formats with Sealit in only two clicks. If you use Apple products, you can even use the drag-and-drop feature to encrypt or decrypt your files. Later on, even though the file is encrypted, you will be able to share access to your file with the chosen people, thanks to the option of file access modification.
It integrates perfectly with both Outlook and Gmail, so it has never been easier to send encrypted emails directly from your mailbox and from your existing email address. Furthermore, you can use Sealit mobile app in order to decrypt emails or files by using your biometrics and not wasting time with passwords. Thanks to these features, you can be 100% sure that no one else except you and your team will have the ability to decrypt data, including Sealit. The authentication request will be sent to your mobile device, where you will be able to open the email or file by using your biometrics.
Moreover, this tool follows the industry regulations such as HIPAA or GDPR, which ensures that your business is completely protected. There is even an option for setting up smart email protection prompts, which will alert you if you might be sending an email to the wrong person by mistake. Another amazing thing is that the platform can detect all suspicious activities and send you an immediate alert to prevent any potential threats at the moment.
Features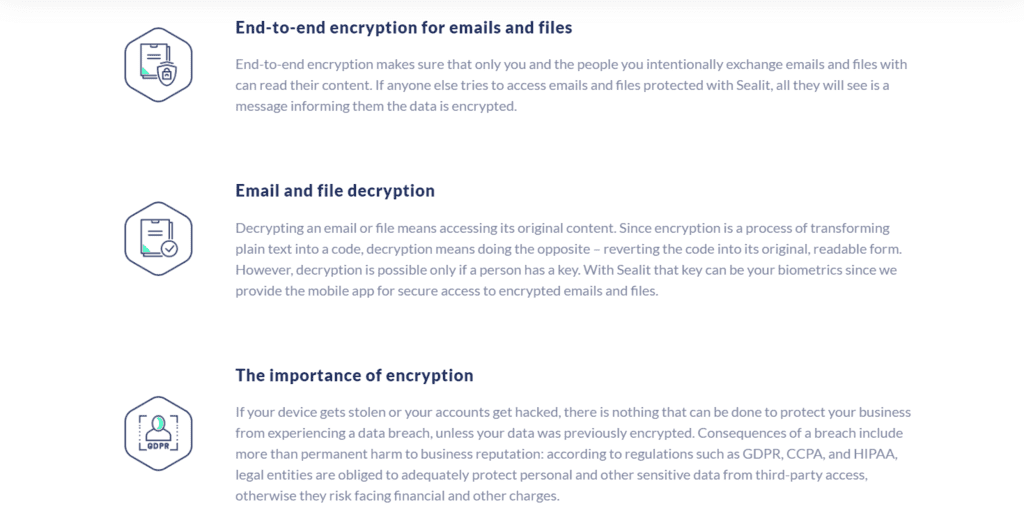 To give you the best possible insight into this tool, here is a full list of Sealit's features:
Personal biometric Sealit ID
Email Protection
File Security
Secure monitoring analytics for all confidential data
Email integrations with Microsoft Exchange, Gmail, and Outlook
File protection that works with any file format
It supports Gmail, Outlook, and Slack. Zoom, Skype, Microsoft Teams, and Dropbox
The file size limit is set by your provider
Unlimited Sealit file encryption size
Additional integration with Android and Apple
Compliance with CCPA and HIPAA
Conclusion
Sealit is the best solution for every type of business since it offers a lot of safety and efficiency at the same time. Easy to handle, yet secure at the highest level – hurry up and start encrypting your important data with Sealit.