In order to ensure the best possible experience for customers, WooCommerce store owners have to make sure every order is systematically managed. Customers like having a clear overview of their order status, and they might think something is wrong if it's not updated regularly. From the moment the order has been received, every stage of the fulfillment process must be fully addressed.
That can be an issue if you're dealing with a lot of orders at once, which is usually the case. That is why it's good to invest in tools that can help you to ensure proper order management. Those tools will make your job much easier and more efficient, which then leaves a lot of extra time to focus on other important issues regarding running a newly opened e-commerce store.
This is why WooCommerce is the best platform to host an online store. It not only offers some of the most vital features an online store needs like tax management and shipping integration, it also provides its users with a variety of plugins that will help you manage your store, and your orders, with ease.
Order Export for WooCommerce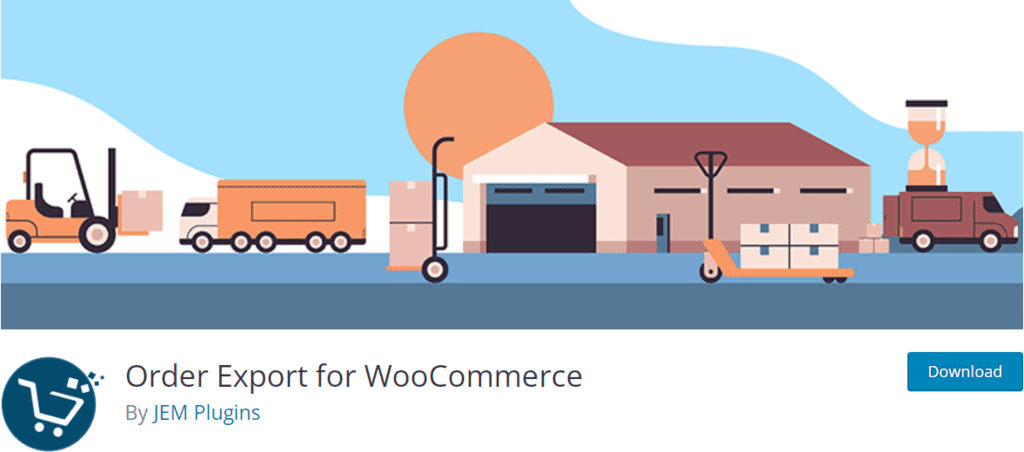 Order Export for WooCommerce is one of the most important plugins for order management. It is really easy to use, and the installation process is really quick and simple. The key feature of this plugin is to export selected orders into Excel or CVS formats. Order Export for WooCommerce is also really useful for order management and will help you make sure everything about your online store is running smoothly.
It has been designed to access your data quickly and to get work done with no unnecessary stress. Some of the best features this plugin has to offer are a simple interface, drag and drop sorting, order exportation, specification through different filters, and many more.
WooCommerce Order Export PRO

While Order Export is free to use, there is also a better PRO version available. WooCommerce Order Export PRO comes with all sorts of useful management features, including all of the standard features already offered in the free version. There are also a lot of new features that build on those of the free version. These features will be of great help to store owners who have more inventory and more orders to manage. For example, the pro version allows you to export any custom data you want, and you can make as many columns as you need and export data directly to Excel in the format you created.
Features:
Multiple filters to choose from (Order Date, Customer, Products)
Option to export additional fields present in the order table
Customized data exportation
Easy to use export filters
Advanced filter for more accurate order data
Responsive design
Simple installation process
Aesthetically pleasing Administrator UI
Multi-language support
Well organized presentation
Dedicated support team
Pricing:
1 Site License – $49 per year, or $6.99 a month.
3 Sites License – $89 a year, without the option of monthly payments.
100 sites license – $169 in a one-time payment and after that, you're set for life.
Autocomplete WooCommerce Orders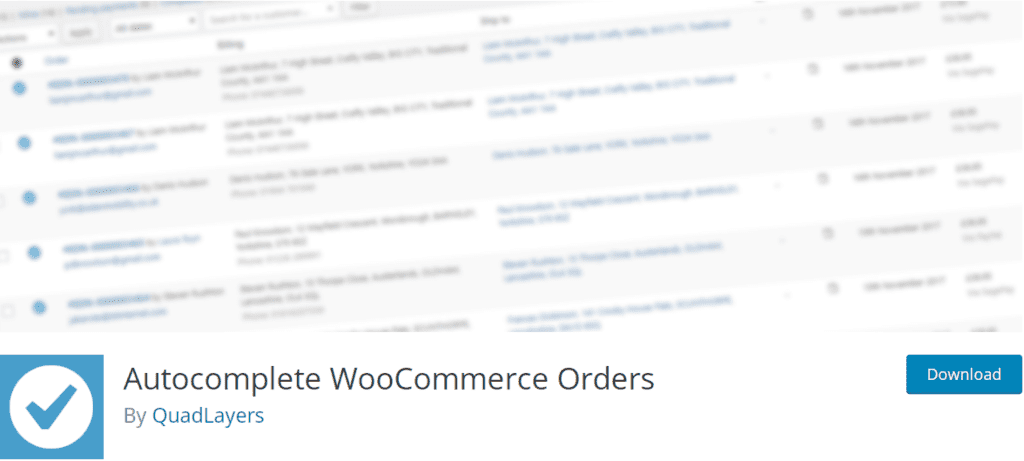 Autocomplete WooCommerce Orders is a free plugin that allows you to automate order processing. It's really useful for busy online store owners who like to plan things in advance and do the work quickly and efficiently. The only thing you need to do is let this plugin autocomplete your orders, virtual and paid. You can also additionally activate this feature for all of your orders.
Some other features Autocomplete WooCommerce Orders offers are for example PayPal integration which will make sure you only process orders that have been paid for, and that's a great way of saving resources. The most important task this plugin has is to save your customer's time during the checkout confirmation, which will improve customer satisfaction.
Sequential Order Number for WooCommerce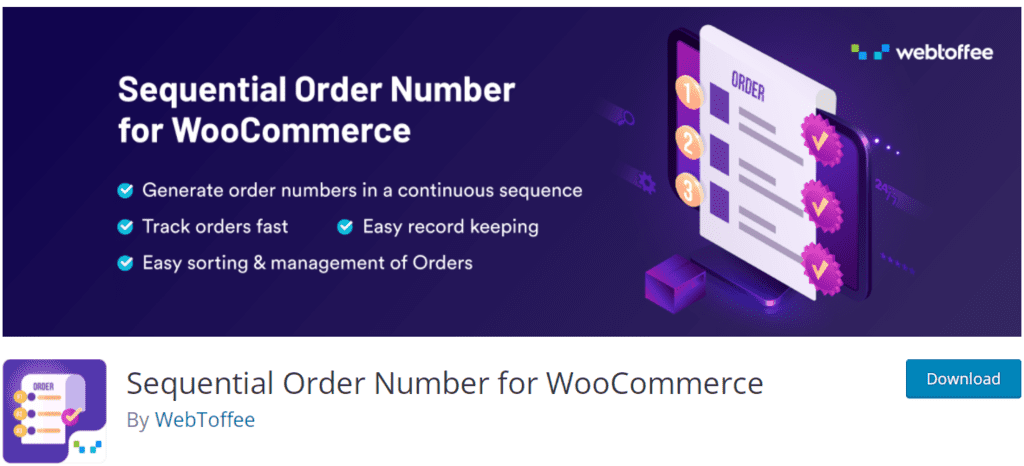 Sequential Order Number is one of many useful plugins for WooCommerce. This plugin enables you to rearrange or format your already existing or new WooCommerce order numbers into a linear (or consecutive) format. When you activate Sequential Order Number, your orders will start counting from number 1 if you have no prior orders, but you can also change the numbers if you want to specify them differently.
Purchased Items Column for WooCommerce Orders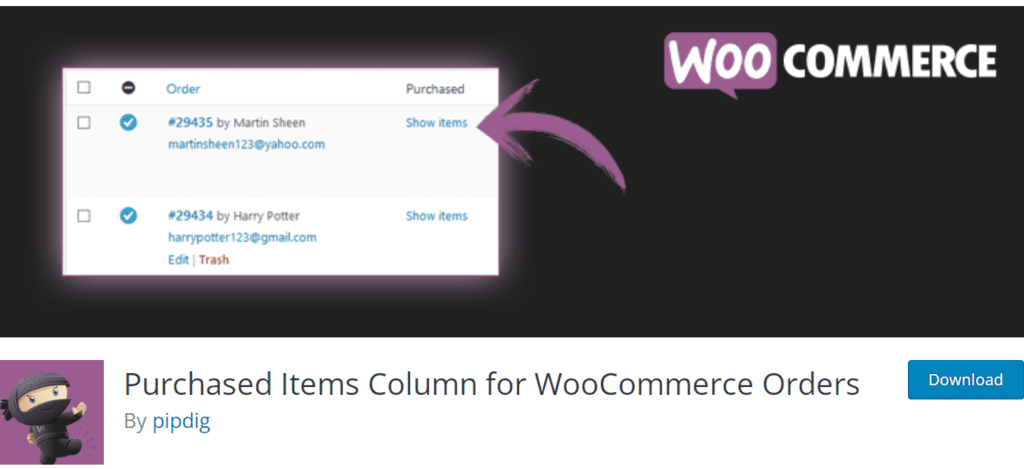 Purchased Items Column is another WooCommerce plugin introduced to fix a few problems WooCommerce 3.0. had. After updating to the 3.0+ version, you will notice that there is no more "Purchased Items" column in the orders because it was a clever way of saving resources. Every time the orders page was loading, it was loading every order to create a query, and in order to fix that problem, developers have created Purchased Items Column for WooCommerce Orders which queries data only when the "Viewed Products" button has been clicked. The name of the product and the quantity will be listed for an order after the button has been clicked.
WooCommerce Order Navigation

WooCommerce Order Navigation is the last WooCommerce plugin on our list. The most important task this plugin has is to help administrators and shop managers to navigate through WooCommerce orders inside the order edit screen, without unnecessarily losing time. It's very simple but it saves a lot of precious time. This plugin allows you to navigate your orders with just two discreet buttons: "Next Order" and "Previous Order". They're located in a convenient area under the "Update Order" button.
In conclusion
Running a business is definitely not an easy thing to do. There are so many things business owners have to take care of and so many details they have to remember in order to get the job done. And that's just scraping the top of the list. It's unbelievable how much technology can help us with our jobs and it would be a shame to not use it to our advantage.
If there is a way to get the job done faster and easier, why not do it? There are so many useful things you could be doing with the time saved by WooCommerce Order Export PRO, and your business will certainly benefit a lot from it. Time is precious and we should be using it on what's important, and let these clever plugins do the rest.