Picture this: you just made a website, and everything is going smoothly, all of your plugins are working, your branding is good, keywords seem to be getting a lot of attention. Suddenly, something is wrong, but you can't tell what it is. How are you to figure out what's wrong, and more importantly, how can you fix it? In order to fix the problem, you first have to locate it, and you can do that by checking any potential changes the site underwent.
To see the changes a website makes, either relating to the content or source code, you have to go to that website and check it manually. Best do it often, too; it's way easier to prevent a problem than it is to fix it. This doesn't sound all that bad if it's just one page, and it's not changing all that often. But what if you have to do that for 15 pages that are changing suddenly and at great speed. Now, that sounds like a lot of work, especially if you have other things you need to take care of.
It's a good idea to monitor a website for changes whether you are a general consumer or a business owner. For the former, by doing so, you can often come across bargain offers and find out about sales faster. To know when a store is making a sale, you just have to subscribe to alerts that monitor pricing. Or you may even employ a competitor price scraping tool to automatically monitor the prices instead. On the other hand, if you are a business owner, market research and competitor monitoring can allow you to adjust your pricing and target accordingly. Of course, you don't only monitor to help with setting prices and target an audience, but also for more successful keywords and ads. If your competitors are having a good response with certain ads and keywords, then maybe they are worth inserting into your website as well.
To make sure you are up to speed with all kinds of changes being made on your website, keep on reading and let us introduce you to Hexowatch.
Hexowatch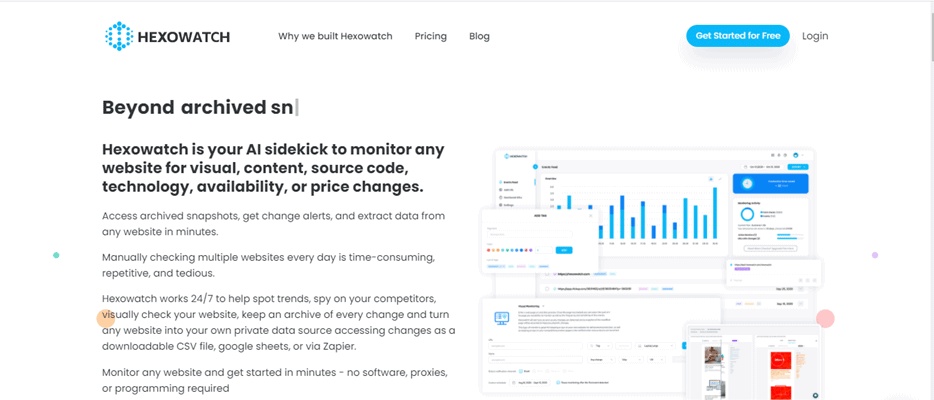 Hexowatch is a top-notch tool for keeping an eye out for the competitors. The same thing goes for any sort of website changes, including your own. It can be very time consuming to monitor manually, not to mention sometimes complicated. But, if you implement Hexowatch to do it for you, you can focus on bettering your own business with the reports it provides. With Hexowatch, you can monitor visual changes as well as changes in keywords, source codes, prices, and more. Depending on what your objective is, you can choose between 9 different monitoring options.
The options included are: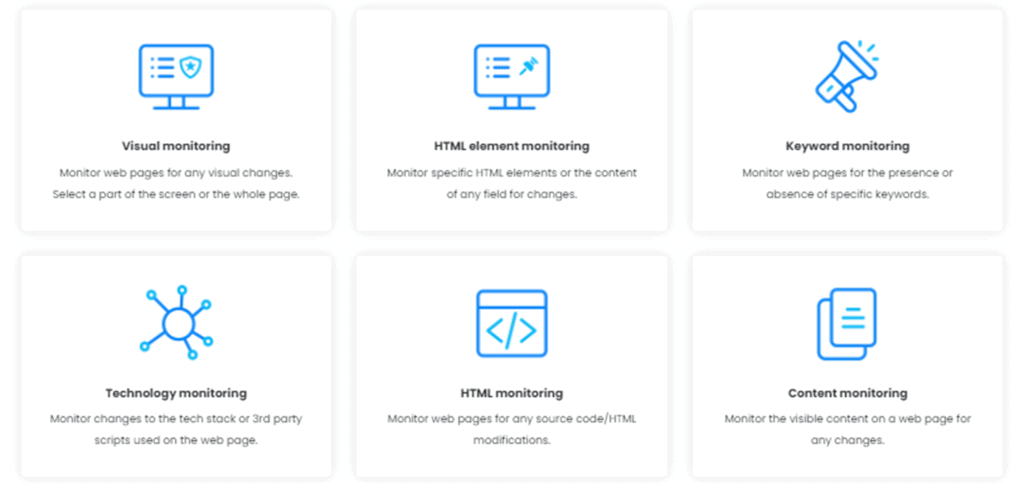 Visual monitoring- any visual changes and either select a part of the screen or monitor the whole page
HTML element monitoring-detects any changes in the HTML element or in the content of any field
HTML monitoring-source for code modifications
Keyword monitoring-presence or the absence of certain keywords
Technology monitoring-changes to the tech stack or 3rd party scrips that are used on the page
Content monitoring-monitor visible content on a website
Automatic AI monitoring-any type of changes
Availability monitoring-check any URL for downtime and get alerts when a website is down.
Domain WHOIS monitoring-monitor the ownership and administrative records of a domain name
When first starting out with this tool, you can pick any of the interface options and just add the URL. It's that effortless to use; sit back and watch the magic happen. To offer maximum amounts of customization to its users, Hexowatch even has the option to set how often you want the monitoring to occur. You can set the frequency to weekly, daily, hourly, or by minutes. You also don't have to be alerted for every little change, and you can set at what percentage of changes you want to be notified; Hexowatch has integration with Email, Slack, Telegram, and Zapier, so you can choose where you want to receive your alerts.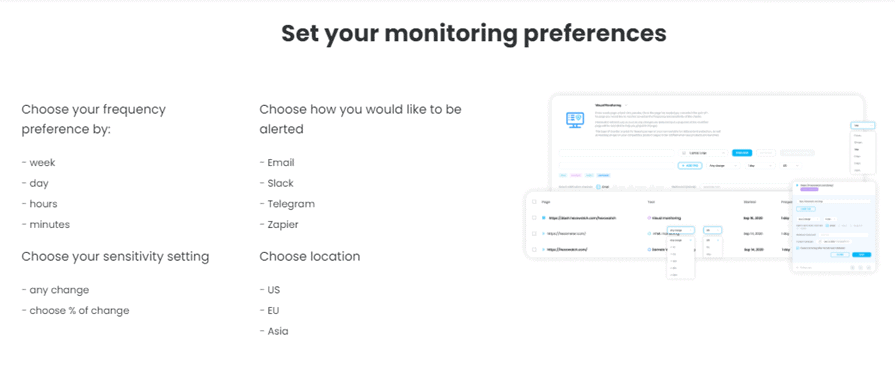 Even though Hexowatch's default is set on checking pages like a desktop computer with a large screen, you can adjust it to one of seven devices from mobile to desktop. As you can see, you can personalize it as much as you want. When Hexowatch detects a change, you will get a report about that change as well as a snapshot and a side by side comparison. Pages that you are monitoring will be archived for three months, and you can monitor them every few months or every 15 minutes.
When it comes to monitoring anything, the first order of business should be your page because it's the most important one to you. Hexowatch offers several aspects that can be monitored. You can check what your website looks like –  your branding and content, and get an alert when something goes south. In addition, you will be the first to know when a competitor launches a new product, and you will be able to track others' prices to ensure yours are competitive. Also, you can check your key pages for any possible bugs after updating plugins and other tools.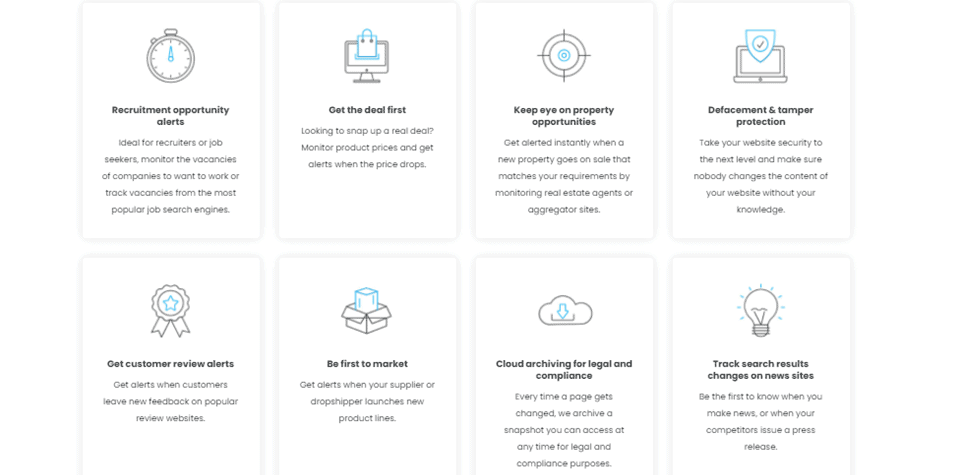 Hexowatch has all you might need to monitor your competitor's pages as well as your own. It saves you so much time and effort and ensures you can put them to good use and care for your business's general well-being instead. Keep track of what's going on with your page, and always be in the loop of the best prices, products, and keywords. You will get alerts for any changes, updates, or novelties.
Hexowatch is currently on offer, and Appsumo has some amazing deals on it. If you choose to get this tool, you can pick between 3 different options: The Single for 98$, The Double for 196$, or the Multiple for 294$. All of these are one-time offers and one-time purchases.
Final thoughts
Nowadays, it's of great importance to know the field and stay competitive. By monitoring competitors, you can see what is or is not working.  And it's hard to do so manually. If you want to see what changes have been made to a certain website, you would have to be on it constantly. Doing that would be a waste of time and resources.
That's why Hexowatch is the perfect tool for monitoring any possible visual, content, and technological changes on your own website or those of your competitors. If you monitor your own page, you can see what is wrong faster and fix it. If you monitor another website, you can be in the loop about what is going on in the neighbor's yard. Whatever you choose, it will benefit your business.