With a list of numerous web hosting providers out there, it's rather tough to find a host that is best suited for your goals and preferences. If you want to get started with a decent web hosting provider at an affordable price, MilesWeb can be given a thought. In this blog post, we'll be concentrating on a hosting provider called MilesWeb. I have used MilesWeb's services for many of my projects as well as for my first website.
That said, here, I will share the pros and cons of using MilesWeb's web hosting services that you need to be well informed of before you decide to sign up. But is it a fine web host choice for you? It's no surprise that this is a good option for plenty of new website owners. Let's dive into how MilesWeb came about as a web host in the dynamic industry.
What Is MilesWeb?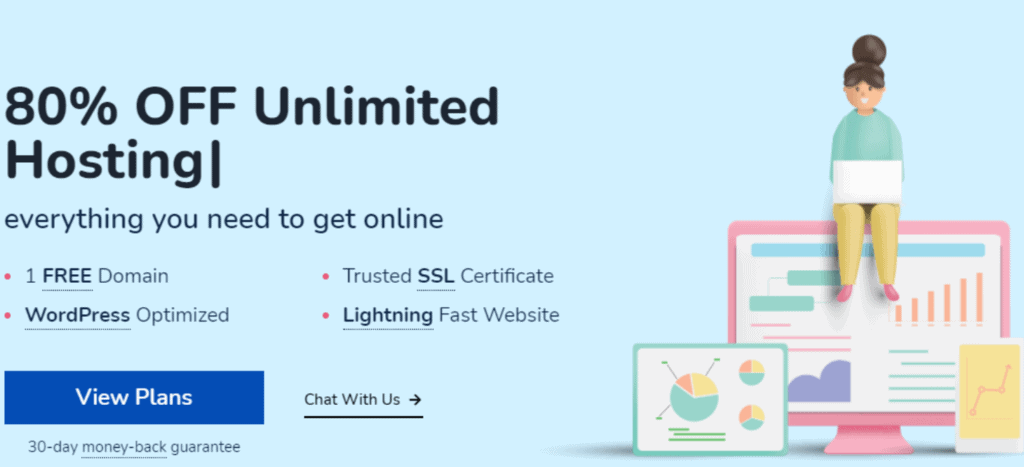 MilesWeb is an Indian web hosting provider. It has been one of the independent and dynamic aces in the web hosting industry since 2012.  MilesWeb is the best web hosting company on the market, and its ethos revolves around offering superfast web hosting solutions at affordable costs. MilesWeb is well-known for offering services to 30,000+ customers globally.
But does this web host meet the standards?
You'll find that out by reading the review below. So, here it is the Pros and Cons of MilesWeb Hosting
The Pros
1. Wide Range of Hosting
MilesWeb has a wide range of hosting services for individuals, small and mid-size businesses. Their plans include shared hosting, reseller hosting, cPanel hosting, Windows shared hosting, WordPress hosting, VPS hosting, Cloud hosting, and dedicated server hosting. You can opt for their services as per your requirements. Their basic shared hosting plan starts at Rs.40/mo, which is a good option for small businesses.
2. Money-Back Guarantee
MilesWeb gives you a chance to try their services risk-free. If something isn't working or in case you are not satisfied with their services, they offer you a money-back guarantee for 30 days.

It means that you can purchase a hosting plan, try it out, and if you are not happy, ask for a refund on the condition you cancel within 30 days of signing up. MilesWeb's money-back guarantee is good, but it doesn't go above and beyond in contrast to some other web hosts out there.
3. Free Website Migrations
Just like, HostGator, Bluehost, and Inmotion, MilesWeb offers free website migrations to customers. If you want to migrate from another hosting provider, MilesWeb has got you covered. You don't have to give another thought to the migration process and can forget about all the stress related to it.
MilesWeb's technical experts make it as easy as possible. They are committed to taking care of everything from transferring website files to getting your site switched to the MilesWeb server without downtime.
4. Website Builder
MilesWeb offers a website builder tool. Some web hosting plans of MilesWeb come with this feature. So, for those who want to get their website build from scratch, you can take the benefit of MilesWeb's website builder tool that comes with a drag and drop functionality and helps launch your free site instantly.
While I am not particularly a great fan of such website builders, I have to say this is one of the better add-ons I've seen. Honestly, MilesWeb's website builder isn't the niche in the market but is a good option for a simple website.
5. Good Uptime-99.95%
You must be thoughtful, 'If they are offering quality services at low prices, their uptime must not be high because they might be saving on computer resources.' But aside from a few minutes of downtime, they manage to achieve an uptime guarantee of 99.95% with all their web hosting plans.
Uptime is conceivably a good metric that helps to determine if the host is worth the value to even consider as a potential home for your website.  Usually, we like to see web hosting services deliver an average of 99.9% uptime over a year.  It's fair in comparison with the other hosting providers. Altogether MilesWeb's uptime is good for all types of websites.
6. Responsive Customer Support
One of the aspects to consider while searching for a good web host is customer support. Just think about it, if your website faces an issue, you need to contact someone to fix the issue as fast as possible.
I would personally recommend you to check out the tech support of the web host before buying. Being an Indian web hosting company, you get 24/7 feasible support in local languages via email or live chat with MilesWeb.
Here is what their customers have to say.

Most web hosting companies provide video tutorials and FAQs about cloud servers, control panels, domains, SSL, CMS, etc.
7. Multiple Data Centers
Talking about speed, data center location has a great impact on the data delivery speed. Website owners can choose the closest location to their customers, so their website can load 10x faster.
MilesWeb has six data centers located across the globe. They offer you a data center of choice with most of their web hosting plans. The data centers are in the USA, UK, Canada, India, Singapore, and Australia. The establishment of data centers ensures that your hosting server runs smoothly and your business and web presence is kept intact.

8. Everything Unlimited!
As if everything else on this list wasn't impressive enough, MilesWeb's plan continues to impress with its list of unlimited features. They offer unlimited features with some of their web hosting plans.
Unlimited websites
You can host unlimited websites with their high-tiered shared hosting Turbo plan.
Unlimited Bandwidth
You don't have to worry about the downtime of the site. MilesWeb offers unlimited bandwidth so that you can serve as many users as you want!
Unlimited Email Accounts
You can create as many email accounts as you want with their unlimited web hosting plans. They support IMAP/POP3 accounts.
Also, they offer unlimited SSD Disk space, email accounts, MYSQL Databases, and free SSL certificates with most of their web hosting plans.
9. One-Click Installers
They offer a 1-click installer feature, through which you can install apps with just one click.  Apps like WordPress, Joomla, Magento, and 400+ similar apps can be installed without writing a single piece of code. The 1-click installer makes MilesWeb's WordPress package a rather amazing offer.
10. Good Introductory Price
The last pro we're going to mention in this review is the pricing. Numerous companies in the market focus on the pricing factor and offer low-cost hosting services to customers.  Considering the services MilesWeb provides, they offer web hosting plans at quite affordable prices. If you choose their basic Tyro plan of shared hosting, it comes with decent features for which you will need to pay around Rs.40/mo.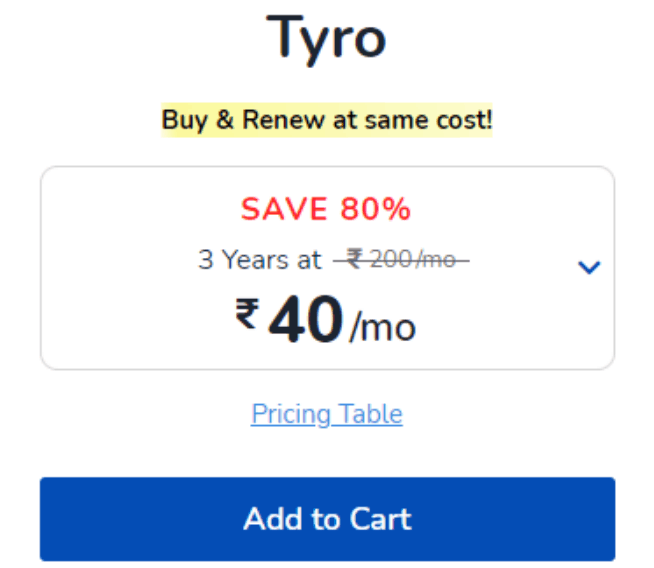 I think this is one of the lowest intro prices in the industry. Also, they offer 1-free domain on a number of their selected web hosting plans.
The Cons
Like everything, there are going to be some disadvantages of using their web hosting. Let's check it out.
1. No Free Backups
The thing that disappointed me is they do not offer backups for free. But if anybody wants to opt for backups, they can opt for a backup addon during the signup process. It is at an additional but minimal cost, and backup cost varies on the hosting plan you choose.
MilesWeb Review: Is it the Right Choice for You?
Finally, choosing a web hosting provider is an important decision you have to take.  If MilesWeb was an option to choose from, I'm sure you have an idea of how MilesWeb can be your go-to option. I would recommend opting for MilesWeb if you are looking for shared hosting. However, if your website needs more powerful hosting, you can try their VPS or cloud hosting.
Compared to other web hosts on the market today, MilesWeb offers good hosting features and functionalities at economical prices. However, if you wish to give MilesWeb a chance, it will surely be a worth to-go option. After all, the choice is yours!