Unless you've lived under a rock for the past 5 years or so, you are probably aware of the GDPR rules set in place in 2018. Ever since these rules have been implemented, cookie banners on websites have become a must. Whenever a user visits a website for the first time, a banner or a pop-up window will appear and inform the user about processing their personal data.
Now, a cookie is a small text file stores user information, which allows a web server to recognize a user. After the GDPR was passed, website operators require the visitors' consent to use some web technologies (these can include tracking and retargeting pixels). Because of the GDPR rules, you need to have a cookie banner on your site.
There are also some legal documents you need to have on your site. These include the terms and conditions of the site and a disclaimer of liability and licensing of the website content. To make this process easier, numerous tools for law compliance have appeared over the past few years. In this article, we will review one such tool, iubenda.
iubenda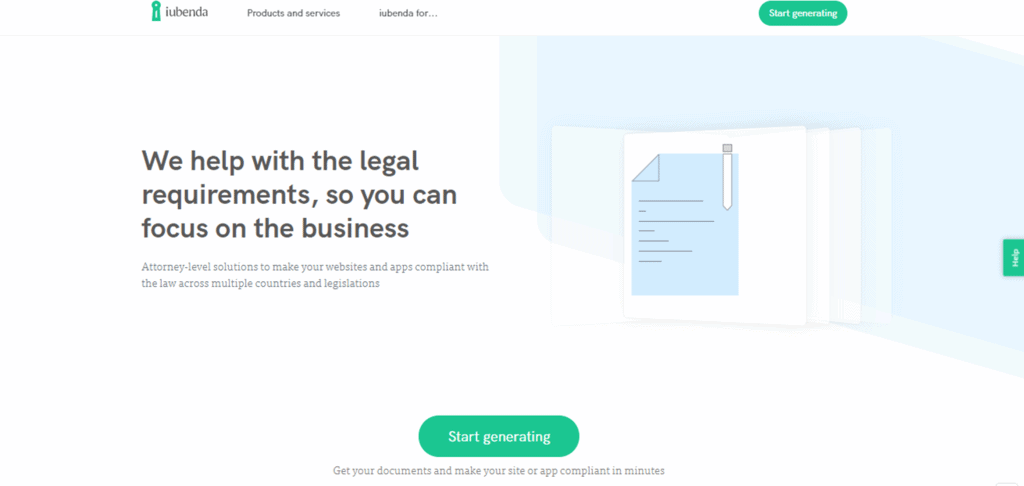 Iubenda is a tool that helps you meet the latest legal requirements of the GDPR and CCPA (California Consumer Privacy Act) and ensure your site continues to follow any new changes in privacy laws that are relevant for your site and business. It's rather time-consuming to know all of the legal requirements for your business. That is exactly why iubenda was created. It helps you figure out which requirements specifically apply to your website or app, depending on your location and user base.
It comes with the tools necessary to create cookies banners and legal documents, such as Privacy, Cookie Policy, and Terms and Conditions. These can be customized and edited with your language and design preferences. The tool is supported in 8 languages (English, Russian, Italian, German, French, Dutch, Spanish, and Brazilian Portuguese).
It is an easy tool to use as everything can be checked from a central dashboard. As mentioned, all the documents you create are customizable, with more than 1,000 options for altering clauses and banners to your needs.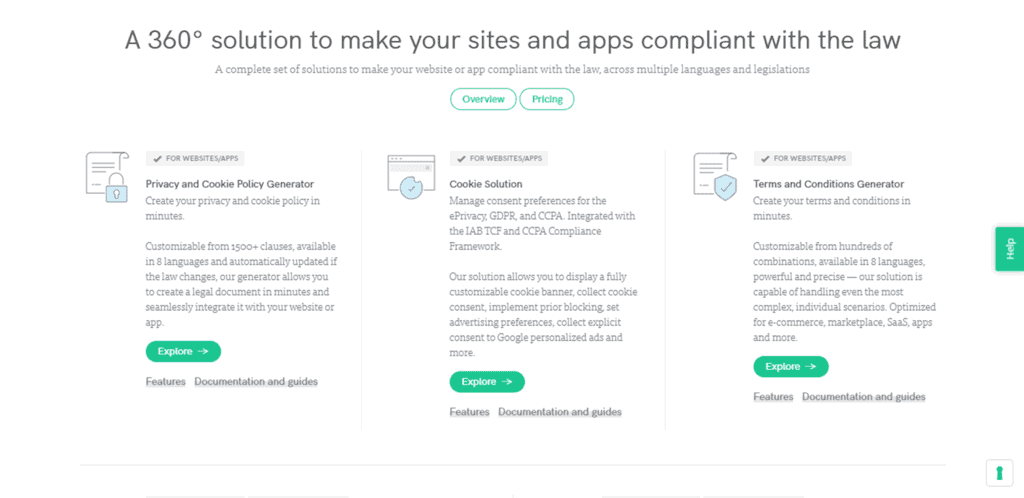 What is great about this tool is it works well on both websites and apps, so you can rest assured that your app, as well as your website, is compliant with all the rules. Once you are on your dashboard, you can create a privacy and cookie policy, cookie solution, terms, and conditions, or consent solution for your site.
What features are included?
Privacy and cookie generator allows you to add services that you use, such as Google Analytics. However, if you are not sure which service to add, you can paste your URL link, and the tool will recommend which services to add for your business. Then you can translate these to any of the 8 languages and activate the policy.
Next, the cookie solution creates a fully customizable cookie banner that lets your users consent to access cookies. You can add your brand logo, wording, text, and colors to customize it even more. Then, a code snippet will be generated, and all you have to is copy it and add it to your site.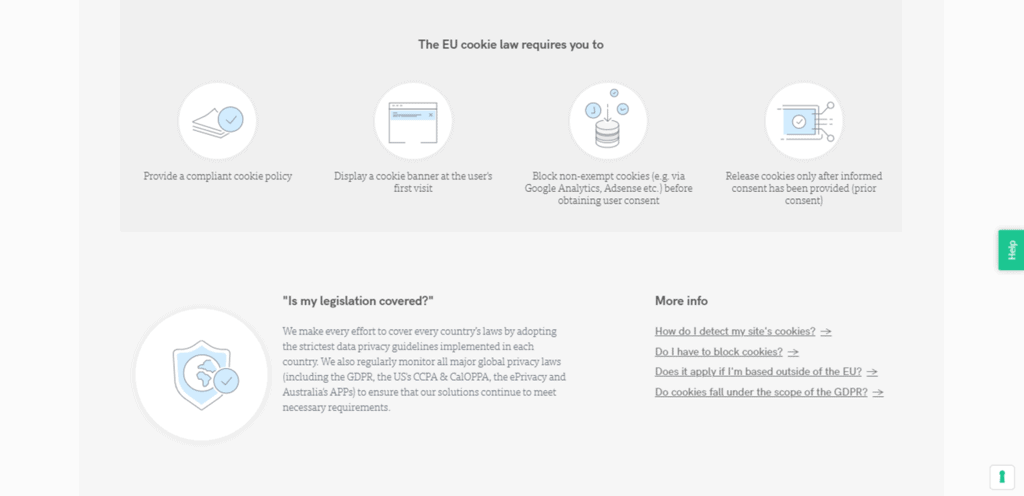 Terms and conditions let you add a legally binding disclaimer to your site. You can choose from 100 customizable clauses, and the tool with guide you through the process. Again, a code snippet will be generated just copy and paste.
The last problem we need to tackle is consent solution for GDPR and privacy preferences. User consent data is stored in a user dashboard and categorized by consent, subject, and legal notices. Iubenda has an internal privacy management system that documents data processing activity. These documents are updated automatically in case of any law changes, so you don't need to worry about staying up to date with all the privacy and internet law changes.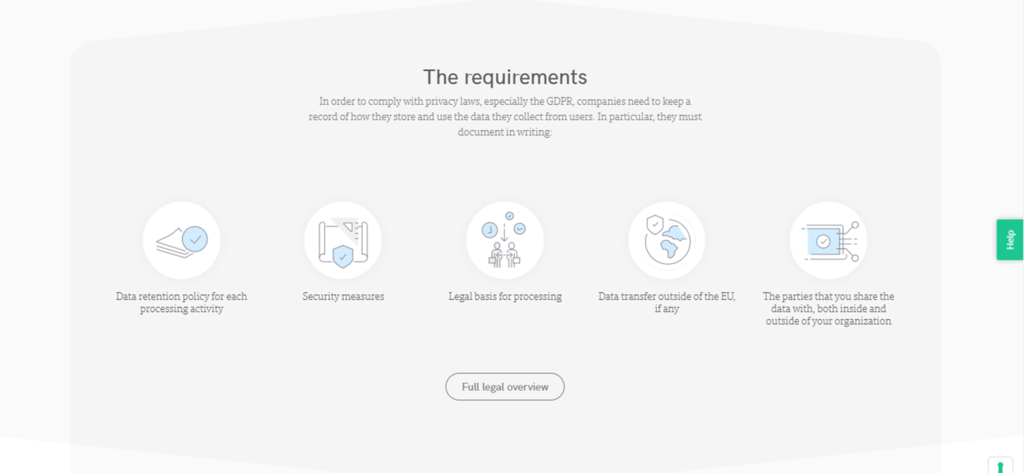 Furthermore, the tool offers you the ability to scan your site and see if there are any legal issues you should be addressed. This makes it great for marketers and website owners working in e-commerce, marketplace, and SaaS industries.
The consent preferences can be changed and managed according to ePrivacy, GDPR, CCPA, and many other rules and laws, straight from your dashboard. The cookie banners and legal documents can be integrated with an embedding link or plugin, including support for WordPress, Magento, Joomla!, and many more.
Pricing Plans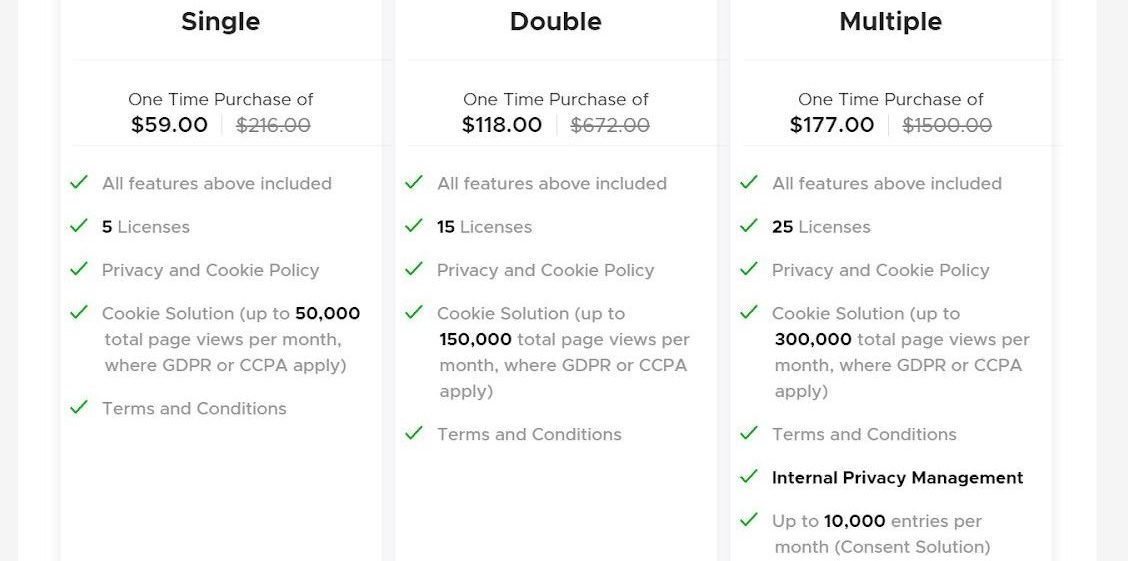 You can get this tool for only $59. This version includes all of the features listed and 5 licenses. If you need more licenses, you can get them for $118  and get 15. Lastly, if you're a big business owner, you can get 25 licenses and an internal privacy management tool with up to 10,000 entire per month in the consent solution feature for only $177. All of the plans mentioned above are one-time-purchases.
Conclusion
In today's world, you really need to stay on top of all legal requirements needed to protect and collect user data. With the appearance of GDPR and many other privacy laws that keep getting changed and updated (thanks to all the new innovations in the digital and AI world), it is getting harder and harder to know all the rules one needs to follow.
That is why we recommend you use iubenda. Not only will it save you time while creating all these privacy rules and requirements, but it will also save you money by ensuring your site is fully compliant with the latest rules and regulations.