Once you've made an elegant, eye-catching website, wrote about your pages, and started posting some content, the next logical step in your business career is finding prospective partners, investors, and sponsors. It's great to build your customer base and your email list, but you don't want to forget your prospects. Prospective sponsors are those who will help you grow your business even more by buying your products or services.
However, you can't go about it aimlessly, hoping to strike gold. If you don't have a good plan in mind and if you don't execute it well, you might come across as immature and not up to the task. You want your business proposals to be thought out and professional, to present an offer that can't be refused.
Now, maybe you're a newbie in the business and have some questions swarming in your brain like; What is a business proposal? How do you craft one? Fear no more as you're about to find out. For starters, a business proposal is a formal document written by a company-provided to the desired prospect to make a business arrangement.
When you are writing a business proposal, you sell your products or your service, rather than just your business. So, to put it simply, it's a way of presenting and outlining what you have to offer to potential clients. When creating one, what you need to make sure of is; your proposals have to be well-structured and aesthetically pleasing. Another important thing to keep in mind is how you present it, make sure it's coherent, straightforward, and informative.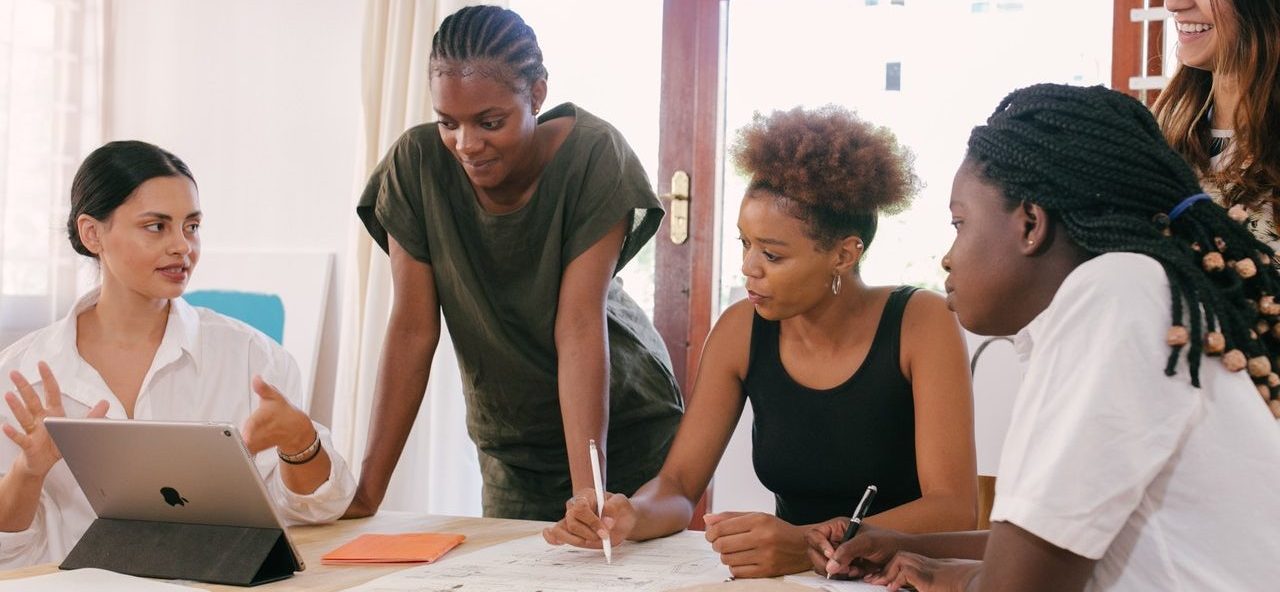 Considering the title is the first thing a prospect will see, it should be something that catches attention, and it's a great opportunity to display your brand. Include your company's name, your name, date, and the name of to whom it is being submitted on it.
The introduction is where you want to show your achievements and highlights. Basically, show your business in the best light. In the table of contents, you will list all of your sections to make it easily accessible, and in the executive summary, you want to present to the client why you are the right person for the job.
In the body of your proposal, you can start outlining your project's specifics. This is where you really sell your service; you show the client that you understand what they need and have the means to solve their problem. You want to give details and examples that you know what you are doing and have the information about their company. After that comes the time you write a proposed solution unique to the company. Moreover, you want to show your qualifications as well; it's important to be confident and make your potential client see you are trustworthy, efficient, and goal-oriented.
Don't forget about stating your prices and costs. While they may wary once the project actually starts, it's good to show them what they could expect. Now that you've grasped the basics of crafting a business proposal, we want to present you with a tool that can help you create beautiful proposals with e-signing, interactive quotes, and detailed insight. 
Fresh Proposals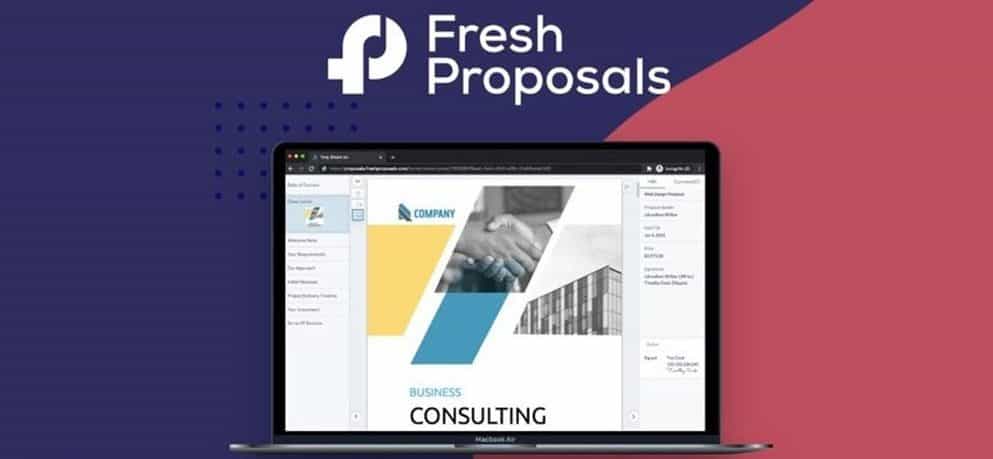 Fresh Proposals lets you choose a pre-made template to edit and customize however you want, so there's no reason for it not to fit your brand perfectly. You can add interactive quotes and online signatures, as well as set up automatic follow-ups for your prospective clients. Fresh Proposals also gives you an insight into analytics and how the prospects are interacting with your proposals.
Analytics and insights use precise intelligence to show you exactly how your proposals are performing. Once clients open your proposal, you will get a detailed report on how many times they viewed it, what pages they have read, and for how long. You can also get information on how much time has passed since the client last opened the proposal, which helps you see if they are actually interested and what you can do to really reel them in.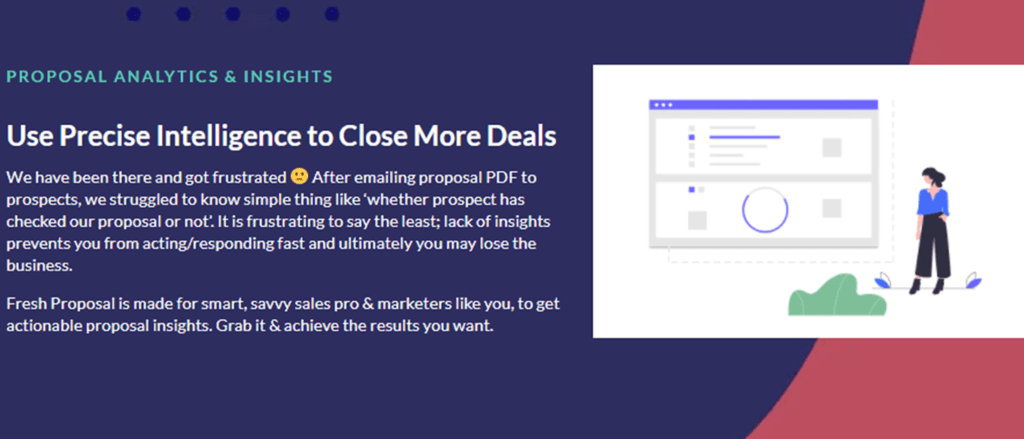 It's easy to track the number of proposals sent, proposals accepted, revenue, and other activities in the dashboard. To make sure you don't miss anything, Fresh Proposals will alert you via email whenever a prospect opens your proposal and accepts it.
When it comes to creating your proposals, Fresh Proposals offers a vast array of 100% editable templates, and you can use various drag-and-drop blocks to add to the proposal, such as textboxes, images, videos, and more. You can even reuse sections from other proposals and templates;  just save it to the content library and use it whenever you want.
Text is obviously the most important aspect of your proposal. By taking full advantage of the textbox feature, you can edit, resize, change the background color, transparency and border. There is even an option to add different shapes to your proposal as well as images and videos to give it a personal touch. Making your proposal eye-catching and unique is always the way to go. So, take this opportunity to play around with the style and look of your paragraphs, fonts, and borders. Fresh Proposals also comes with various page settings such as landscape and portrait mode and page repeaters like your logo.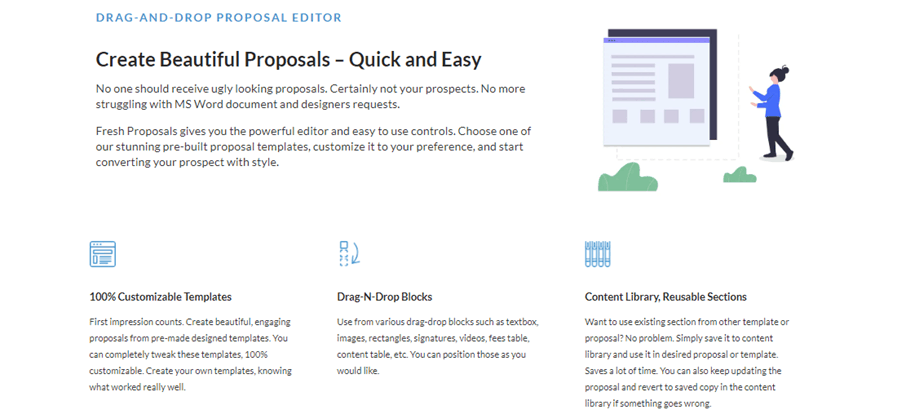 Interactive quotation and pricing is just another handy feature, and the best part is the clients can update it themselves. You can easily add rows to your quotation as well as hourly, monthly, or yearly fees. Fresh Proposals also automatically calculates tax, discount, and the total amount, so you don't have to struggle with the math.
Even if your client is international, there's no need to worry; you can set the price in their currency to avoid any possible misunderstandings. In addition, you can design the fees table to fit your brand and decide if the fees added are fixed or recurring, as well as have control over whether the client can add or remove items from the price list.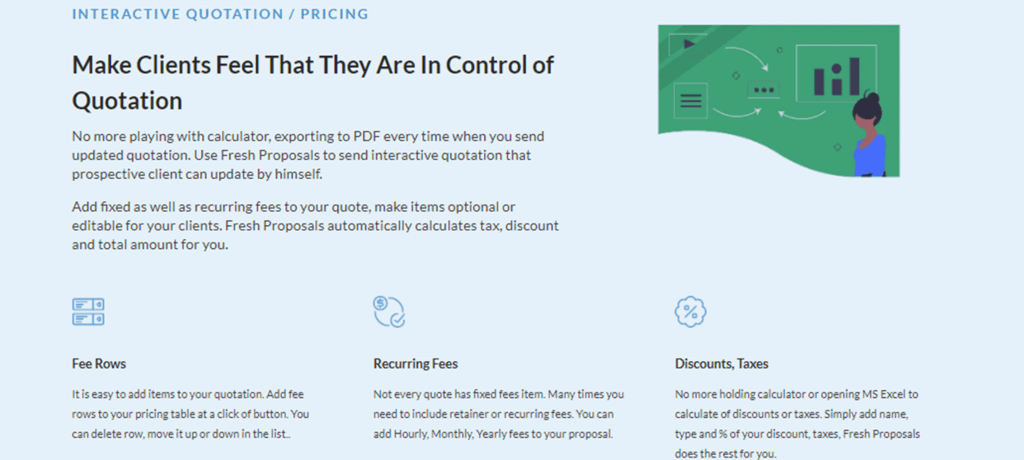 Once your proposal is sent out, it's important to be on top of communication with the clients and your team members. The members can add comments specific to a proposal that only you can see. You can also converse with the clients and get alerts when a client opens the proposal.  As you can see, Fresh Proposal has got you covered. 
Final thoughts
Crafting interesting and attractive business proposals can be challenging work, especially if you are a beginner and don't really know what to include in them. Every business proposal should include an eye-catching title, your achievements and qualifications, outlines of the project, and how you can help them tackle their issues. Prices should also never be excluded from this list.
If you are feeling overwhelmed, or maybe you'd rather spend time taking care of other aspects of your business, Fresh Proposals is the tool for you. This tool helps you create unique proposals, add quotes and signatures as well as gives you a detailed report on the performance of the proposals. It's got just about everything you need to make your business proposals better than ever.