If you ever came across something, let's say a plugin that you want to buy, you have 100% stumbled across a pricing table.  In these tables, they usually offer product features with different packages side by side so that you can see which one is the best option for you. Most WordPress themes don't come with this gem included, and that's why you need a plugin for it.
However, they are efficient and can come in handy for those who want to display information excellently. So, let's jump in and see what tools can help you with that without further ado.
1. Go Pricing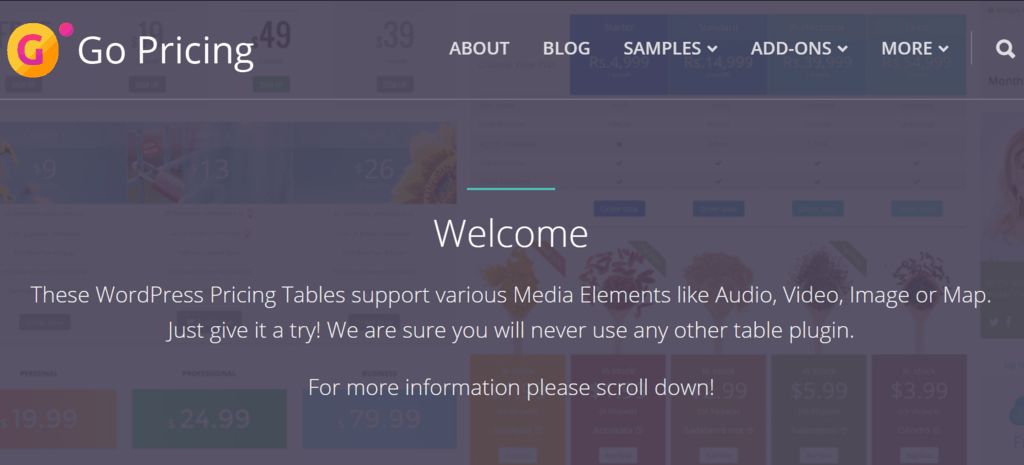 The first spot on our list goes to Go Pricing. It is a very modern plugin that will help you put a stunning pricing table on your site. Sometimes the biggest problem that site owners face is the lack of diversity of designs that a plugin has. But, this one comes with more than 150 table designs. So, you can spend quite some time browsing through them, but it is sure that you will find at least one you like.
An additional benefit of this plugin is that you do not need to know how to code if you want to customize it. There is still an option of adding CSS if you know how, but do not worry about it if you are just a beginner. It has over 650 Google fonts, more than 250 starter templates, endless options for button styles, more than 2,000 font icons, color options, and more.
With all these options, the customization is fun, effortless, and effective. In case you like to 100% sure of everything before it goes out, this tool also has a live preview function, so you can see how the table would look on your site before actually implementing it.
2. WP Table Builder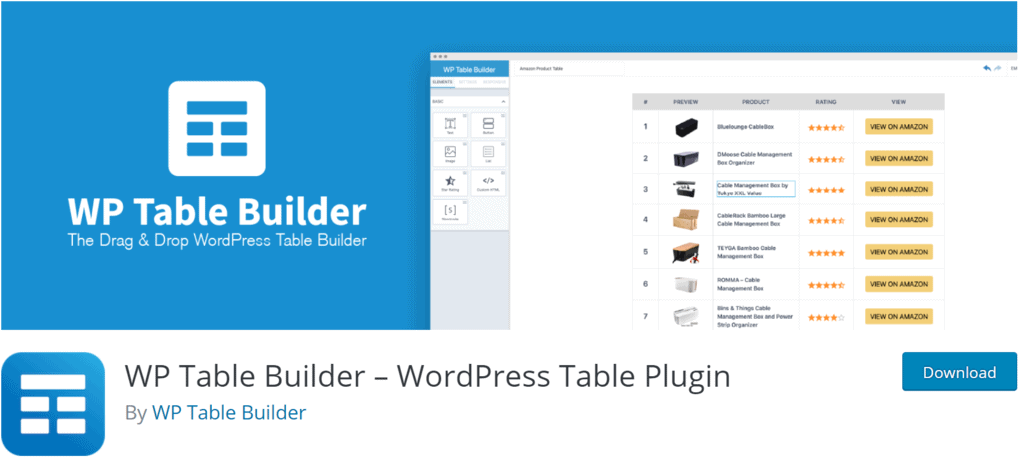 In the second place, we have WP Table Builder. This is a drag and drop builder that will quickly help you create the table of your dreams.  You can create stunning pricing tables, comparison tables, list tables, and the list goes on with this tool.
It comes with seven elements for now, and all of them are fully customizable, from texts, lists, images, buttons to custom HTML, star ratings, and shortcode. With the shortcode option, you can embed the table on any part of your page or post, which comes in handy if you want to create a simple table for your post.
Besides, there are already made table templates that you can use if you are not a fan of starting from scratch. The thing that makes this plugin so unique is that it has a feature to highlight specific packages. So you can draw the customer's attention to the one you want them to purchase with that.
3. WooCommerce Pricing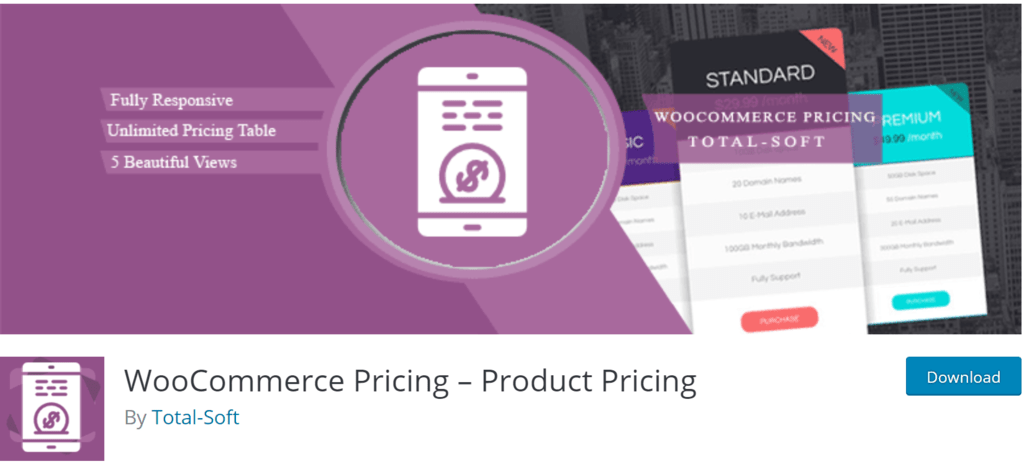 WooCommerce Pricing is our third tool on this list. This is a plugin that will help you create unique tables for your products. You can create as many price tables as you want, wherever you want. Plus, you have the option of unlimited rows and columns, which some tools do not offer. Therefore, it is an excellent plugin for online e-commerce stores. The drag and drop editor is also a handy feature as it allows you to edit the tables with ease.
The prebuilt templates may be simple at first glance, but hey, with some drag and drop editing, they can be very cool.  This plugin also has a great set of font icons, multimedia support, multi-language functionalities, and more. And with that, you can display images in every column and icons in each line.
4. ARPrice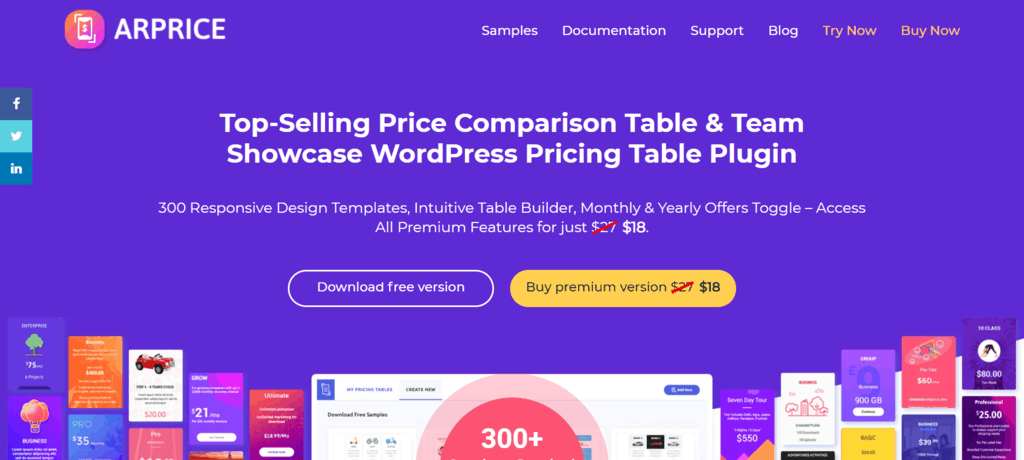 The fourth spot on our list is ARPrice. This is a unique, feature-rich tool that will simply be your favorite in no time. ARPrice has over 300 templates in its library that you can use at any given time. Therefore, you will need to take some time to see all of them, but you're bound to find one that'll work for your site.
It also has over 3000 icons, unlimited color options, and more than 900 Google Fonts. Meaning, with all of these features, you will easily create a custom pricing table that is attractive, simple, and completes your site. If you have monthly and yearly pricings, that you want to showcase, no worries, this tool has your back with that also.
But, it is worth mentioning that you can up the pricing table game by adding a background image to every column, a PayPal button to buy now, and custom ribins. All of these little things can be so crucial to improving your conversion rate.
5. Easy Pricing Tables WordPress Plugin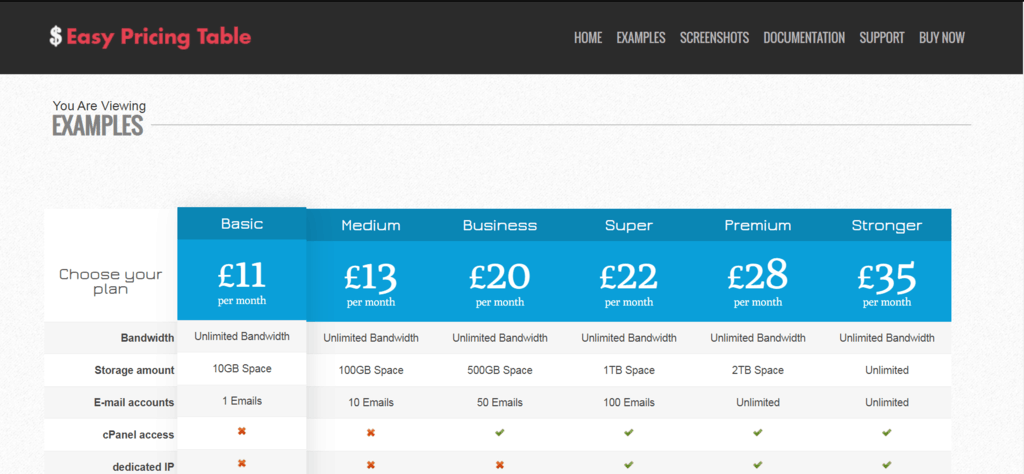 For the fifth and final tool on this list, we have the Easy Pricing Tables WordPress Plugin. If you are leaning more towards a simple yet aesthetic pricing table, then this is your guy. It comes with ten templates that will do their job justice. Since simplicity is the key here, there is no reason to have any more. But, they are easy to use. You'll only need a few minutes to set everything up.
On the brighter side, some elements allow customization, such as text, the title, buttons, prices, images, icons, videos, shortcodes, and HTML. And you can spice them up with some hover effects or ribbons if you like. Besides, rich media will allow you to add images or videos to the pricing table. So, if you want to show off something in that category, you have the freedom to do so.
Conclusion
In the end, having a pricing table is a perfect thing for any business. It helps your customers see every pricing package with all the information. They will have it all in one place, and they can easily decide on the spot which one to get.