SEO tracking may sound complicated, but it's really not. It is simply a matter of statistics that determine the metrics most important for your business. Once you get a hang of how that works, all you have to do is track the same metrics regularly to check your progress. One of the best-known SEO tracking tools is probably the Rank Tracker by Ahrefs, a tool that lets you monitor your Google rankings on your computer and phone in over 170 countries.
Setting up the tool is very easy; just import or write down a list of keywords. After that, add countries where you want to monitor them and copy and paste your competitors' URLs. If you do that, Ahrefs will start tracking your SEO and send you regular updates.
This tool has a lot of features, but the one that stands out the most is probably the ability to visualize your SEO with the help of an interactive graph chart. This graph shows you the history of visibility and the percentage of organic clicks and searches that have led to your website; it also shows you the average position and traffic. There you can see a snapshot of your progress over a definitive period of time and position distribution, as well as track your ranking positions in groups from one to three, four to ten, eleven to fifty, and fifty – one to a hundred.
All these great features warrant a steep price tag (the prices range from 99 dollars to a whopping 999 dollars per month), and for someone just starting out, this would be not the right option. That is why there are many alternatives out there, but not all of them are good, and they often present themselves better than they actually are. That's why we'll present you with the best alternatives to Rank Tracker by Ahrefs.
1. SerpWatch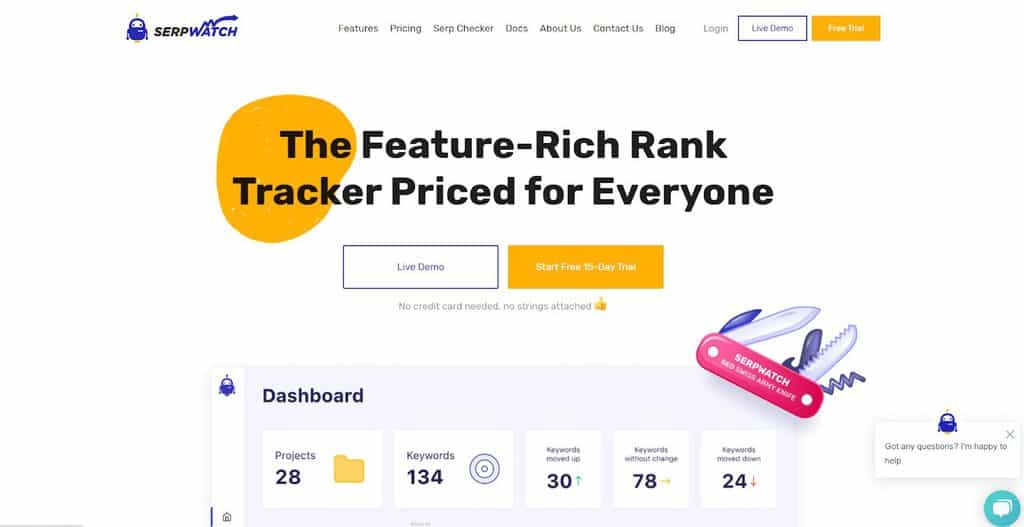 Serpwatch is a tool that monitors your keywords, compares data with your competitor websites, and keeps your audience in the loop. With this tool, you can compare search rankings to featured snippets, venues, reports, Google Analytics, and SERP features. SerpWatch also shows you the top ten results for every keyword that you have saved and tracked, so you will know exactly which website is in those top ten and if there are any of your competitors on the list.
It also has an Intelligence Hub where you can compare search rankings to featured snippets, revenue reports, and much more. SerpWatch has the Zapier app integrated into the system, and that lets you interface with over 1500 applications, so you would know for sure when your website goes to the number one spot.
The neat thing about it is that your clients can see how your SEO strategy is progressing without bothering you to send them the reports every couple of days.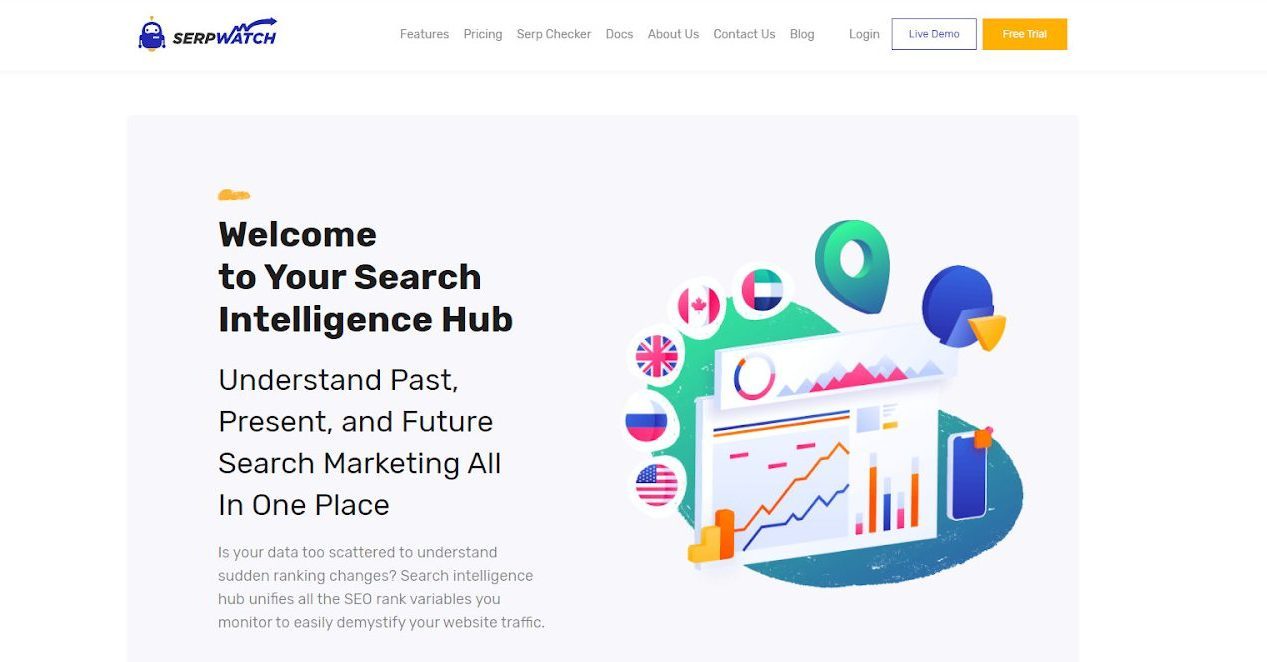 Instead, they can just refresh the page and see for themselves, which makes your job so much easier. Also, Serpwatch offers you the option to verify your search rankings from the last ten days by clicking the "open screenshot" button from the ranking chart menu. If you are still unsure about this tool and think it seems too complicated for you, you can attend a webinar that will show you all the features and how to use it.
There are three payment options: the Single, which allows you to track 150 keywords and two client portals for 59 dollars, the Double, which allows you to track 300 keywords and five client portals for 118 dollars and the Multiple option with 600 keywords and ten client portals for 177 dollars. Before spending your money, you can also check out a fourteen-day free trial to test it out before putting any money in it.
All the features are included in every deal, and it is a one-time buy. If you end up not liking the tool after you bought it, no need to worry because there is a sixty-day money-back guarantee, no questions asked. That is more than enough time to test out the tool, see how it works, explore all the features on your own, and see the improvements on your website.
2. Semrush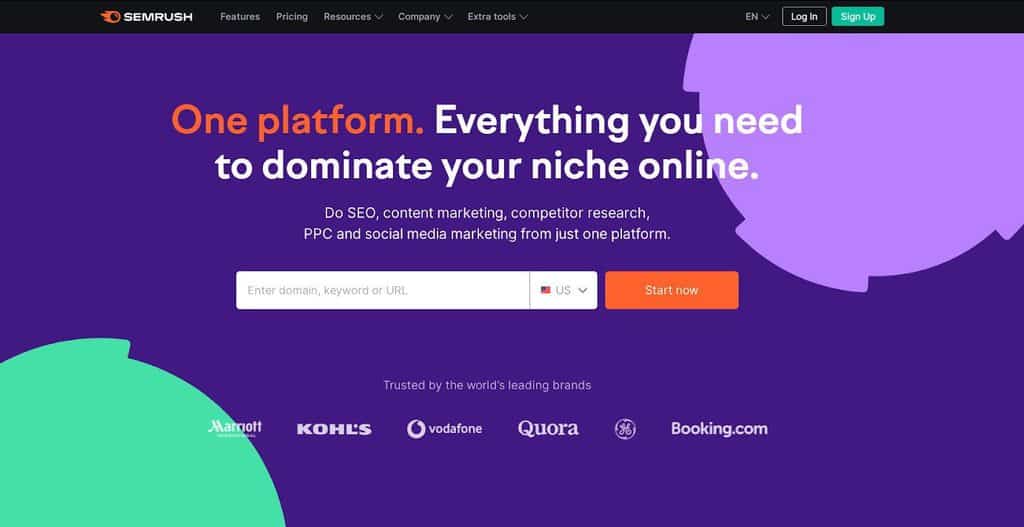 Semrush is another fantastic alternative to Rank Tracker, and it offers a lot of features, including the ones that you can't go without when it comes to SEO tracking. For example, you can do keyword research and discover the best words to use if you want to bring more traffic to your website. If you are a local business, you can do the same, but with the local SEO feature by optimizing your website for local searches and bringing more local customers to your website.
The rank tracking features allow you to track daily changes of specific keywords in certain locations. You can also be one step ahead of your competition with features like Competitor SEO Analysis. Where you can see all of the keywords and content that someone else is using. With Competitor PR Monitoring, you can track competitors' online mentions and their social media presence, so you can always be one step ahead of them.
The Market Analysis feature will analyze your position and get ahead of the competition in new or existing markets. If you want to start making money off of your website, there are features included in Semrush to help with that. With the paid advertising features, you can see paid keywords, which ones your competitors are using, and in turn, monetize your website. There are three plans, and they are monthly subscriptions. The prices range from 99 dollars per month to 399 dollars per month. Different deals offer different features.
3. Ubersuggest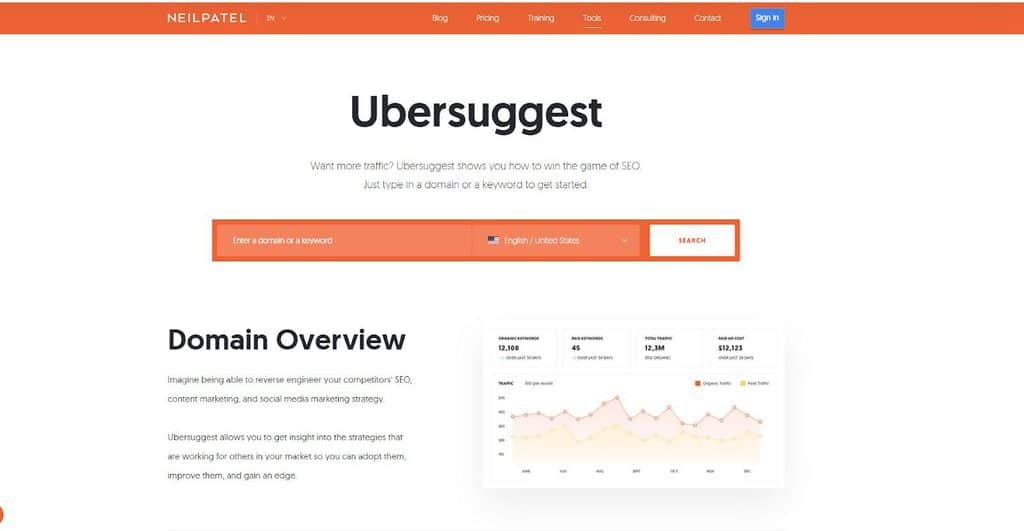 Ubersuggest is a tool that advertises itself as free, and you only need a Google account to get started. But it's not free, so don't get fooled. The features of this tool include everything you need to track SEO, but unlike the other alternatives, it only does that. This tool allows you to get a peek into your competitors' tactics and copy them, improve them and gain an advantage in the SEO game.
When it comes to keywords, you can just type one in and see if your competitors are using it. By finding the organic keywords and phrases, you can incorporate them into your website and get better SEO results. Do not spend time writing unnecessary content that no one wants to read.
You could definitely say that Ubersuggest lives up to the name because it offers you constant keyword suggestions and content ideas, so you do not have to put in keywords that will do nothing for your SEO.Don't worry about making and posting unnecessary, uninteresting, and repetitive content.
When it comes to prices, as was mentioned before, this tool advertises itself as free, but it is not. There is a seven day free trial for every plan, but you have to pay for it after that.There are three options, the Individual for 29 dollars per month, the Business for 49 dollars per month, and the Enterprise plan for 99 dollars per month. All the features are included, and when it comes to the subscription-based ones, Ubersuggest is the best option because it gives you exactly what you need for a reasonable price.
Conclusion
If you want to find an alternative for the Rank Tracker, all of the options above are perfectly fine and certainly cheaper, but the one that stands out the most is definitely SerpWatch. With all of its amazing features and a more than a reasonable price, SerpWatch is the best alternative on this list because there is actually something that only this app has. The deal where you can get Serpwatch is a one – time buy, so there are no subscriptions, no signing in, no anything. Just buy it, and that is it.
If you are still not convinced, you can learn everything there is to know about Serpwatch by taking their webinar, and there is a sixty-day money-back guarantee, no questions asked. Track your rankings and SEO with Serpwatch, the best option on the market.