Every business owner reaches a point in their career when keeping track of all the event planning duties feels like an extra job. Rather than losing your mind trying to remember every task and event you need to host or attend, a suitable event planning plugin for WordPress will come in handy.
Many of these plugins go beyond calendars and lists, with features such as Google Maps navigation, the ability to sell tickets, event registrations, and more! We've compiled a list of our top 5+ event planning plugins, and hopefully, we'll be able to shed some light on some of the ways these plugins can help you organize your events without a hitch.
Amelia

WPAmelia is all about optimizing bookings. From scheduling packages of services to managing resource bookings, it's one of the most comprehensive solutions. The integration with popular calendars and virtual meeting platforms like Zoom can help you streamline every aspect of your business and booking process.
WPAmelia isn't just another booking plugin; it's your partner to make data-driven decisions. The reporting and analytics tools provide valuable insights for optimizing business operations. You'll get:
Data-driven decision-making with reporting and analytics.
Valuable insights for business optimization.
A strategic tool for business improvement.
Besides these benefits, the Amelia booking plugin offers you an unparalleled suite of features, including:
Outlook Calendar Synchronization 
Web Hooks
Integrate with third-party applications by sending appointment and event data after each booking, cancellation, or rescheduling action.
Automated Notifications and Reminders
Stay in constant communication with your customers and employees through SMS and email text messages, ensuring everyone is well-informed.
Google Calendar Synchronization
Seamlessly integrate with Google Calendar to create and edit events, streamlining your scheduling process.
Enable customers to schedule online virtual meetings and book online events effortlessly, complete with instant confirmation and access links in Google Meet notifications.
Eventin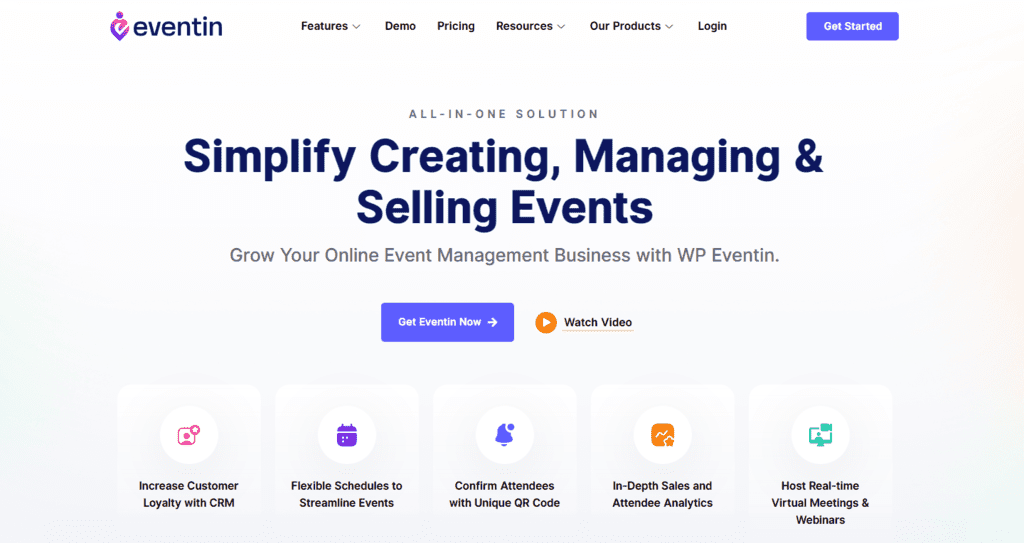 This powerful, very user-friendly plugin is exactly what you're looking for if you need something with all the features necessary to plan and host an event. Here, you can manage an unlimited number of events, create dedicated event websites, and much more. Zoom meetings can also be launched and synchronized from the plugin's centralized dashboard.
Another noteworthy feature of this plugin is its ticketing system. Eventin essentially allows you to sell event tickets without paying any additional fees. The plugin allows you to create custom QR codes for attendance confirmation by creating registration forms. You can also offer coupons and accept payments if you integrate this plugin with WooCommerce. Pretty neat, don't you think?
Events Manager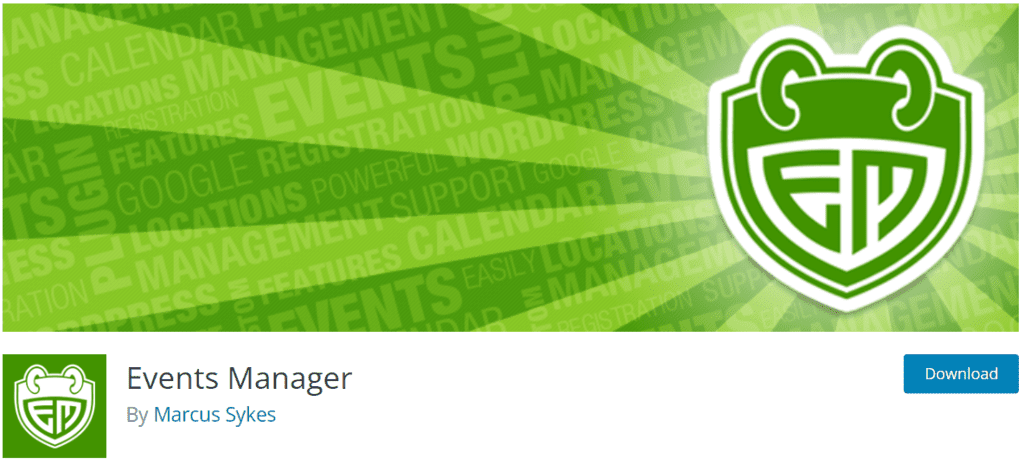 This plugin provides some of the most visually appealing and user-friendly calendars and lists. Events Manager also offers much more for those looking to create registrations for single-day and multi-day events with a few clicks of a button. Another intriguing feature of this multi-faceted plugin is the ability to set specific event attributes, such as a dress code for attendees.
From the plugin's dashboard, you can also manage and monitor your events and share custom links to your online events with your guests. Similar to Eventin, you can share the location of your event using the plugin's Google Maps widget. The best part? It is entirely free to use!
Timely All-in-One Events Calendar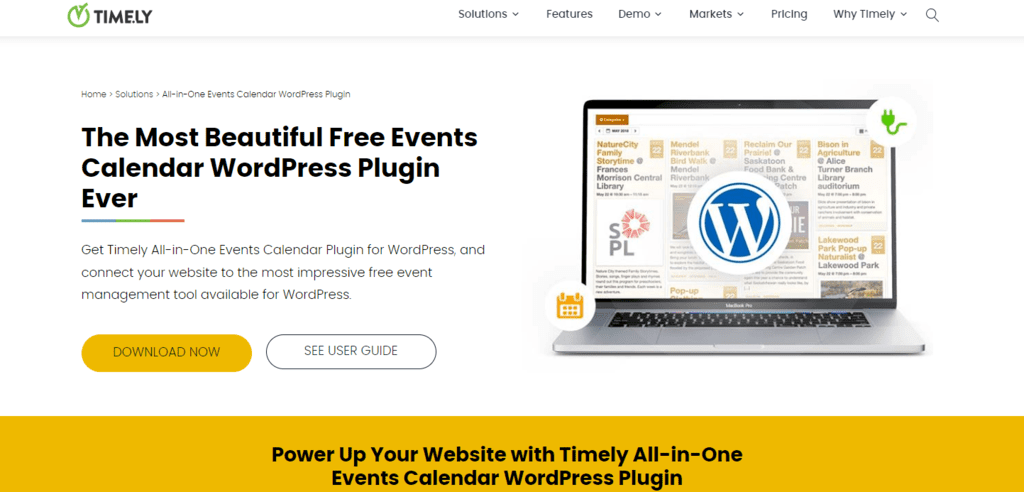 Although you must register with Timely before using this plugin for free, we assure you that it is well worth it. Timely All-in-One Events Calendar plugin includes many appealing calendar template designs and the ability to create single-day, multi-day, and never-ending events.
You can also configure timezones for your events and include a media library where your guests can post their files.
This is an excellent plugin for those who want to manage their event-oriented business more easily and communicate with their team more effectively. You can also collect RSVPs and sell event tickets here! That's pretty good for a completely free plugin. Would you give it a try?
WP Event Manager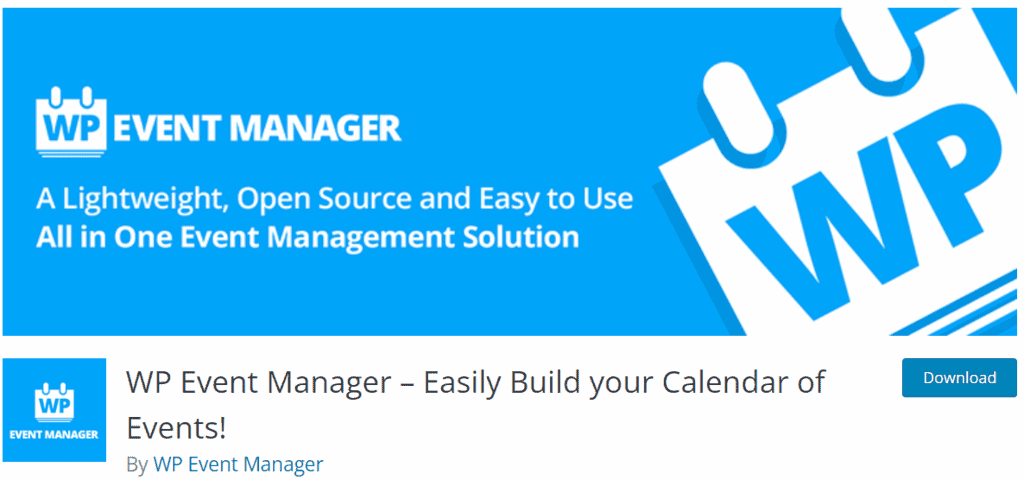 WP Event Manager is definitely worth a try if you're looking for something simple to use without unnecessary features for your business. This simple yet powerful plugin allows you to sort and organize all of your events from a single location. It's completely free and allows you to grant access to different event organizers so they can view, edit, host, and cancel events.
You can also add custom event fields and assign locations to your events. Although not as elaborate as some of the other plugins mentioned, this one is more than appropriate for someone interested in hosting smaller-scale events.
This plugin also has cross-browser compatibility, so it works on Chrome, Firefox, Safari, and Internet Explorer. However, if you're interested in selling tickets, you must purchase and install an add-on.
My Tickets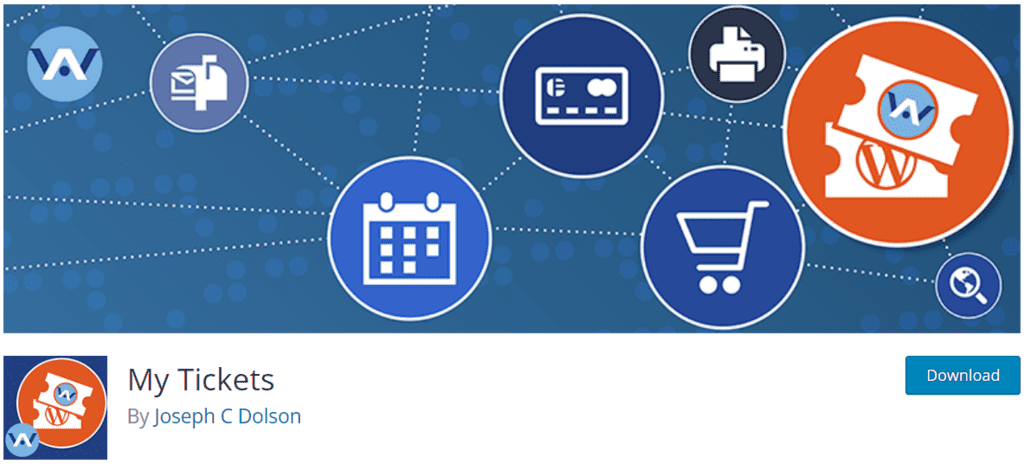 We've discussed how some plugins include the ability to sell tickets, but others do not, which is exactly where My Tickets comes in. It's precisely what you're thinking of: a plugin that lets you sell event tickets. This completely free plugin enables users to register and purchase multiple tickets and ticket types from your store.
At the same time, you can set different pricing for different conditions, such as charging adults and children differently. My Tickets is also PayPal-compatible, allowing you to sell tickets on the spot. You can also sell them offline and use My Tickets to make reservations. You can also use the QR scanner in the plugin to scan print-at-home tickets and verify their authenticity!
Conclusion
Controlling and ensuring that your events go as planned ultimately ensures that your business runs smoothly if you run an event-oriented business. Instead of spending money on various event-planning schemes, do it from the comfort of your own home with one of the plugins we've discussed today.
You can begin your event-planning journey immediately with many free options and feature-rich plugins like Eventin. Send out mass invites to ensure everything goes as planned; create online and offline events, and make extra money by selling tickets.