Line tester tools are more important for your brand than you think. They are not just something that gives emails the power to represent your brand; they provide a personal yet professional touch that your emails absolutely need. These tools will help you with finding the right ratio between your emails' creativity, uniqueness, and personalization by giving you some knowledge about your audience.
There are many different types of tools like these as well. Some of them are based on measuring the emotional effects of words on the receivers, and others are helping you adjust your emails in such a way so they won't end up in the receiver's spam. Trust me; once we start talking about it, you will understand what I've been saying and how something like this is necessary for your brand.
The tools we'll list are sure to make email marketing so much easier for you. And you will realize exactly how much you need one once we dive in a little bit deeper into the specifics of each tool on this list.
1. Omnisend

Omnisend is an email marketing automation tool that's built for growing eCommerce brands. With a user-friendly platform that's easy to use, Omnisend helps you create beautiful revenue-driving email campaigns and automation workflows in no time. They offer templates for both campaigns and workflows, so if you're new to it, you can get started even quicker.
Omnisend also helps you capture more subscribers for your email marketing. They offer pop-ups, sign-up forms, landing pages, and more. They offer templates for all forms, which are completely customizable, and you can even target them based on what your customer is browsing, or if they've seen your pop-up before. You can even customize what information you collect, and capture phone numbers for SMS campaigns, for example.
Where Omnisend really shines is in their marketing automation. Using visual workflows, you can set up welcome, cart abandonment, and many more lifecycle messages with conditional splits that react to how your subscriber shops. You can even add SMS and push notifications alongside email to make your workflows even more impactful. Omnisend offers a 14-day free trial for their paid plans and their Standard plan starts at a mere $16 per month.
2. SimilarMail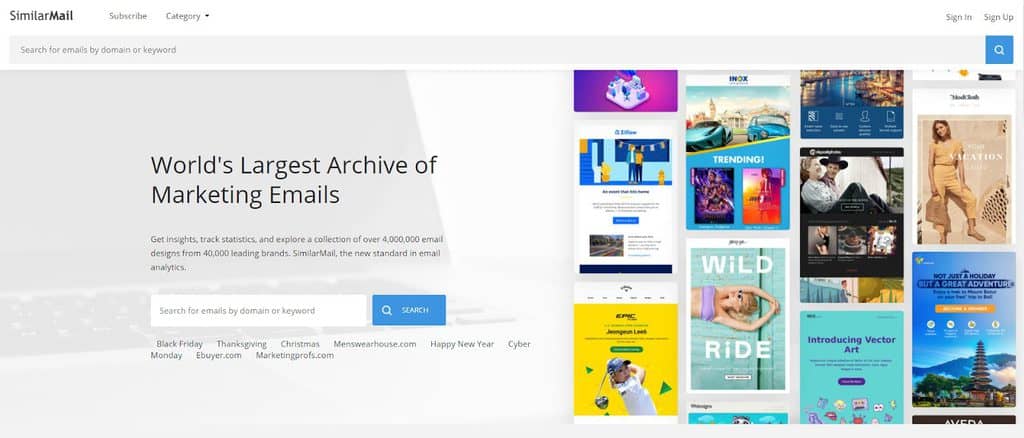 SimilarMail is the largest email archive and analytics service on Earth. I could not come up with a better intro for this tool myself because it truly is this good. This tool has so many great features, and it allows you to have insight and control virtually anything.
Speaking of insight, SimilarMail lets you monitor and collect data on your competitor's email marketing campaigns. With this feature, you will always be one step ahead of your competitors as you will know their entire email marketing plan. Another interesting feature is the option to follow your competitors and be notified whenever they make a modification.
You can also find out which topics you should write more about because finding them is made easy by SimilarMail. The SubjectAI is a feature that creates the best subject lines for your open emails. With this, every email will feel personal and dedicated to the reader. Send out creative and engaging emails instead of those boring, generic ones that frustrate everyone.
It's an absolute steal at its current discounted price, costing only 39 dollars for a one-time purchase with lifetime access, all future plan updates, and a 60–day money-back guarantee, no questions asked. So that you can test out all the features thoroughly and make sure you made the right choice.
3. Mizy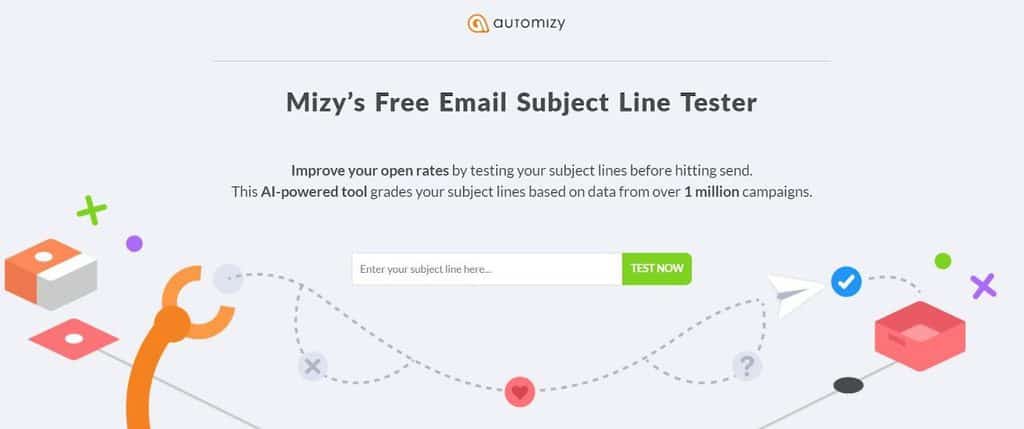 This tool's main job is to make sure your emails get read. Nothing is worse than investing so much time and money into your brand, only to get your emails automatically sent to spam. That's why Mizy is here, the artificial intelligence tool that will give you tips based on "real-life experience. "
Mizy will drastically increase your email campaigns' open rates by avoiding generic answers to your audience. What is meant by an artificial intelligence tool is it develops on its own via collecting data from real email campaigns and their subject lines. In doing so, Mizy creates a chain of events that starts with more subscribers, aka more people reading your emails, and results in higher conversion rates and better revenue for your brand.
The price ranges from 9 dollars per month for 200 subscribers all the way to 10 thousand, which costs 119 dollars per month. If you have more subscribers than that, there is a custom option as well, with a 60-day money-back guarantee. A useful tool for someone that does not mind a subscription-based payment.
4. Send Check It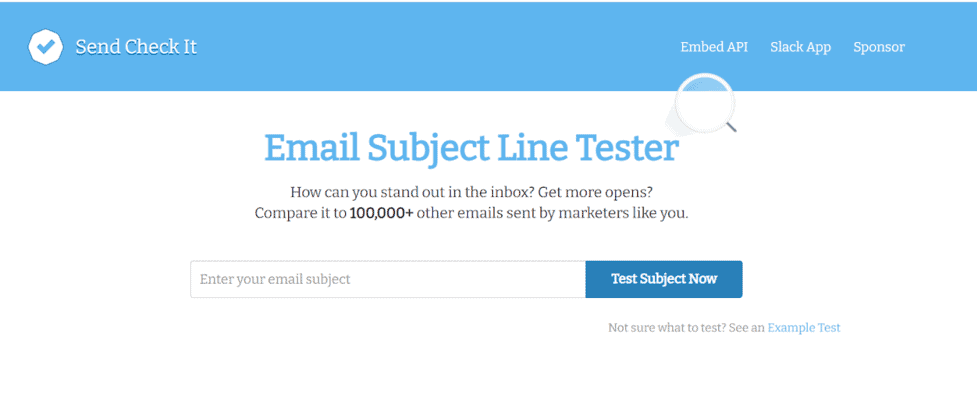 Send Check It is a comparison tool that compares your emails to over a hundred thousand different emails from other brands similar to yours. The comparison is presented as statistics where you can read out the scannability, reading grade level, length, sentiment, and so much more.
Each of these grades comes with a summary that will help you improve sections that are not up to par. It even has a spam words filter that points out words commonly used in emails that end up in spam so that you can replace them. Send Check It will also point out your emails' personalization and show you how to make your emails feel more unique yet open.
The most interesting thing that I noticed about this tool is the option to find certain spam patterns like all caps words, exclamation marks, the word free, etc. It is beneficial to know these things and avoid them, especially if you are just starting out. Before wrapping up, it's worth mentioning that this tool is completely free. It is very useful and simple for someone who does not yet have the budget to pay for a more comprehensive tool.
Wrapping Up
There you have it, four tools, each with their unique approach and focus to subject line testing. All of them can be fantastic, and each has its defining qualities, but if you want something that won't break the bank and still has a professional feel to it, we cast our vote for SimilarMail.
This tool has an integrated artificial intelligence system, with so many features that transcend a basic AI, and it's the current discounted price makes it well worth the money. For a one-time purchase of 39 dollars, you get the best tool for subject line testing. It has everything that Mizy and Send Check It have and more.
There's even sixty days to decide on it, so why not give it a go? You got nothing to lose, if you end up not liking it, you can just get your money back, but that is very unlikely to happen.