The relationship between business owners and their customers was always very important, and its importance keeps growing every day. Customers are the main part of every business, and their satisfaction with products and services is a safe ticket for more customers, stronger bonds and loyalty, and better business growth. Therefore, for business, it is crucial to have a customer success team that will help customers to use products more effectively and successfully.
Customer success tools should help business owners and customers better understand their environment and products even before the problem arises, so they can have better achievements and a wish for future advanced product subscriptions. This understanding and connection with customers can be successfully achieved over customer success tools. There are many tools with a wide range of different features that can be applied to different types of businesses. We will recommend some of the best customer success tools ever developed in the following lines.
But before we get into that, it's worth mentioning that no number of customer success tools can help if your business website isn't up to par. So if you're in need of a facelift, check out WPMU DEV. One thing that sets WPMU DEV's hosting platform apart is that as well as having all the hosting features you'd expect – it also comes built-in with 7 pro-WP plugins – covering performance, security, backups, and more. Get 20% off any of their plans here.
Churn360
Churn360 is a the most advanced AI based customer success platform that focuses on helping your customers to achieve their goals. It is mainly used by B2B SAAS Companies to accelerate their business growth by reducing churn. It is data driven platform that can be integrated with the third-party softwares that your business uses to provide a single dashboard view for your customer success managers.
Churn360 tracks how customers interact with your product and provide actionable insights that enhances the experience of your customers and increase satisfaction and loyalty. Churn360 also notifies which customers are at the risk of churn and suggests some actionable insights to take to prevent churn.
Totango Spark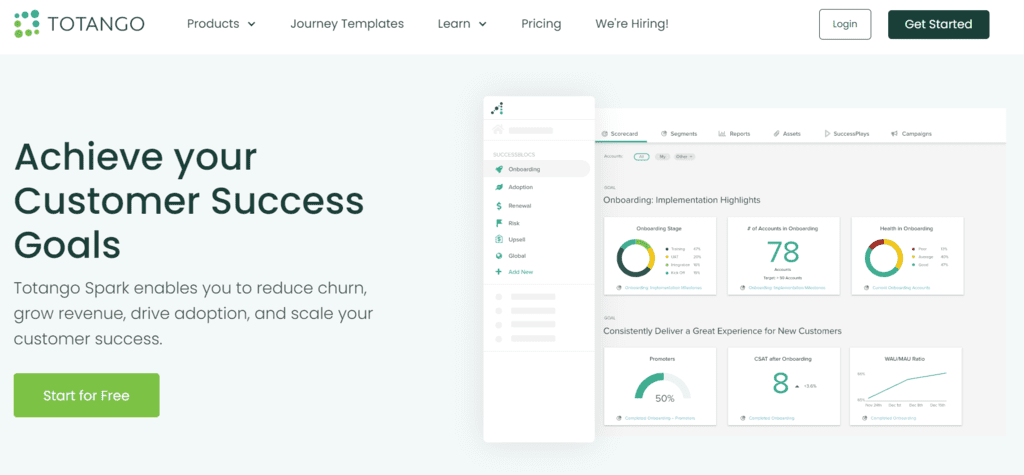 Totango is a very popular software used among big enterprise companies and teams that deal with mountains of data and improve the relationship with many current and future customers. Its platform contains many products; all focused on improvements for customers.
Totango Spark tool is wholly dedicated to customer success and faster achieving their goals. Spark monitors customers' data, tracks its health signals allowing them to know their moves and statuses. It shows detailed product usage analytics and helps with lowering the churn rate. With this tool, you can optimize customers' operations. This feature allows you to do regular tests and measures to help you tailor practices and templates for meeting customers' expectations.
Totango Spark guarantees data security with full monitoring and great scalability. Its user interface is straightforward and the first advantage for its users, which could be granted with different permissions. This tool can be integrated with many third-party tools. The great advantage over other similar tools is its free version, with limited but fair features. It also has an enterprise version for big companies and larger teams and customers.
Gainsight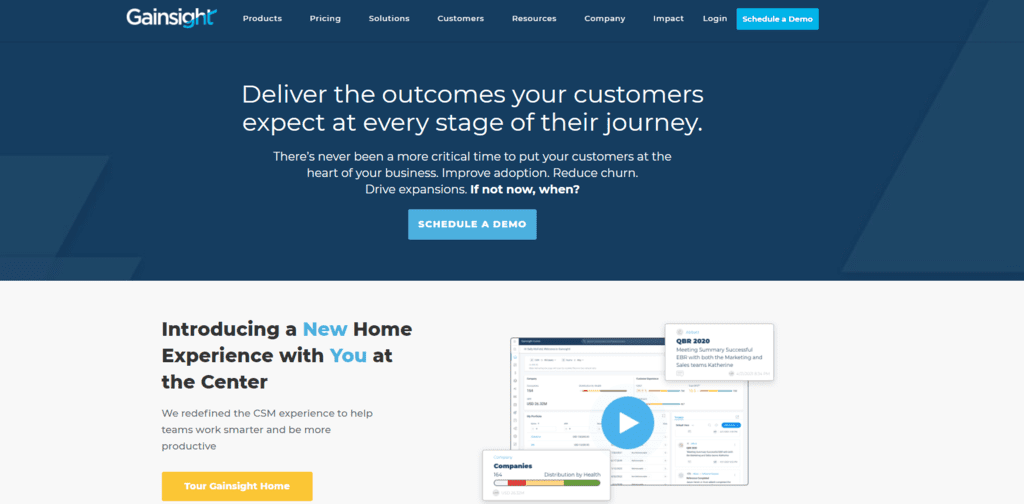 Gainsight is one of the most completed tools for a customer's life cycle. It is used by many world's big and popular companies that manage communication with a lot of customers. Gainsight offers many important features, but their main focus is on the Customer Health Scores. They track how data flows and how a customer interacts. This information can create scores that can help you prevent a future problem by foreseeing it. Then, it has the option of offering automated help.
Every change in customers' behavior is tracked. It is analyzed, and with predictions, you can always be one step forward for better solutions and customer success. Its features also help to avoid customer churn and very successfully increase customer retention. Gainsight Customer Success tool is customizable; users can decide which features to include. The price of the product depends on the user's preferences.
CustomerSuccessBox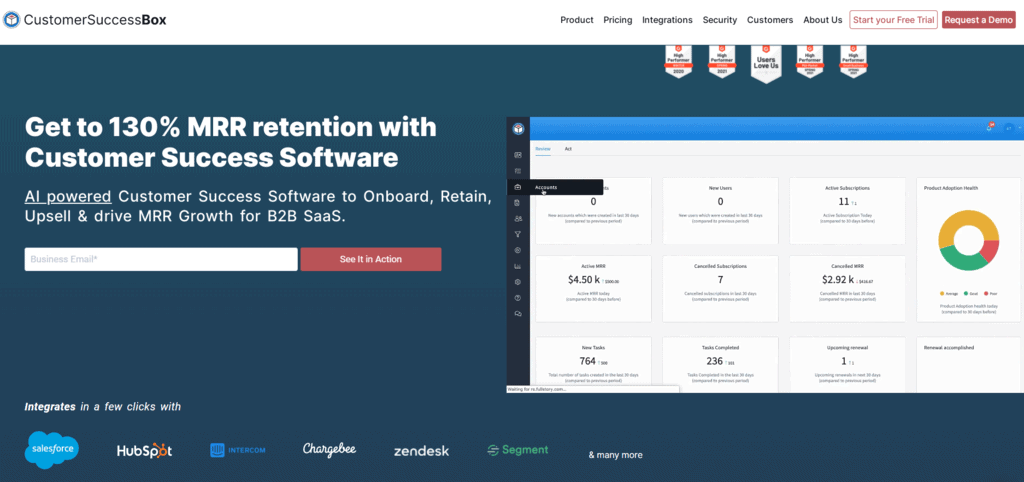 CustomerSuccessBox is another very important customer success tool that helps customers and businesses to achieve and make new goals regularly. This tool puts focus on retaining customers and decreases the chances of customer churns. It does full monitoring of customers' moves and decisions, and it alerts you if something unwanted is happening, so you can behave in accordance with a customer, trying to avoid customer churn.
With the Customer Health Score feature, you track every detail about the product from the beginning. It shows you how often it is used, which modules are mostly used, what is the financial status, is there a risk of inactivity. With the detailed Account Health reports, you can understand your customer and make an appropriate move to improve its success. CustomerSuccessBox tool has several pricing packages which can be changed based on different features and your needs.
SmartKarrot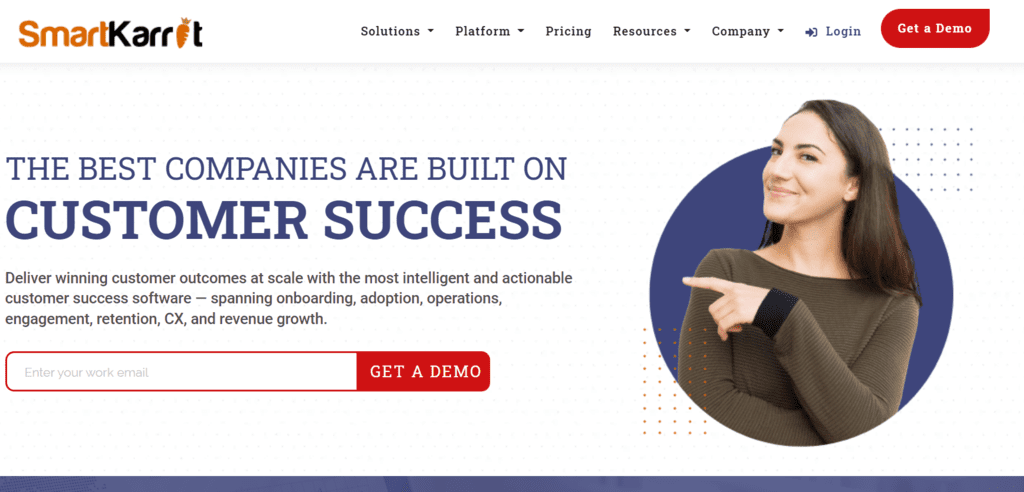 SmartKarrot is one of the most popular customer success tools due to its all-inclusive and smart platform and features that can help any business. It is mainly used by B2B companies with a fast rate of growth. It has a simple platform with understandable guides for a user to take every advantage of this software. It offers full control and view of a customer, with detailed reports and data analysis.
It has a configurable health score, which tracks behavior and asks for action. SmartKarrot reports identify any possible risk for churn and help with creating a solution and retaining customers. They have three pricing packages with different features included, with 14 trial days.
Conclusion
Customer success tools are becoming very important for business growth, for organizing and strengthening business and customer success strategy. Each of these customer success tools has many useful features that can be applied to different types of businesses and customers. Before selecting one tool, it is recommended to understand your business, your needs with a detailed perception of your customers. With that, you can fully be focused on your better customer success strategy and further constant improvement of your relationship with your customers.