These days a website is a must no matter what kind of business you are running, ranging from clothes, books, games, etc. But how to take it to the next level? The answer is – create a community forum platform just for your visitors. You may ask why, and we will provide you with an answer to that. Having a forum that can connect your customers worldwide for sharing experiences about a product or service is great. Not just that, but also, having a problem can be solved even quicker through the forum than contacting support and waiting 3-5 business days. Does someone have a problem? They check for it on the forum, find the solution in the topics section, and everybody is happy.
Those are just some of the reasons why having a forum is a game-changer, but having it embedded into your site is even greater. Simplicity is key, and inserting it into your site is just as easy as embedding a PowerPoint to your WordPress site, with the use of the proper tools of course.
Related: How to Embed PowerPoint Into a WordPress Page
That is why we have gathered the top 5 community platforms you can embed to your website in no time. Let's jump right in.
1. PeerBoard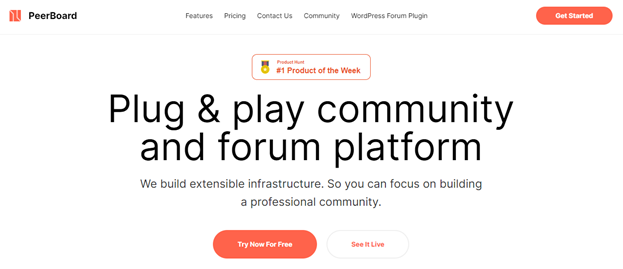 Taking the number one spot is a fantastic tool named PeerBoard. This is an amazing plugin community platform that will connect all of your users and bring them into a single space. With this little gem, you can create subreddit-like spaces so that your audience doesn't have to search around for a Facebook group to connect with like-minded people.
No matter what you may be expecting, PeerBoard doesn't have a traditional forum layout, which is sometimes very hard to understand. Rather than make things confusing, everything is laid out in a categorized newsfeed, just like on Facebook. It has an algorithm that puts the high-value posts at the top of the feed based on engagement and recency, kind of like Reddit. Your users will never miss out on something great because of this. You can create both public and private community forums, and you have full control over them. To get into more detail, you can control the visibility, access rights, and registration options.
Not to forget, it is also possible to choose a custom theme color, add your own logo, customize categories and topics – it is your site and your blog, you can brand it however you like. Now, it's time to explain the options your members have by being a part of your community on PeerBoard.  They can be witty as they like because this gem supports rich media in posts, which means that they can reply with pictures and videos.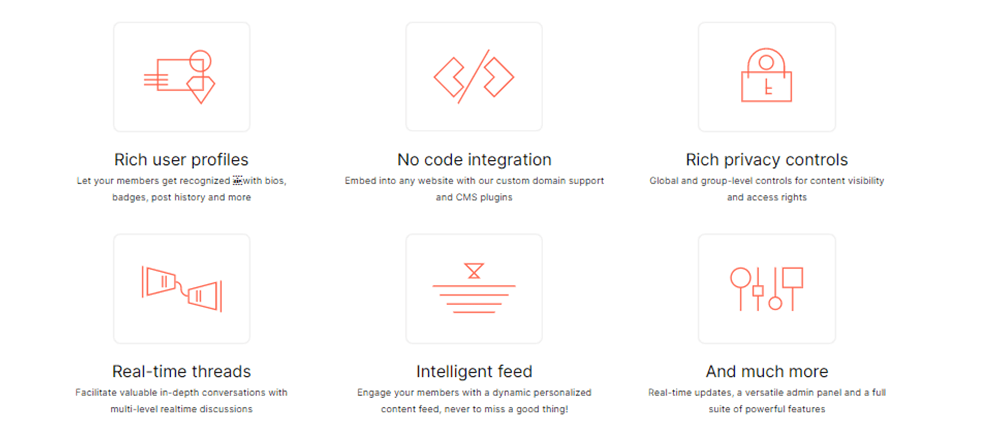 The discussion threads are branched so that your community members can react and respond to questions, suggestions, and comments without being lost in the thread. Their profiles can also be customized by adding taglines, bios, avatars, and a lot more – it is giving them the creativity to be themselves.
After giving a quick overview of your users' options we return to you as a website owner. You can access and manage your community members in the forums' built-in CRM. You can see all of your members' info, stats, and contacts without any problem and simply update member info from that dashboard. Quickly invite someone through email invite? No problem. Some spam account joined your forum? Block members option is there to save you.
This handsome devil can be embedded in your WordPress site in just 10 minutes. And it can also be used on any platform with its open-source components and SDKs, so don't worry if you are not a WordPress user.
2. Simple:Press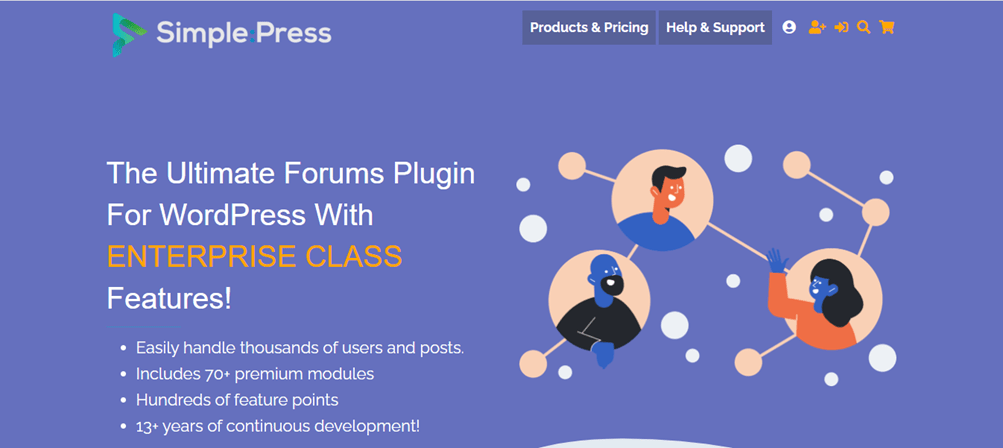 Taking the second spot, there's Simple:Press – a simple way of creating a forum on your website. Using this tool, you can create easily unlimited forums, groups,  private and public forums. It's also worth mentioning that it has a variety of different icons for each forum. The topic thread features consist of unlimited topics, lock topics, move topics, pin topics, and edit topics and their titles.
Simple:Press also has many other options that consist of SEO, ranking and gamification, integration, and administrations. If you are not new to the game, you know how important SEO is for every business on the internet. It is fully integrated into WordPress, so if your site is on this platform, you don't need to worry, and it supports standard WordPress and multisite installs. If your think this is the right tool for you, you can choose between a premium and a free option, and just like with everything else; you get more with the pro.
3. Discussion Board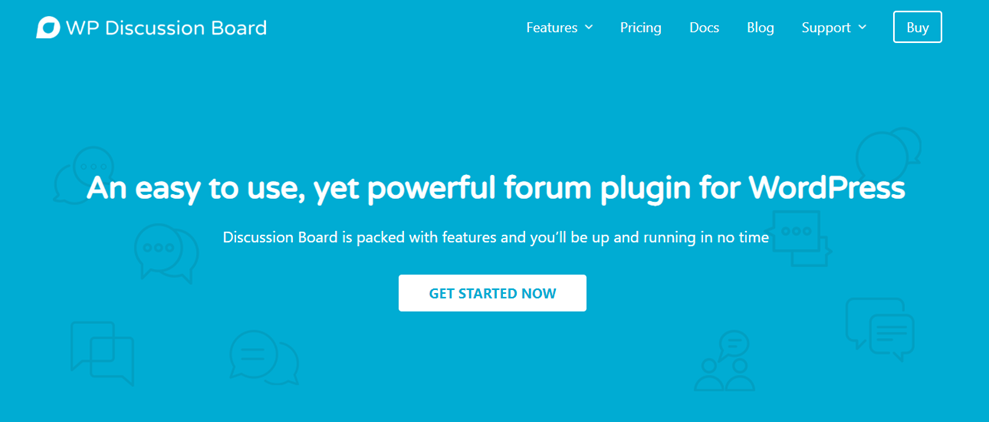 On number 3, we have an easy to install, one-click plugin called Discussion Board.
If you are thinking about getting this one, then you should know the following:
users can register and log in via a front-end form
each forum topic has its own page
posting a new forum topic is done via a simple form
it has three available layouts
Besides these options, you have control over who can post and who can see the posts. For example, you can let anyone read the posts but only permit specific users to write them. Which, in fairness, can be good or bad for your business. Verification by email address is probably the simplest way of doing it, and not to fear Discussion Board has it. This will surely help you against spam registrations and spam users.
While we are on the topic of spam, they have a great spam reduction option, which enables you as the owner of the site to choose whether new topics should be published immediately or saved as a draft before one of the moderators approves them.
4. Asgaros Forum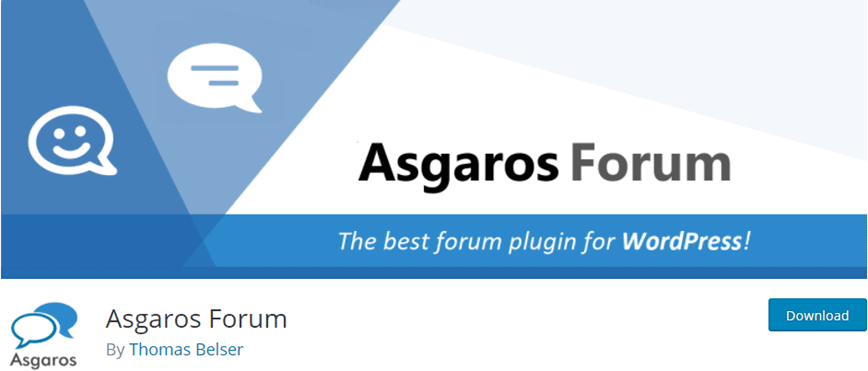 The last spot on our list goes to the lightest plugin called Asgaros Forum. It is easy to set up, it integrates with WordPress perfectly, and it's super fast – that's all you need from a plugin, right?
Some of the features worth mentioning include:
simple content management
notifications and feed
powerful editor
great statistics
This plugin is also SEO-friendly, which is a big deal for all business owners. Do you want organic traffic? SEO is your best buddy. Asgaros also comes with what they call a Guest option, which allows unregistered users to post on your forum, but you can turn it off/on anytime. This is the simplest forum plugin you can find, and while some of its features may be simple, it gets the job done.
Conclusion
In the end, it's safe to say that the connection between a business and its customers should be two-sided and open. With forum plugins, you create a direct bond with your users, and your users can create a bond with each other. Our top pick is, of course, the plugin we gave the number one spot to PeerBoard. It offers everything you need and more. Don't shy away from enabling an open space for your visitors to engage with you and each other.