Management tools help bloggers run their websites more efficiently. You can choose which tools you want to use to improve your blog. Depending on how you want to run your page, you can select a variety of management tools to make your page work faster and more productive. Modern times require modern solutions. Find the right tools to grab your visitor's attention. With that being said, here are the 10 best blog management tools.
1. Blogely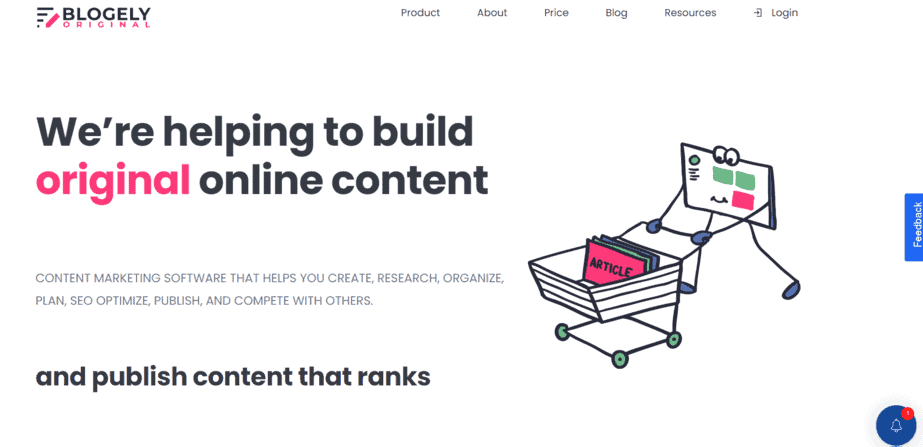 Blogely can help content creators to improve their workflow and save time in making content. Blogley offers some cool features, such as fast-tracking content from start to finish or a built-in SEO tool. It also offers an AI-powered plagiarism checker. You don't have to worry about your content being faulty because Blogley will fix any issue within seconds.
Some of the features are unlimited articles, unlimited versions, unlimited backups, unlimited notes, unlimited attachments, integrated SEO optimization, editorial calendar, 10% sales commission.
If you decide to purchase it, you must redeem your code(s) within 60 days of purchase, and you'll have lifetime access to the plan you chose. Plus, all future updates that are yet to come. You can also stack up to 3 codes. If you happen to dislike it, Blogely does offer a 60-day money-back guarantee, no matter the reason.
2. Plutio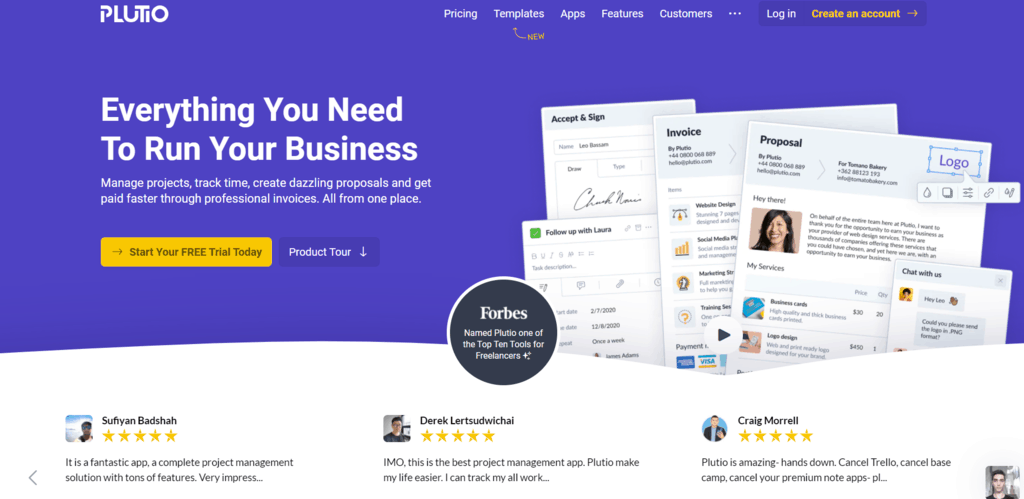 Plutio is a comprehensive project and business management tool. This tool comes with various useful features, so let's go through the most important ones quickly. Manage Projects & Tasks lets you organize and manage projects by creating fields in the order of your choosing. It will help you stay organized. Painless Time Tracking helps you navigate between projects.
Professional Invoices offers simple online payment. You can send invoices, track them, and get notified when you get paid, which can be achieved through payment methods like PayPal and Stripe. Stunning Proposals is where you can design proposals for projects for instance, and other contracts with a drag-and-drop editor. And on top of all that, a feature-rich inbox allows swift communication between employees.
All of these things make Plutio both efficient and fun to use as well. It also comes with the Engaging Forms & Surveys feature that gathers information through online forms and surveys. Plus, you can share them with an online link. And to end with one of its biggest advantages, Plutio has a powerful CRM, aka a client portal that helps you engage with visitors.
3. Semrush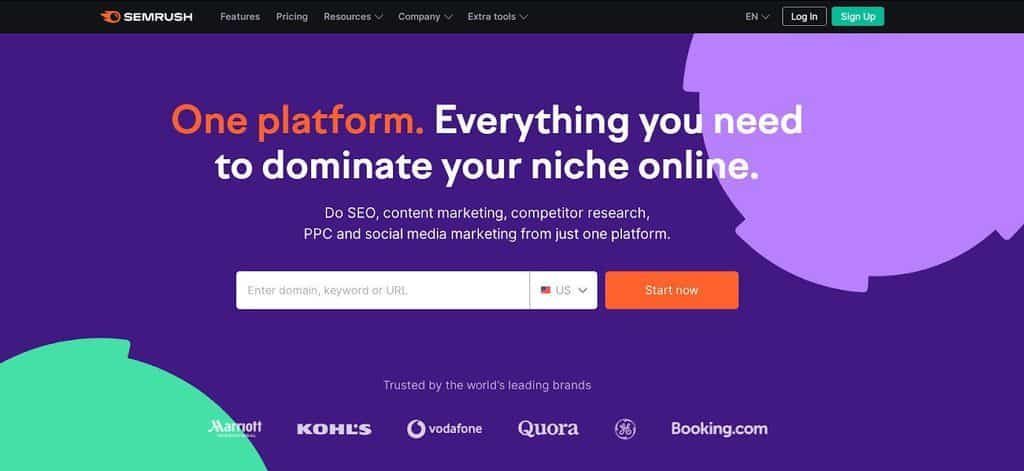 Semrush is a marketing tool that helps you manage SEO, content, SMM, and advertising. This tool helps you with getting more traffic, all while analyzing your website and your competitor's website so you can understand how to improve it. With Semrush, you can see what kind of content people are looking for and figure out what to create for them. Some of its main features are keyword research, on-page SEO, competitor analysis, content marketing, link building, competitor SEO analysis, and paid advertising.
But as you might imagine, all of these features come at a price. And your budget will have to quite hefty if you decide to opt for this tool. If you can afford it, it's definitely great to have.
4. BuzzSumo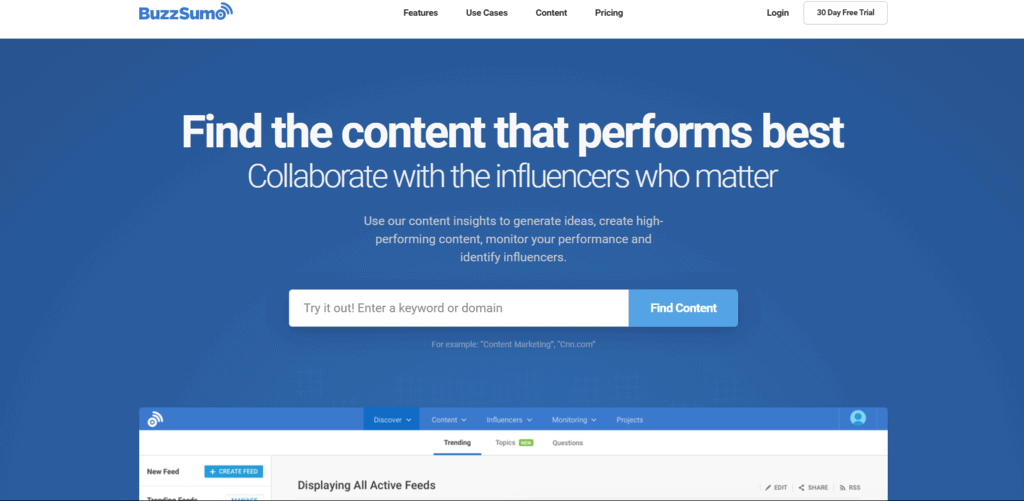 BuzzSumo has four components discovery, research, influencer, and monitoring. Discovery helps you by generating keywords and finding out what your audience is looking for by doing so. Research is self-explanatory. It does online research for you to discover the best marketing strategy for your business. Influencer stands for you connecting with other influencers to boost your brand. Because as we all know, influencer marketing has become one of the most profitable ways of advertising online.
Monitoring can create alerts when a customer is looking up a certain keyword. This allows you to swiftly respond to a potential customer and try to meet their needs. Being there for your customers in the blink of an eye makes you more reliable and will, in turn, make your brand more trustworthy.
5. Grammarly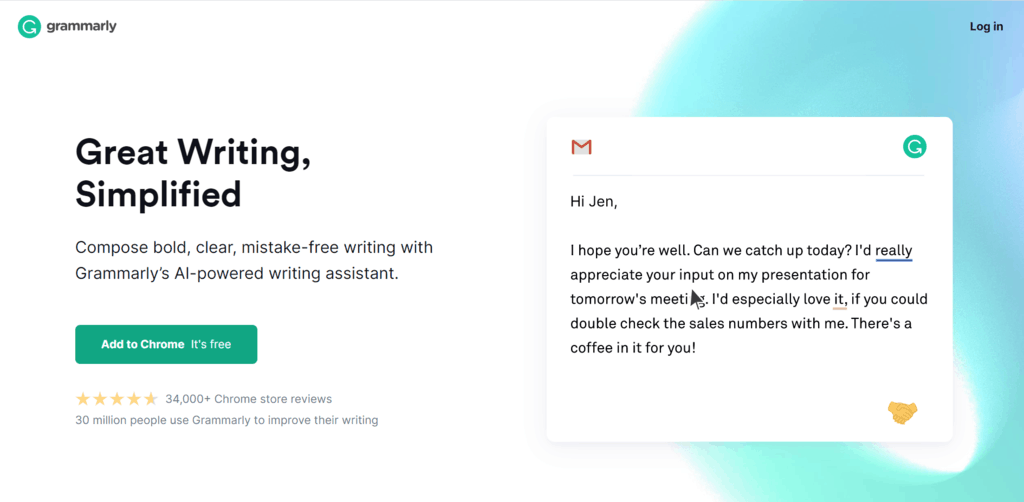 Grammarly is here to help you avoid typos and grammatical mistakes. This can come in handy, especially for bloggers, because it checks for potential errors in real-time and fixes them automatically. This is how it works. Once you starting writing your text, the app will underline incorrect grammar.  Then you can click on it and choose to correct it. It can also offer you synonyms and make suggestions on style improvements.
You can use it on Gmail, Twitter, Facebook, LinkedIn, and thousands of other websites. There are five available Grammarly apps: Grammarly for Microsoft Office, Grammarly for Windows, Grammarly for Chrome, Grammarly keyword for your phone, and Grammarly for iPad.
6. HubSpot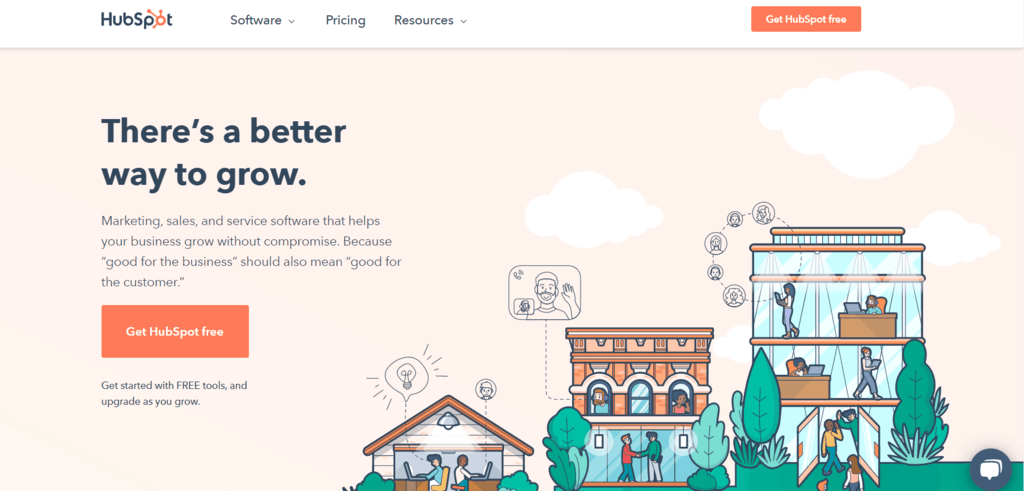 HubSpot is a CRM platform. If you want to improve your business, you need to invest in providing a great experience for every user. Whether you need to sell, market, or service your customers, HubSpot will have you covered.
HubSpot is divided into four sections:
Marketing Hub (Lead generation, Marketing automation, Analytics)
Grow traffic by creating interesting content, targeting ads, and interacting with visitors.
Sales Hub (Advanced CRM, Meeting Scheduling, Quotes)
Make your sales more efficient with deeper insights into what customers need.
Service Hub (Tickets, Customer feedback, Knowledge base)
Engage with your customers with a prompt response to find a solution to their problem.
CMS Hub (Drag-and-drop editor, SEO recommendations, Website themes)
7. Ahrefs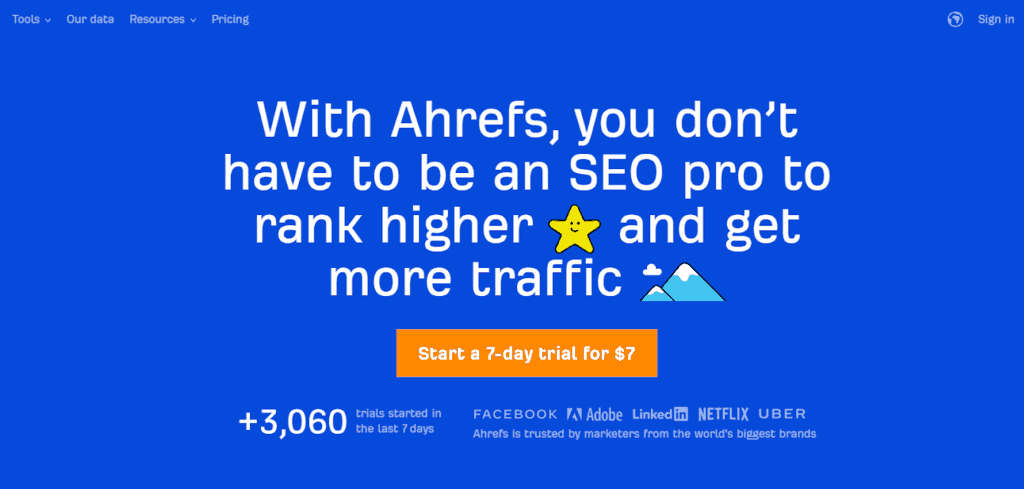 Ahrefs is an immensely popular SEO tool. It has a very high reputation in the business, and so many businesses use it as their primary SEO service already.
It consists of five main segments:
Site Audit automatically checks and monitors your website for technical and SEO issues.
Site Explorer views and analyzes what your rivals are doing that makes them more successful. It learns how they got there and then applies the same but improved strategy to your business.
Content Explorer helps you research topics to get more opportunities.
Keywords Explorer shows you how popular your keyword is on google search results, how frequently it is used monthly, which keywords get more clicks, and total global search volume.
Rank Tracker allows you to monitor your keyword rankings and comparing performance to your rivals.
8. Sumo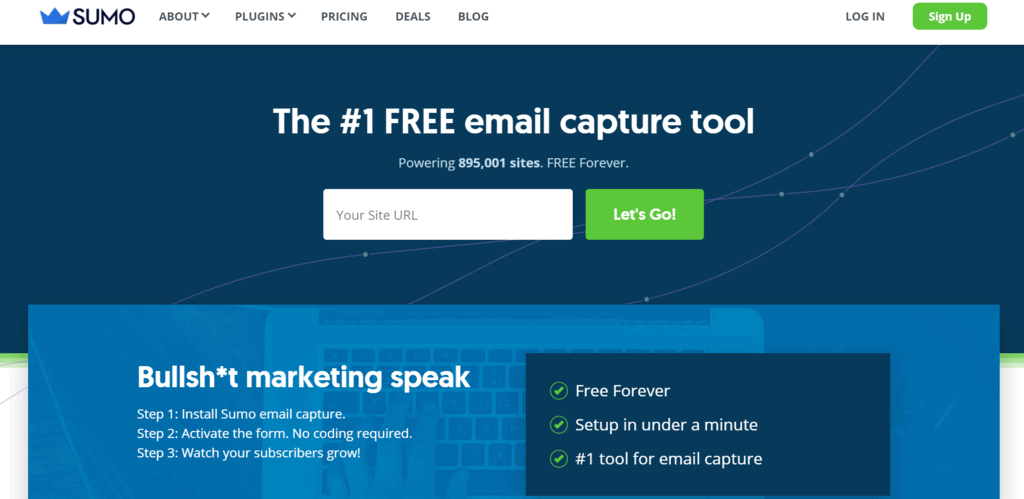 Sumo is a simple but effective email capture tool. Sumo can collect emails, drive traffic to a specific page or see critical performance metrics in real-time. It is compatible with WordPress, Shopify, and Google Tag Manager. This tool is easy to use and is very helpful. Its basic idea is to automate your growth as much as possible, so you could spend your time creating quality content instead of spending it trying to get your emails sorted.
9. Screaming Frog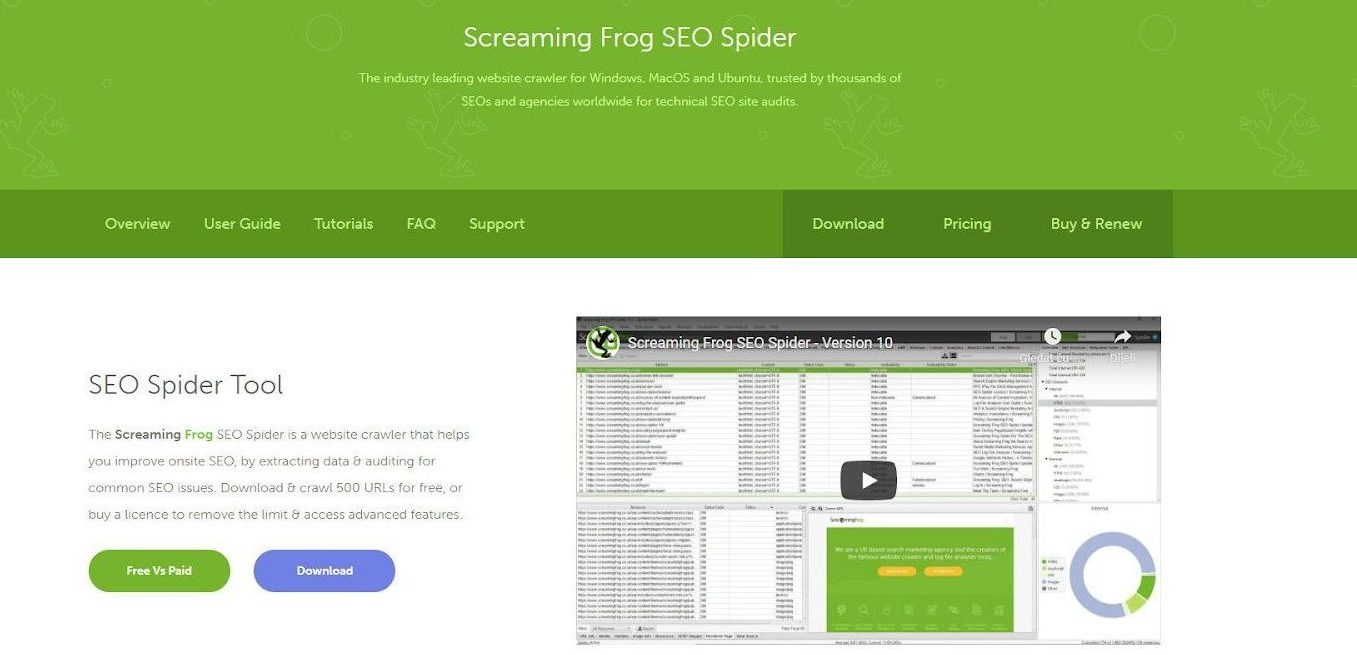 Screaming Frog is a desktop tool that analyzes websites for SEO issues. You can install it on Windows, Mac, or Linux. It analyzes, collects, and delivers SEO data to you, so you can make a rational decision with the given information. Some of its key features are finding broken links, errors & redirects, analyzing page titles & metadata, reviewing meta robots & directives, discover exact duplicate pages, generate XML sitemaps and site visualizations. So, if you're in need of a tool of this kind, this one would be our top choice.
10. Ninja Outreach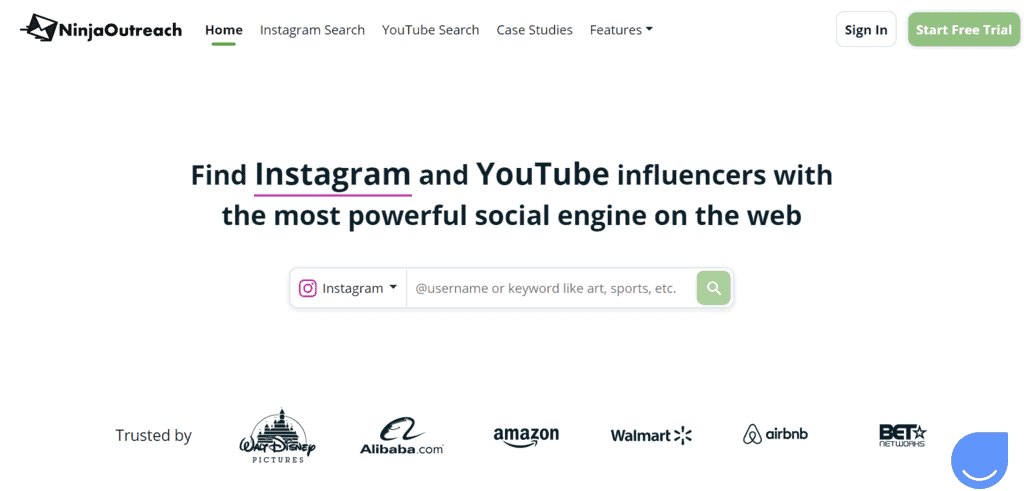 Ninja Outreach is a marketing tool for content marketing, blogger outreach, and lead generation. Its base goal and purpose is to collect valuable data about your audience, store it and then let you use it whenever you need to cater something specifically to a certain target audience.
Conclusion
Hopefully, this article has been of some help to you, and you found what you were looking for. If, however, you'd like to delve a bit deeper and find out all that you can about blogging in general, we recommend Blog Buying Mastery. Take the course and learn how to monetize blogs using the best income streams, identify the most important qualities of investment-grade blogs, find and buy blogs on the world's largest marketplace, etc. It really has everything. We also recommend you read the review of Stim Social to know the IG likes and followers hacks. Both resources are very useful, be sure to check them out!